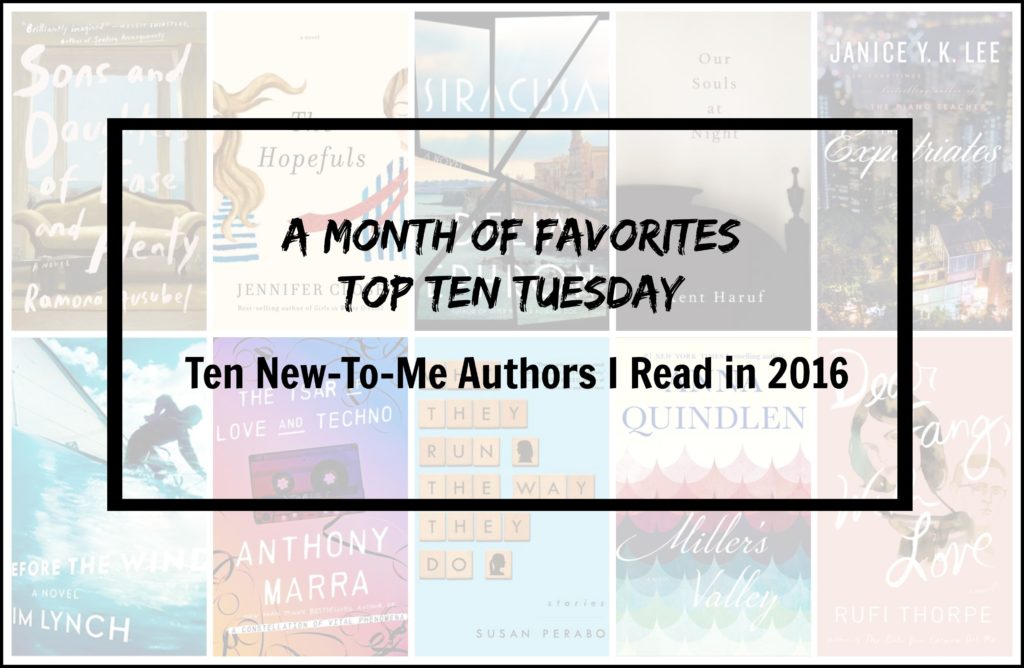 Today, I'm linking up with Top Ten Tuesday (hosted by The Broke and the Bookish) and A Month of Favorites (hosted by Traveling with T, Estella's Revenge, and GirlXOXO). My list does NOT include debut authors… since I will honor them in an upcoming Best Debuts of 2016 list.
Ten New-To-Me Authors I Read in 2016
Ramona Ausubel (Sons and Daughters of Ease and Plenty)
Her commentary on the habits of the wealthy made this summer read shine.
Jennifer Close (The Hopefuls)
She won me over with her hilarious skewering of douche-y DC politicos.
Delia Ephron (Siracusa)
Though I've loved her movies, I had never read any of her books…until Siracusa became my favorite book of summer 2016.
Kent Haruf (Our Souls at Night)
I'm sad that the first book of his that I read was also his last (he's since passed away), but thankful that he left behind a solid backlist.
Janice Y.K. Lee (The Expatriates)
Lee hit my hot button of running thin threads of darkness through an otherwise light story.
Jim Lynch (Before the Wind)
Lynch brilliantly plopped a classic dysfunctional family novel into the world of sailing…which provides endless fodder for social commentary. Thankfully, he's got a backlist waiting for me!
Anthony Marra (The Tsar of Love and Techno)
Marra's writing and delightfully subversive tone made this short story collection sing.
Susan Perabo (Why They Run the Way They Do)
This underrated gem of a short story collection has that whole "darkness simmering just beneath the surface of mundane life" thing going on. And, Perabo has a novel (The Fall of Lisa Bellow) coming out in March 2017!
Anna Quindlen (Miller's Valley)
Why did I wait so long?! Catherine, thank you for pushing me! Ms. Quindlen, thank you for having such an extensive backlist waiting for me!
Rufi Thorpe (Dear Fang, With Love)
What an endearing heroine in Vera! And, I've got my eye on Thorpe's previous novel, The Girls from Corona del Mar.
What new-to-you authors have you read this year?