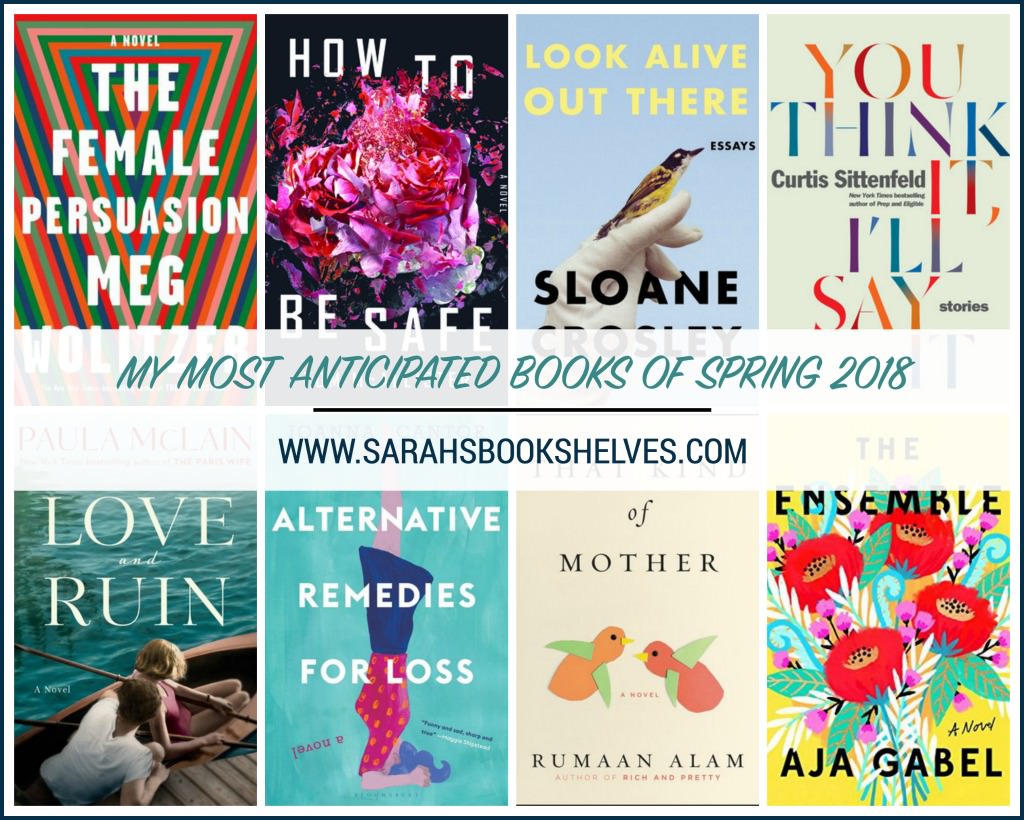 If you're a regular blog reader, you know I changed my method of choosing books this year. 
Previously, I'd comb the publishers' catalogs and Preview lists from various bookish media sources for books that appealed to me. But, all I had to go on was the description of the book and marketing material provided by the publisher. I realized this system wasn't serving me well and was leading me to waste time with a lot of books that didn't pan out.
In 2018, I started choosing books that had already been read and recommended by trusted recommendation sources (I use my "Rock Your Reading" Tracker, available for purchase for $11.99, to keep an ongoing eye on my best and worst recommendation sources). The key to success is the "already read" part because it provides an opinion beyond "does the premise sound good on paper?"
My Most Anticipated Books of Spring 2018 list is mostly made up of books from trusted sources (to find your personal trusted recommendation sources, check out this post and free downloadable template) who, in as many cases as possible, have already read the book. I did not look at a single publisher's catalog to create this list. I'm sharing the recommendation source for each book and will specify if that source has or has not read it yet.
This post contains affiliate links (plus: here's your Amazon Smile-specific affiliate link
).
April
The Female Persuasion
by Meg Wolitzer (April 3, Riverhead Books)
Meg Wolitzer is one of my auto-buy authors. I loved The Interestings and her lesser known novel, The Wife. And, I've read and loved The Female Persuasion – you might hear it's all about female power and ambition and there is some of that, but it was mostly about the story of Greer, Cory, and Zee for me. In a letter to the reader at the front of the book, Riverhead's Editor-in-Chief (Sarah McGrath) says "if The Female Persuasion isn't this era's Great American Novel, then I don't think there is one to be had." High praise. 
Greer Kadetsky is a shy college freshman when she meets the woman she hopes will change her life. Faith Frank, dazzlingly persuasive and elegant at sixty-three, has been a central pillar of the women's movement for decades, a figure who inspires others to influence the world. Upon hearing Faith speak for the first time, Greer–madly in love with her boyfriend, Cory, but still full of longing for an ambition that she can't quite place–feels her inner world light up. Then, astonishingly, Faith invites Greer to make something out of that sense of purpose, leading Greer down the most exciting path of her life as it winds toward and away from her meant-to-be love story with Cory and the future she'd always imagined.
Recommendation Source(s): Trusted author, already read by ME and by Rebecca Schinsky from All the Books podcast
How to Be Safe
 by Tom McCallister (April 3, Liveright)
The premise of this one sounds interesting and it's edited by Katie Adams at Liveright, who I've had success with in the past.
Former Teacher Had Motive. Recently suspended for a so-called outburst, high school English teacher Anna Crawford is stewing over the injustice at home when she is shocked to see herself named on television as a suspect in a shooting at the school where she works. Though she is quickly exonerated, and the actual teenage murderer identified, her life is nevertheless held up for relentless scrutiny and judgment as this quiet town descends into media mania.
Recommendation Source(s): Trusted Editor (Katie Adams at Liveright) and The Millions Great 2018 Book Preview
Look Alive Out There: Essays
by Sloane Crosley (April 3, MCD)
I liked Crosley's essay collection, I Was Told There'd Be Cake. Plus, having lived in NYC during my 20's and 30's, I always appreciate commentary on the experience of living in NYC.
Fans of I Was Told There'd Be Cake and How Did You Get This Number know Sloane Crosley's life as a series of relatable but madcap misadventures. In Look Alive Out There, whether it's scaling active volcanoes, crashing shivas, playing herself on Gossip Girl, befriending swingers, or staring down the barrel of the fertility gun, Crosley continues to rise to the occasion with unmatchable nerve and electric one-liners.
Recommendation Source(s): Trusted author and Book Riot's 101 Books Coming Out in 2018 list
You Think It, I'll Say It: Stories
by Curtis Sittenfeld (April 24, Random House)
I haven't read Sittenfeld since American Wife
, but these short stories come highly recommended by not one, but two of my Go-To Recommendation Sources! And, I peeked at the first story and was immediately drawn in. It took all I had not to start reading it right then and there.
The theme that unites these stories in this dazzling first collection by Curtis Sittenfeld is how even the cleverest people tend to misread others, and how much we all deceive ourselves. Sharp and tender, funny and wise, this collection shows Sittenfeld's knack for creating real, believable characters that spring off the page, while also skewering contemporary mores with brilliant dry wit.
Recommendation Source(s): Already read by two of my Go-To Recommendation Sources: The Readerly Report Podcast and Tyler Goodson, manager at Avid Bookshop in Athens, GA.
May
Love and Ruin
 by Paula McLain (May 1, Ballantine Books)
I loved McLain's The Paris Wife and Circling the Sun (my review). And, I've always been fascinated with the whole Ernest Hemingway / F. Scott Fitzgerald literary crowd. 
The bestselling author of The Paris Wife returns to the subject of Ernest Hemingway in a novel about his passionate, stormy marriage to Martha Gellhorn—a fiercely independent, ambitious young woman who would become one of the greatest war correspondents of the twentieth century.
Recommendation Source(s): Trusted author.
Alternative Remedies for Loss
 by Joanna Cantor (May 8, Bloomsbury USA)
Annie Jones might be my #1 Go-To Recommendation Source these days and she gave this book 4 stars. I'm also a sucker for coming-of-age stories.
A slyly funny coming-of-age novel about a young woman fumbling her way into the mysteries of loss and the travails of adulthood as she tries to make sense of a vanished mother's legacy.
Recommendation Source(s): Already read by Annie Jones on From the Front Porch podcast (one of my Go-To Recommendation Sources) and supported by Maggie Shipstead (author of Seating Arrangements). 
That Kind of Mother
by Rumaan Alam (May 8, Ecco)
I missed Alam's 2016 novel, Rich and Pretty
, but I've heard his latest is far better. Two of my Go-To Recommendation Sources gave it 4 1/2 and 5 stars respectively.
Like many first-time mothers, Rebecca Stone finds herself both deeply in love with her newborn son and deeply overwhelmed. Struggling to juggle the demands of motherhood with her own aspirations and feeling utterly alone in the process, she reaches out to the only person at the hospital who offers her any real help—Priscilla Johnson—and begs her to come home with them as her son's nanny.

Priscilla's presence quickly does as much to shake up Rebecca's perception of the world as it does to stabilize her life. Rebecca is white, and Priscilla is black, and through their relationship, Rebecca finds herself confronting, for the first time, the blind spots of her own privilege. She feels profoundly connected to the woman who essentially taught her what it means to be a mother. When Priscilla dies unexpectedly in childbirth, Rebecca steps forward to adopt the baby. But she is unprepared for what it means to be a white mother with a black son. As she soon learns, navigating motherhood for her is a matter of learning how to raise two children whom she loves with equal ferocity, but whom the world is determined to treat differently.
Recommendation Source(s): Already read and loved by two of my Go-To Recommendation Sources: Annie Jones on From the Front Porch podcast and Tyler Goodson, manager at Avid Bookshop in Athens, GA.
The Ensemble
 by Aja Gabel (May 15, Riverhead Books)
I'm not into classical music at all, but Annie Jones says this is a book set in the world of classical music that is about far more than classical music. She rated it 5 stars and compared it to The Interestings.
The addictive debut novel about four young friends navigating the cutthroat world of music and their complex relationships with each other, as ambition, passion, and love intertwine over the course of their lives.
Recommendation Source(s): Already read and loved by Annie Jones on From the Front Porch podcast (one of my Go-To Recommendation Sources).
*All book summaries (in block quotes) are from Goodreads (edited for length).
What Spring 2018 books are you looking forward to?