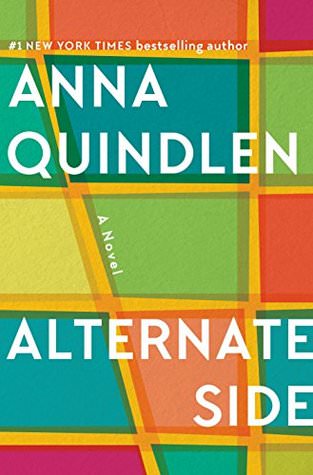 Fiction – Literary
Released March 20, 2018
304 Pages
Bottom Line: Skip it.
Affiliate Link: Buy from Amazon
Source: Publisher (Random House) 
Headline
I adore Anna Quindlen (both her fiction and nonfiction) and saw instances of her brilliant, trademark writing in Alternate Side, but the plot was a bit boring and I know she can do better.
Plot Summary
When a violent incident happens on Nora and Charlie Nolan's wealthy Upper West Side block, Nora begins to see cracks in her marriage, friendships, and throughout the neighborhood.
Why I Read It
Anna Quindlen is one of my go-to authors. I've adored most of what I've read by her (Every Last One, One True Thing, Miller's Valley and Lots of Candles, Plenty of Cake
) and think she just "gets" women. 
Major Themes
Marriage, New York City life, class, friendship
What I Liked
Alternate Side is a true New York City book. The setting stood out far more to me than any of the characters…and Quindlen brilliantly captures its quirks (and there are many).
The dirty little secret of the city was that while it was being constantly created, glittering glass and steel towers rising everywhere where once there had been parking lots, gas stations, and four-story tenements, it was simultaneously falling apart. The streets were filled with excavations and repair crews, the older buildings sheathed in scaffolding cages.
It's an easy, relatively uncomplicated read (which I sometimes need and suspect you do too!).

The title is brilliant and will truly resonate with anyone who has lived in NYC. NYC has something called "alternate side parking" (a law that dictates which side of the street cars can park on specific days to improve traffic flow and make room for street sweepers, etc), which causes residents who park on the street to go temporarily insane every time they have to move their cars. It brings out everyone's true colors and is sort of a microcosm of New York City B.S.

While the writing didn't bowl me over like it did in Lots of Candles, Plenty of Cake and Every Last One, it is quintessential Quindlen and there were numerous passages that reminded me why I love her writing…especially when she talks about women's experiences.

The slightly aberrational spouse was a status symbol, too. The husband who cooked. The wife who played golf. The husband who took his children to school. The wife who ran her own business. Of course, it was chancier with the women than with the men. You couldn't push it too far. The marathoner wife who made partner – perhaps. The wife who could benchpress her own weight and made the cover of Fortune – too emasculating. The men, on the other hand, got unlimited mileage out of performing so-called women's tasks as long as they also had substantial disposable income and significant business cards.
What I Didn't Like
Alternate Side is about a lot of things, but is also kind of about nothing. Is it about an Upper West Side neighborhood, but a somewhat boring one? Is it about a New York marriage, but a somewhat boring one? Is it about an incident in the neighborhood, which wasn't as earth-shattering as promised? I couldn't figure it out. 

An American Marriage

and 

The Mothers

were both about a lot of things, but they all gelled together into a coherent story that worked. Unfortunately, I'm not sure Alternate Side had much of a plot and what plot was there felt muddled. 
Some people prefer Quindlen's nonfiction to her fiction, but I know from 

Every Last One

and One True Thing that she can write novels where the plot and the writing shine. That didn't happen here.

I think this book would have worked better as a nonfiction essay collection about life in New York City for, as Quindlen says, "New Yorkers of a certain sort", where the "life in New York part" is intentionally the star.
A Defining Quote
There was a shadow government on the block, a shadow government that knew where all the bodies were buried, a system of mutual dependence, one group needing services, the other employment. Nora was never certain where the balance of power fell.
Good for People Who Like…
Quiet stories, social commentary, New York City books.
Try These Books Instead…
Anna Quindlen at her best:
Every Last One (Fiction, my review)
Lots of Candles, Plenty of Cake (Memoir, my review)
Two books that tackle a lot of issues, but aren't overwhelmingly about any one of them:
An American Marriage
by Tayari Jones (my review)
The Mothers by Brit Bennett (my review)