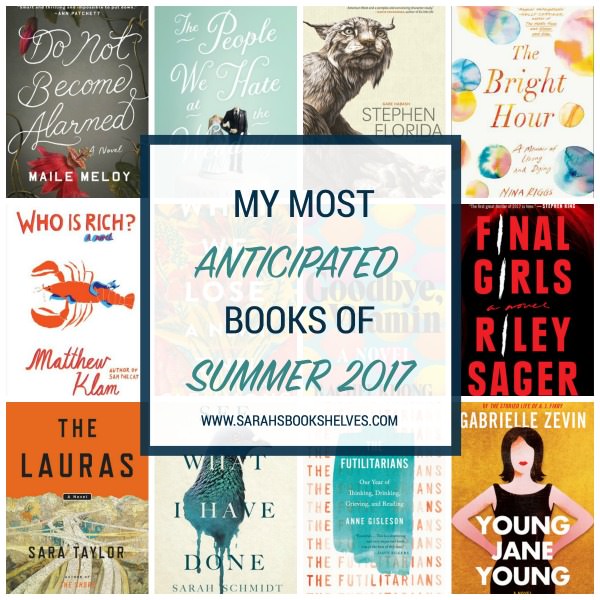 In case you missed it last week, I posted my 2017 Summer Reading Guide, which is chock full of awesome books for summer that I've already vetted. Today's Most Anticipated Books of Summer 2017 list focuses on upcoming releases that I'm excited about, but (for the most part) have not yet read. I hope I'll be adding many of these to my Summer Reading Guide as the summer goes on.
This post contains affiliate links and I will be compensated if you make a purchase after clicking on my links.
June
Do Not Become Alarmed
 by Maile Meloy (June 6, Riverhead)
Bookpage included this novel on its 2017 preview and Ann Patchett (one of my favorite authors, most recently of Commonwealth) called it "smart and thrilling and impossible to put down." I've almost finished this one and it's a perfect page-turning beach read…as long as you're not traveling with kids in a foreign country! 
From a beloved, award-winning writer, the much-anticipated novel about what happens when two families go on a tropical vacation and the children go missing.
The People We Hate at the Wedding
 by Grant Grinder (June 6, Flatiron Books)
I've got to be honest…I put this book on my TBR list mostly because of the title. And, also because it sounds a bit like Seating Arrangements (my review) and Jennifer Close (author of The Hopefuls) called it "family dysfunction at its best" (and ya'll know I can't resist that). 
A bitingly funny, hugely entertaining novel in which a fractured family from the Chicago suburbs must gather in London for their eldest daughter's marriage to an upper-crust Englishman, proving that the harder we strain against the ties that bind, the tighter they hold us close.
Stephen Florida
 by Gabe Habash (June 6, Coffee House Press)
Ya'll know how much I love sports fiction and this novel has a bit of a John Irving ring to it. Not to mention Hanya Yanigahara (author of A Little Life, one of my favorite books of 2015) called it "a coming-of-age story with its own, often explosive, rhythm and velocity."

Foxcatcher meets The Art of Fielding, Stephen Florida follows a college wrestler in his senior season, when every practice, every match, is a step closer to greatness and a step further from sanity. Profane, manic, and tipping into the uncanny, it's a story of loneliness, obsession, and the drive to leave a mark.
The Bright Hour
 by Nina Riggs (June 6, Simon & Schuster)
I realize trying to match When Breath Becomes Air (see below) could be a fool's errand, but I'm still intrigued. Especially since it's gotten starred reviews from Kirkus, Publisher's Weekly, and a blurb from Lucy Kalanithi (Paul Kalanithi of When Breath Becomes Air's widow). 
An exquisite memoir about how to live—and love—every day with "death in the room," from poet Nina Riggs, mother of two young sons and the direct descendant of Ralph Waldo Emerson, in the tradition of When Breath Becomes Air.
July
Who Is Rich?
 by Matthew Klam (July 4, Random House)
When Meg Wolitzer (author of The Interestings) calls a book "funny, dark, big, and bold," that's all I need to hear. Plus, blurbs from Jonathan Tropper and Curtis Sittenfeld. 
Two people, who are married to other people, meet at a conference for artists and writers in a charming seaside village. Rich, a formerly sort-of-famous cartoonist, and Amy, a student of narrative painting, shared a moment of passion the summer before, and have returned to see what happens next. In the wicked events that follow, both of their lives completely unravel.
What We Lose
 by Zinzi Clemmons (July 11, Viking)
This debut novel has been compared to The Mothers (one of my favorite books of last year) and was #1 on Buzzfeed's list of 22 Exciting New Books You Need to Read this Summer. 
From a debut author of rare, haunting power, a stunning novel about a young African-American woman coming of age—a deeply felt meditation on race, sex, family, and country.
Goodbye, Vitamin
 by Rachel Khong (July 11, Henry Holt)
Another debut novel that made Buzzfeed's list of 22 Exciting New Books You Need to Read this Summer! And Stephanie Danler (author of Sweetbitter) said this about it: "I don't know that I've ever seen a more candid portrait of love between family members." 
Freshly disengaged from her fiancé and feeling that life has not turned out quite the way she planned, thirty-year-old Ruth quits her job, leaves town and arrives at her parents' home to find that situation more complicated than she'd realized. Her father, a prominent history professor, is losing his memory and is only erratically lucid. Ruth's mother, meanwhile, is lucidly erratic. But as Ruth's father's condition intensifies, the comedy in her situation takes hold, gently transforming her all her grief.
Final Girls
 by Riley Sager (July 11, Dutton)
I'm desperately searching for a satisfying thriller and Stephen King called this one "the first great thriller of 2017." If Stephen King is wrong, then I'm give up. It also got a starred review from Kirkus.
An intense and imaginative horror story, Final Girls follows the lone survivor of a massacre, who must reclaim her locked-away memories when faced with another threat ten years later.
August
The Lauras
 by Sara Taylor (August 1, Hogarth)
I loved Taylor's 2015 debut novel, The Shore (my review), and have been looking forward to her follow-up! 
The gritty, fierce, and winning story of an unforgettable pair on a road trip across the United States, and their shared journey into the past.
See What I Have Done
 by Sarah Schmidt (August 1, Atlantic Monthly Press)
Yay – fiction based on true crime! I went through a period of loving these a few years ago, but haven't read one in awhile. I'm looking forward to this!
In this riveting debut novel, Sarah Schmidt recasts one of the most fascinating murder cases of all time (the Lizzie Borden case) into an intimate story of a volatile household and a family devoid of love.
The Futilitarians
 by Anne Gisleson (August 22, Little, Brown)
Gisleson has been compared to Cheryl Strayed (Tiny Beautiful Things
, one of my absolute favorite memoirs) and Jami Attenberg (author of All Grown Up) said it was her favorite memoir of the year. 
A memoir of friendship and literature chronicling a search for meaning and comfort in great books, and a beautiful path out of grief.
Young Jane Young
 by Gabrielle Zevin (August 22, Algonquin Books)
Zevin's previous novel, The Storied Life of A.J. Fikry (my review) was my favorite book of 2014. And, I love the focus of her latest on the double standards between men and women facing public scandal. 
Young Jane Young's heroine is Aviva Grossman, an ambitious Congressional intern in Florida who makes the life-changing mistake of having an affair with her boss‑‑who is beloved, admired, successful, and very married‑‑and blogging about it.
*All book summaries (in block quotes) are from Goodreads.
What Summer 2017 books are you looking forward to?
Looking for a specific book recommendation? I've got you covered!
Participate in a limited time, free trial of my
new PERSONALIZED BOOK RECOMMENDATION service!