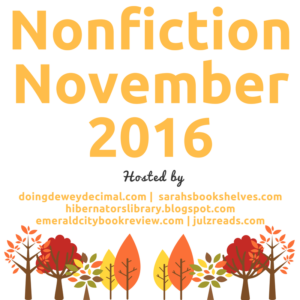 Today's Nonfiction November (hosted by Katie at Doing Dewey, Lory at Emerald City Book Review, Rachel at Hibernator's Library, Julz at Julz Reads, and me) is how we pick our nonfiction! Hop on over to Rachel at Hibernator's Library to link up your posts and check out the plans for the month at Doing Dewey.
What are you looking for when you pick up a nonfiction book?
It depends on whether I'm looking for a read or a listen.
For nonfiction I'm going to read…
I tend to look for mostly backlist nonfiction or recent releases that have been vetted by a couple trusted sources. So, this means I request very few nonfiction ARCs. I have a hard time selecting nonfiction that would interest me just based on the publisher's blurb. It's much easier for me to do this for fiction. Depending on how the book is written, nonfiction about a topic that really interests me could fall woefully short (i.e. The Midnight Assassin) or nonfiction about a topic I don't care about could end up being fascinating (i.e. The Boys in the Boat). There are also only a few nonfiction authors I can comfortably rely on (i.e. Michael Lewis, Erik Larson, Jon Krakauer), whereas I have tons of go-to authors for fiction.
For nonfiction I'm going to listen to…
I'm much more willing to try an un-vetted nonfiction audiobook because the writing and storytelling style is less of a factor for me on audio. Plus, there's Audible's Great Listen Guarantee! That being said, I've found that lighter nonfiction (particularly these topics) is my audio niche.
Do you have a particular topic you're attracted to?
My weird little nonfiction niches are cooking / food, sports, business (the behind-the-scenes, not boring kind), true crime and juicy celebrity biographies (what I like to call "biogossip"). I've been reading these types of books for years. Lately, I've also been interested in PTSD in returning soldiers, North Korea, and dysfunctional childhood memoirs.
On audio, I stick mainly to celebrity memoirs, life improvement, social/behavioral sciences, sports memoirs and trashy celebrity exposes.
Do you have a particular writing style that works best?
Definitely narrative nonfiction (aka nonfiction that "reads like fiction") or investigative journalism.
How do you choose your nonfiction?