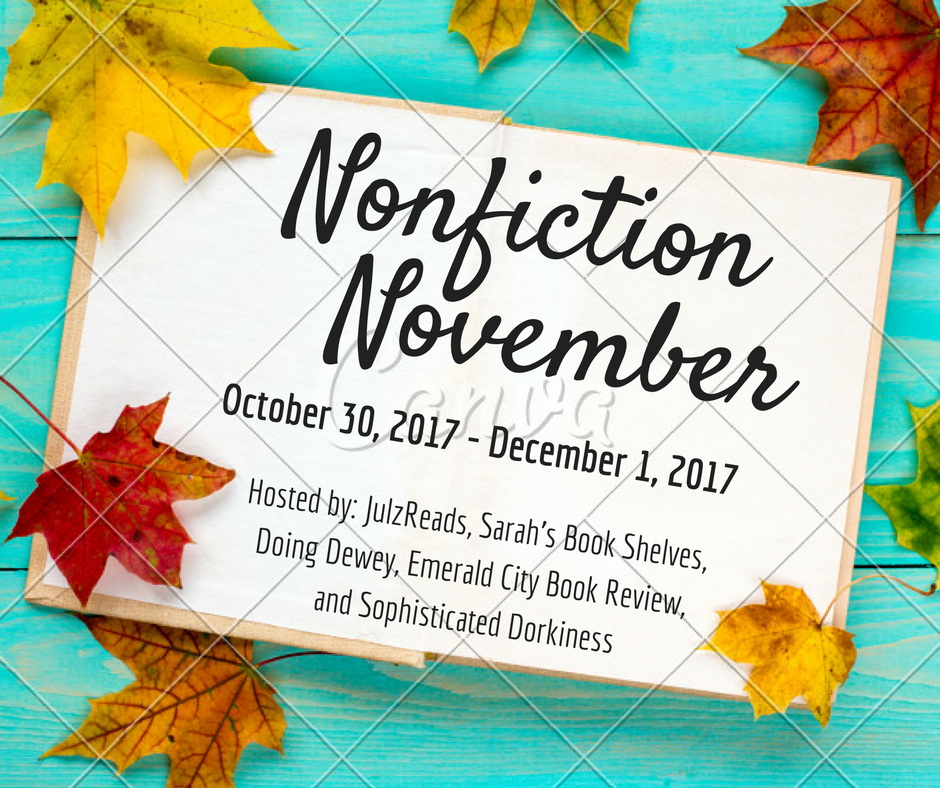 Another Nonfiction November (hosted by Katie at Doing Dewey, Lory at Emerald City Book Review, Kim at Sophisticated Dorkiness, Julz at Julz Reads, and me) is in the books! And, it was a good one. I read/listened to eight books and only two were stinkers (and, I was shocked about one of them).
I usually use Nonfiction November to create my Nonfiction TBR for the coming year and I found some great books to get that started!
This post contains affiliate links (plus: here's your Amazon Smile-specific affiliate link
).
2017 Nonfiction November Mini Reviews
After the Eclipse
by Sarah Perry
Nonfiction – True Crime/Memoir (Released September 26, 2017)
371 Pages
Bottom Line: Read it
Affiliate Link: Buy from Amazon
Source: Library (Publisher: Houghton Mifflin Harcourt)

Plot Summary: Perry's mother was murdered when she was 12 years old…and Perry was in the house when it happened. Years later, she tries to find out who her mother was and who killed her.
My Thoughts: After the Eclipse is part true crime with a little The Glass Castle
thrown in. Sarah grew up poor with an absentee father and had a close bond with her mother. The publisher's blurb says the book is about Sarah getting to learn more about her mother following her death, but I thought it was more about finding peace in the aftermath of the murder and closure (i.e. finding out who killed her). It's an incredibly powerful story with multiple eye-widening moments, but the story dragged a bit through the middle (between the murder and its immediate aftermath and finally finding the killer).
Black Dahlia, Red Rose
by Piu Marie Eatwell
Nonfiction – True Crime / Investigative Journalism (Released October 10, 2017)
368 Pages
Bottom Line: Read it
Affiliate Link: Buy from Amazon
Source: Library (Publisher: Liveright)

Plot Summary: Eatwell investigates the famous and still unsolved 1947 Black Dahlia murder (young, aspiring starlet Elizabeth Short was found virtually bisected on a residential sidewalk in Los Angeles) and poses a theory about who the murderer was based on evidence that was suppressed at the time.
My Thoughts: The Black Dahlia murder occurred during a time when Los Angeles was rampant with corruption (including in the LAPD) and gangsters. And, this vivid setting and culture is very much a part of the murder and the book, making Black Dahlia, Red Rose feel like more than just a true crime "genre" book. The case itself is fascinating, as is the corruption that went on at the time and the re-examination of the evidence now…but, I did get bogged down in details a bit through the middle when the focus turned to corruption in the LAPD. If you liked In Cold Blood
or American Fire
, I think you'll like this one!
Dear Fahrenheit 451
by Annie Spence
Nonfiction – Memoir (Released September 26, 2017)
256 Pages
Bottom Line: Read it
Affiliate Link: Buy from Amazon
Source: Library (Publisher: Flatiron Books)

Plot Summary: Spence, a public librarian, shares her "love letters and break-up notes" to her favorite books, as well as musings and rants about various aspects of her reading life…plus, a whole section of book recommendation lists.
My Thoughts: I recently tried reading My Life with Bob (the New York Times Book Review editor's memoir of her reading life) and DNF'd it during the first half because it talked too much about esoteric books and got intellectually snobby one too many times. Dear Fahrenheit 451 is the anti-My Life with Bob! You've probably heard of most of the books she discusses and even read a few…and there's no intellectual snobbery here. Spence is relatable, funny, and often snarky. The chapters are short and it's a great book to pick up when you need something light and easy. Also – it will explode your TBR list…consider yourself warned.
Forty Autumns
by Nina Willner
Nonfiction – History/Memoir (Released October 4, 2016)
416 Pages
Bottom Line: Read it
Affiliate Link: Buy from Amazon
Source: Library (Publisher: William Morrow)

Plot Summary: Willner, an ex-U.S. intelligence officer covering East Germany, tells the true story of her family being separated by the Berlin Wall and their experience living in Communist East Germany.
My Thoughts: Forty Autumns
 was my favorite book of Nonfiction November! It's a look at communism and East Germany through the lens of one family's experience. I learned a ton about life behind the Iron Curtain (a topic I've been fascinated with ever since seeing the East German women's swim team dominate the 1988 Seoul Olympics) and the gut-wrenching fear and oppression the East Germans faced. I recently paired it with Georgia Hunter's novel, We Were the Lucky Ones, in a Fiction / Nonfiction Pairing post. They're similar stories about families fractured by war and an oppressive regime, just different countries and different wars. Like Hunter's novel, Forty Autumns is highly readable despite it's serious topic and touches the emotional heart-strings while giving you a history lesson.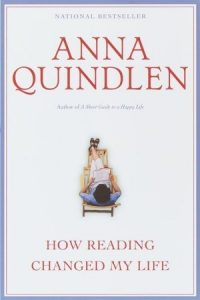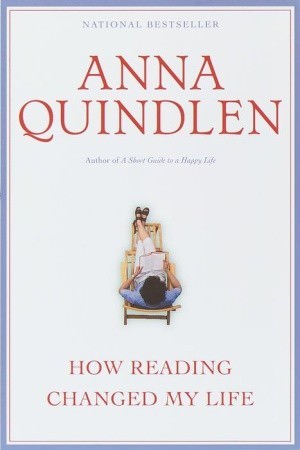 How Reading Changed My Life
by Anna Quindlen
Nonfiction – Memoir (Released January 1, 1998)
96 Pages
Bottom Line: Skip it.
Affiliate Link: Amazon
Source: Library (Publisher: Ballantine Books)

Plot Summary: Quindlen's thoughts on her reading life and books she's loved.
My Thoughts: This memoir was kind of all over the place and didn't feel much like the Anna Quindlen I know and love. Some parts (personal memories of growing up a bookworm) were warm and relatable (typical Quindlen), while others read like an academic term paper. The silver lining is that it's chock full of amazing, famous quotes about books and reading. I never thought I'd be recommending you skip an Anna Quindlen, but I am.
Strangers in Their Own Land
 by Arlie Russell Hochschild
Nonfiction – Politics (Released August 16, 2016)
351 Pages
Bottom Line: Read it
Affiliate Link: Buy from Amazon
Source: Library (Publisher: New Press)

Plot Summary: Liberal sociologist Hochschild went deep into Louisiana Bayou country to get to know some of the people who politically identify with the Tea Party.
My Thoughts: I'm really glad I read Strangers in Their Own Land, but it was different than I expected. It does delve into the reasons these particular people support the Tea Party (and hate the idea of government intervention and support, though they theoretically could benefit from it), but a large chunk of the book is about the environmental pollution of this area of Louisiana. The environmental piece was interesting reading, but I thought was a bit overdone given it was somewhat of a tangent. A logical "next book" if you liked Hillbilly Elegy.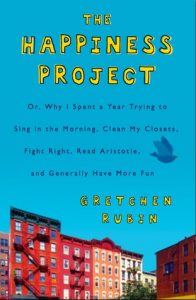 The Happiness Project
 by Gretchen Rubin
Nonfiction – Life Improvement (Released December 29, 2009)
301 Pages (Audio: 10 hours, 15 minutes)
Bottom Line: Read it / Listen to it
Affiliate Link: Buy from Amazon
Source: Purchased (Publisher: Harper)

Plot Summary: Rubin dedicated a year of her life to focusing on the things that matter…thus her "Happiness Project."
My Thoughts: The Happiness Project is a relatable exploration of figuring out what makes you happy and how to focus on those things in your daily life (her motto is basically sleep, workout, declutter…in my words). It's filled with actionable, manageable, common sense tips that are easy to integrate into your life, but that we often forget to focus on (i.e. get more sleep). Plus, she throws in memorable quotes to keep you on track (i.e. "sleep is the new sex", "take pleasure in an atmosphere of growth"). Sometimes she comes across as a "happiness bully" (her words) and I think she could drive me nuts to have as a friend, but overall it's a great tool to help you hit reset on on your life.
Unbelievable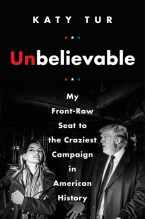 by Katy Tur
Nonfiction – Politics (Released September 12, 2017)
301 Pages (Audio: 7 hours, 46 minutes)
Bottom Line: Skip it
Affiliate Link: Amazon
Source: Library (Publisher: Dey Street Books)

Plot Summary: NBC News Correspondent Tur's behind the scenes look at what it was like to cover Donald Trump's political campaign.
My Thoughts: I'm always interested in the behind-the-scenes dirt from political campaigns…from either party…and you'd think the dirt from the Trump campaign would be exceptionally entertaining (maybe not the right word, but close enough). But, funnily enough, I don't feel like I learned anything new from this book. Maybe because so much has already been reported by the media along the way or tweeted about by Trump himself, but I felt like Unbelievable was a re-hash of things I already knew…except maybe getting a better appreciation for the perpetual exhaustion of those involved in political campaigns.
New Nonfiction to My TBR
And the Band Played On
by Randy Shilts (November 1, 1987)
Recommended by Melissa Firman…this one caught my eye because she paired it with The Heart's Invisible Furies (my review) in her fiction / nonfiction book pairings.
Shilts tells the heroic stories of individuals in science and politics, public health and the gay community, who struggled to alert the nation to the enormity of the danger it faced.
Ghettoside
 by Jill Leovy (January 25, 2015)
Recommended by Kazan at Always Doing (via my comments section).
Ghettoside is a fast-paced narrative of a devastating crime, an intimate portrait of detectives and a community bonded in tragedy, and a surprising new lens into the great subject of murder in America–why it happens and how the plague of killings might yet be stopped.
Grocery
 by Michael Ruhlman (May 16, 2017)
Recommended by Joann at Lakeside Musing.
Cookbook author and food writer Ruhlman explores the evolution of the American grocery store and how it has affected what we eat. The author uses two of his Midwestern hometown grocery chains, Heinen's and Fazio's, and his memories of his father's love of food and grocery shopping as the foundation for this engaging narrative.
The Girls of Atomic City
 by Denise Kiernan (March 5, 2013)
Recommended by Tara at Running N Reading.
The incredible story of the young women of Oak Ridge, Tennessee, who unwittingly played a crucial role in one of the most significant moments in U.S. history (the Manhattan Project).
On Writing
 by Stephen King (June 27, 2017)
Recommended by my friend and author of the fantastic book We Were the Lucky Ones
, Georgia Hunter (along with a number of other people in the comments section of my Books about Reading and Writing post).
On Writing begins with King's childhood and his uncannily early focus on writing to tell a story. King next turns to the basic tools of his trade and culminates with a profoundly moving account of how King's overwhelming need to write spurred him toward recovery.
What was your favorite read and top TBR add of Nonfiction November?