Nonfiction November (get all the details here!) is still going on, but I've gotten burned out a bit on nonfiction. I snuck in a novel last week, then a nonfiction I'd been waiting for forever came in from the library, so I knocked that out. With that done, I think I'm officially retiring from this year's Nonfiction November. I'll be sharing mini reviews for all the nonfiction I read this month plus the new books I added to my TBR list tomorrow!
I posted my Best Holiday Gifts for Book Lovers 2017 guide on Black Friday! I've got you covered with book recommendations, a special Cyber Monday deal for Book of the Month Club (the gift for book lovers that keeps on giving!), and bookish gifts. Best of all, you can get all this stuff without leaving your couch!
A Way to Help Victims of Hurricanes Harvey, Irma & Maria AND Knock Out Some Holiday Shopping
Online retailer zulily (they have adorable children's clothes at great prices, among other things!) is teaming up with Penguin Random House to help victims of Hurricanes Harvey, Irma, and Maria through their "first-ever interactive book fair, running now through December 10."
"Six sales events will feature a curated selection of children's books, and each book purchased will trigger a donation from Penguin Random House to First Book (a nonprofit social enterprise that provides new books and other essentials to children in need).
Shop the Book Fair for holiday children's classics like How the Grinch Stole Christmas, The Christmas Story, The Velveteen Rabbit, Goodnight Baby Jesus, Madelline's Christmas, and current favorites (at least in my house) Peppa Pig, Paw Patrol, and Thomas the Train…and much more! Or, visit zulily's social media channels (Facebook, Twitter, Instagram and Pinterest) and comment on or like their posts to trigger additional Penguin Random House donations to First Book.
Sponsored by zulily.com
Hosted by The Book Date.
This post contains affiliate links (plus: here's your Amazon Smile-specific affiliate link
).
Favorite Instagram Post
Follow me sarahsbookshelves
I finished reading…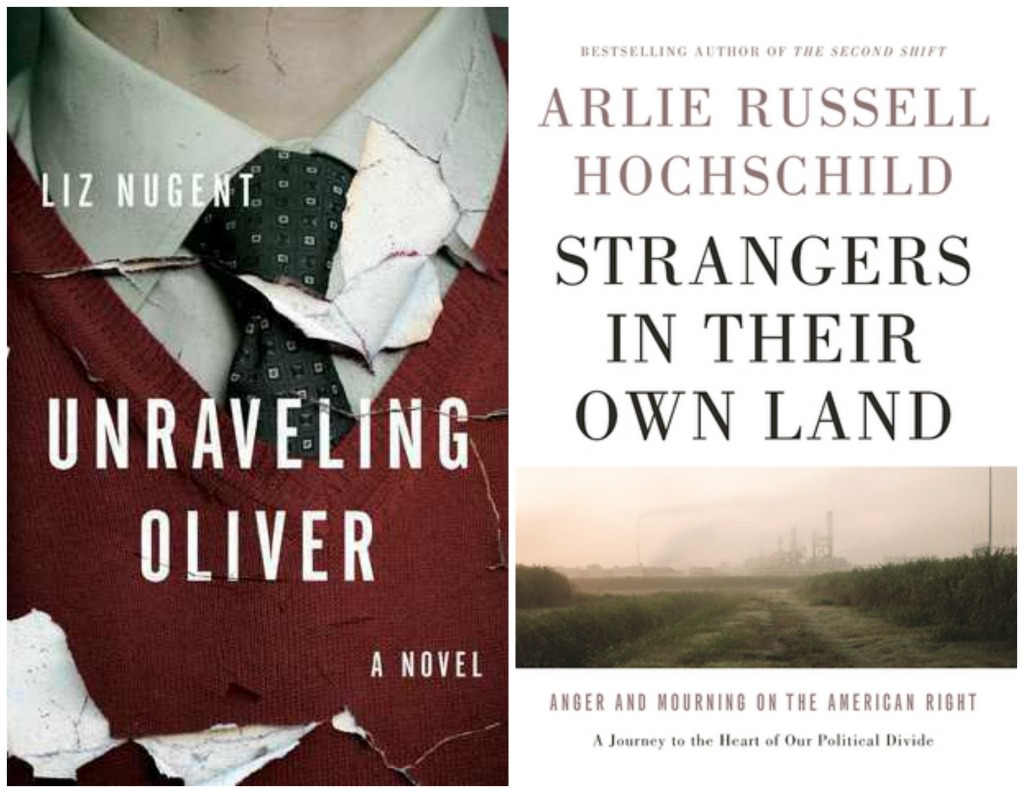 Unraveling Oliver
 by Liz Nugent (August 22, 2017)
After reading that eye-opening first line, I thought I'd be getting a dark thriller. It's dark, but it's not a thriller. It's a story told from different perspectives, a character study that peels back many layers, and all the pieces came together like a symphony. You'll be seeing this one pop up on a future recommendation list!
Affiliate Link: Buy from Amazon
Strangers in Their Own Land
 by Arlie Russell Hochschild (August 16, 2016)
Different than I expected. Didn't realize so much of it was about environmental pollution in Louisiana. Mini review to come.
Affiliate Link: Buy from Amazon
I'm currently reading…

Everybody's Son
by Thrifty Umrigar (June 6, 2017)
This pick from my Must Try Before the End of 2017 TBR list was available for immediate download at the library…plus, I was totally drawn in by the Prologue, in which a young boy is abandoned in a sweltering apartment with no air conditioning for a couple days. I've only just started it, but I have a good feeling about this one.
Upcoming reading plans…
If no library holds come in, I'll be reading something from my Must Try Before the End of 2017 TBR list. Likely The Rules of Magic
.
I was reading…
One Year Ago: I'd just finished my inaugural Anna Quindlen, who has now become a favorite author!
Two Years Ago: I took the week off!
How was your reading week?