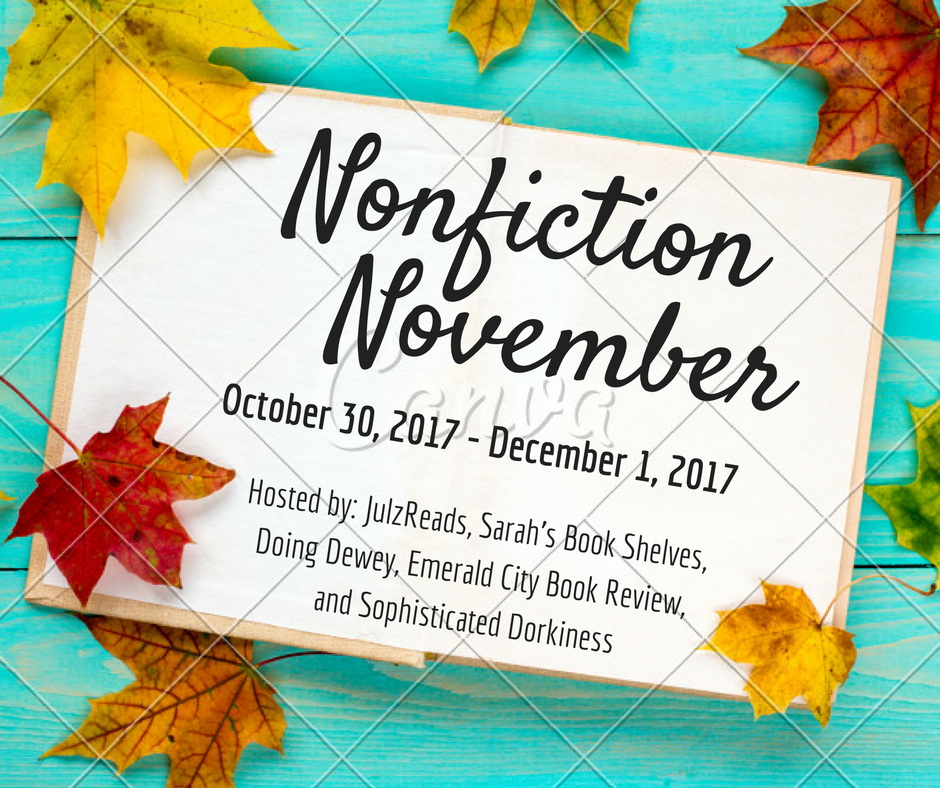 Today's Nonfiction November (hosted by Katie at Doing Dewey, Lory at Emerald City Book Review, Kim at Sophisticated Dorkiness, Julz at Julz Reads, and me) topic is fiction/nonfiction book pairings:
It can be a "If you loved this book, read this!" or just two titles that you think would go well together. Maybe it's a historical novel and you'd like to get the real history by reading a nonfiction version of the story.
Fiction / Nonfiction Book Pairings is my favorite topic of Nonfiction November and I keep a running list throughout the year of all my ideas for pairings. I hope y'all have just as much fun with it!
Link up your posts below and check out the plans for the rest of the month at here! I'll be posting a round-up of everyone's posts on Friday.
The Shooter's Mother's Perspective of a Mass Shooting
Columbine shooter Dylan Klebold's mother (Sue) shares her struggle following the shooting and Dylan's suicide in her poignant memoir, A Mother's Reckoning
.
Jodi Picoult's novel, Nineteen Minutes, centers around a mass school shooting in a small, New Hampshire town. Chapters are told from various characters' perspectives, including the mother of the shooter's. 
On Caring for a Terminally Ill Parent
Dan Marshall's memoir, Home is Burning (my review), chronicles his journey caring for his ALS-stricken father in hilariously inappropriate detail and with heart-wrenching emotion. 
In Anna Quindlen's One True Thing
 (my review), an up-and-coming New York journalist returns home to care for her cancer-stricken mother and comes to understand her much better in the process.
A Family's Struggle to Survive Massive Wartime Oppression
Forty Autumns tells the story of the author's East German family's experience living behind the Iron Curtain…and their heart-breaking separation from their daughter, Hanna, who escaped.
Georgia Hunter's novel, We Were the Lucky Ones
(author interview), is inspired by the true story of her Polish Jewish family, who was split apart during World War II. PS – We Were the Lucky Ones was nominated for a 2017 Goodreads Choice Award for Debuts – if you read and loved this book, vote here now!
Beneath the Surface of Seemingly Perfect Teenagers
What Made Maddy Run
is the heart-breaking story of a seemingly perfect (if you looked at her Instagram account) teenager who commits suicide during her freshman year on the Penn State track team. This is a must-read for parents of young athletes. And, the book Maddy had with her when she died was…
Reconstructing Amelia (my review) is the fictional story of an over-achieving teenage girl who apparently jumps to her death from her school after getting caught cheating. 
The Intensity of Youth Sports
Friday Night Lights
profiles the incredible intensity of high school football in Texas. Plus, it inspired my all-time favorite TV show of the same name!
Beartown (my review) is Fredrick Backman's fictional story of elite youth ice hockey in Sweden…and the fallout of all that intensity. 
Incidentally, there is another nonfiction book that I'm dying to pair with Beartown, but telling you what it is would spoil one of Beartown's central plot elements. Those of you that have read Beartown can probably guess the mystery nonfiction book…
Inside the Lonely Psyche of a Pro Tennis Player
Andre Agassi's memoir, Open
, chronicles his lonely childhood playing tennis under the tutelage of his overbearing father and his continued loneliness on the pro tour.
The main character of Trophy Son
(my review), Douglas Brunt's fictional story about a young tennis star, seems suspiciously similar to Agassi, down to the Greek father.
What are some of your favorite Nonfiction / Fiction pairings?