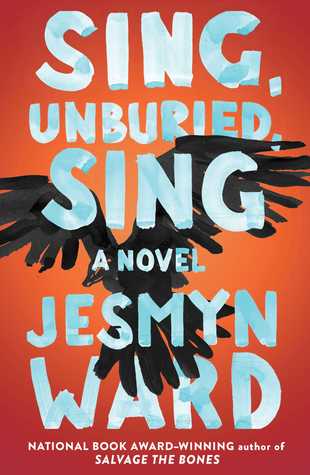 Fiction
Released September 5, 2017
285 Pages
Bottom Line: Skip it.
Affiliate Link: Buy from Amazon
Source: Publisher (Scribner)
Headline
Though I can see why the critics love Sing, Unburied, Sing, I didn't particularly enjoy reading it and had trouble connecting with the story.
Plot Summary
Set in Mississippi, the story of JoJo and Kayla, two mixed race children who grow up in their black grandparents' house (with the sporadic presence of their drug addict mother, Leonie), and the road trip to pick up their white father (Michael) from prison.
Why I Read It
Though I didn't finish Ward's previous National Book Award winner, Salvage the Bones
, I wanted to give her latest a try since it, too, was a Finalist for the National Book Award.
Major Themes
Childhood Trauma, Abuse, Drugs, Race, Poverty, Family
What I Liked
The writing is unquestionably the star of this book. Its first line and chapter (and really the whole book) are raw and vivid and I was highlighting like crazy throughout. It's the kind of writing that's sparse, hard-hitting, and can really gut you at times, which usually works well for me.

JoJo and Kayla are heart-breaking characters and I wanted to wrap them up and take them home with me. They go through an incredible amount of trauma caused by the adults.

And, Pop (Jojo and Kayla's grandfather) does his best trying to parent them in their parents' absence. He's the wise character trying to shape JoJo into a good man and I adored him.

The story has a mystical quality similar to Sara Taylor's The Shore (my review). Ward's writing about the land, the weather, the animals and their connection to the human spirit sets the atmosphere and there is also a bit of herbal medicine going on. I liked all these elements, but the mysticism went a bit too far for me in other ways (see below).
What I Didn't Like
The feeling I had while reading Sing, Unburied, Sing was similar to how I felt while reading A Gentleman in Moscow (Part 1 of this post topic) and, to a certain extent, 

Exit West

. These books are critical darlings and I could objectively see the elements that have the critics falling all over themselves. But, something in each book didn't quite connect with me and I kept zoning out while reading. I'm glad I read them, but was never dying to pick them up along the way. And, while I can tick off a number of positive attributes about each one, I can't say I loved reading them or would widely recommend them to others.

A large element of the story involves a ghost named Richie and that entire storyline didn't work for me. I didn't see the purpose in him having such a big role in JoJo and Kayla's story and, even if I accept that role as it was, I don't understand why he had to be a ghost. His story could have been told another, less perplexing way.

This is absolutely not the book for you if you're looking trying to read for entertainment or to escape…it's an emotionally tough read.
A Defining Quote
All's quiet in the house, and for a stupid second I wonder why Leonie and Michael ain't arguing about him hitting Kayla. And then I remember. They don't care.
Good for People Who Like…
Grit Lit, emotional gut-wrenchers, gorgeous writing, serious literary fiction, critical darlings
Other Books You May Like
Another emotionally tough book that mystically roots you in its setting:
The Shore by Sara Taylor (my review)