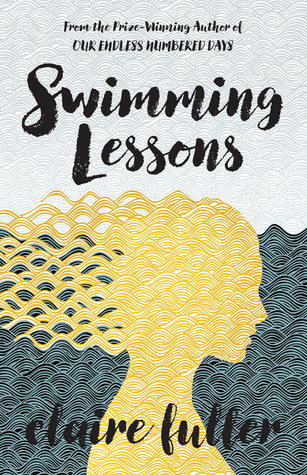 Fiction
Released February 7, 2017
356 Pages
Bottom Line: Read it.
Affiliate Link: Buy from Amazon

Source: Publisher (Tin House Books)
Headline
Though Swimming Lessons
 didn't immediately grab me, its steady revelations about the Coleman marriage and increasing complexity eventually pulled me in.
Plot Summary
Swimming Lessons tells the story of the volatile marriage between famous author Gil Coleman and Ingrid…through letters Ingrid hid in Gil's books prior to her disappearance and their daughters' returns home to care for their ailing father.
Why I Read It
Claire Fuller's debut novel, Our Endless Numbered Days
, was one of my Best Debuts of 2015.
Major Themes
Marriage, family dysfunction, the writer's life, motherhood, maintaining your identity through motherhood
What I Liked
The publisher's blurb makes Swimming Lessons sound like it will be a mystery, but it's actually an exploration of a troubled marriage. The "mystery" part of the story is somewhat ancillary and, once I wrapped my head around that, I enjoyed the book much more.

Swimming Lessons

tackles a topic that is taboo even today and was even more frowned upon in the 70's when Gil and Ingrid's story began: not wanting and/or loving motherhood with every cell of your being and the conflicting feelings that come along with that.

I truly sunk into the second half of this book. As more layers of the Coleman's marriage were peeled back, the story's complexity grew, intriguing me more and more.

While not particularly surprising, the ending made sense and fit with the characters in the story, a type of ending that is becoming more and more appealing to me. And, it struck a perfect balance between tidying things up and leaving some questions unresolved / open to interpretation.

The potential discussion topics of marriage and motherhood and various interpretations of the ending make

Swimming Lessons

a compelling choice for book clubs.
What I Didn't Like
Swimming Lessons

did not immediately grab me. It's a book that slowly peels back the layers of a marriage and it took lots of those layers being revealed for me to really get invested in the story.

Some of the revelations (yes, they are more revelations than twists) were not surprising, but their inevitability fit with the story.

One element of this story has been told before and I kind of rolled my eyes that this particular trope was popping up yet again.

I didn't love

Swimming Lessons

quite as much as

Our Endless Numbered Days

…the writing sparkled a tad less and the plot was a touch more predictable.
A Defining Quote
I tried to tell you that I didn't want it, wasn't ready, might never be ready, but you put your finger on my lips and said, "Marry me', and all those plans of creating my own category and giving you up after the summer disappeared like a wisp of sea mist under the relentless energy of your sun.
Good for People Who Like…
Dysfunctional families, marriage, dislikable characters, motherhood, secrets / betrayal, fathers and daughters, character-driven stories, gradual revelations of characters' backgrounds
Other Books You May Like
Other books that untangle the truth behind a marriage:
Fates and Furies
 by Lauren Groff (review)
The Wife
 by Meg Wolitzer (review)