Hosted by The Book Date.
I took last week off from this post to share my Books that Make Perfect Holiday Gifts 2016 list, but you can check out what I read in my November Monthly Round-Up.
Our house is still a disaster zone from the flood, but we did find out that work will begin this week on repairing the basement and upper floor walls and ceilings. And, the best news is that the main and upstairs floors won't have to be redone for awhile, so we won't have to temporarily relocate. So, there is light at the end of the tunnel! On the reading front, I spent the last two weeks sneaking in a final few 2016 releases before moving onto my annual December backlist TBR reading and 2017 releases. I'll also be participating in some of the A Month of Favorites events through the end of December.
I finished reading…

Miller's Valley by Anna Quindlen (April 5, 2016)
Believe it or not, this is my first foray into Anna Quindlen – thanks to Catherine at Gilmore Guide for giving me the push! This quiet, uncomplicated, yet satisfying coming of age/family saga and story of small-town life reminded me of a less hard-hitting version of Ann Patchett's Commonwealth with a touch of girl power for good measure. The writing was chock full of wise observations about life, filling my notes with passages labeled "so true." Miller's Valley would also make a great holiday gift for mothers, mother-in-laws, grandmothers, aunts, etc.
Affiliate Link: Buy from Amazon
I'm currently reading…

We Were the Lucky Ones by Georgia Hunter (February 14, 2017)
I'm jumping the gun a bit here, but that's because the author of this debut novel is a friend of mine from college! The book is based on the true story of Hunter's Polish Jewish family's efforts to reunite after being separated during World War II. I'm only 25% in so far, but the story has already gotten incredibly intense and I'm invested in the fates of these people.
Affiliate Link: Pre-Order from Amazon
Upcoming reading plans…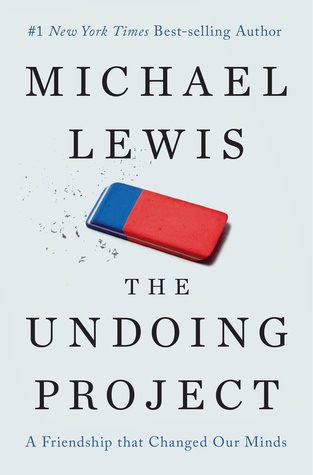 The Undoing Project by Michael Lewis (December 6, 2016)
I'm a huge Michael Lewis fan, so of course I have to squeeze his latest book into my 2016 reading (this will probably be the last 2016 release I read this year). This time around, he's focusing on two Israeli psychologists (Daniel Kahneman and Amos Tversky), whose research into the human decision-making process drove much of today's behavioral economics field (which I've been delving into on audio a fair amount this year).
How was your reading week?