Nonfiction November (get all the details here!) is still going strong (last week, I shared my favorite Books on Reading and Writing) and I've still got some posts to come! But, I'm starting to burn out of actually reading nonfiction. I've switched to reading fiction for a bit, though I'm still listening to nonfiction on audio.
I'm also hosting Thanksgiving for the first time ever, so will be stressing out about that all week! Hosting parties is not my forte. But, my family's Thanksgiving gathering is always laid-back and informal, so I'm banking on that to cover up my inevitable hosting flubs!
Finally, my Best Holiday Gifts for Book Lovers 2017 guide is coming on Black Friday! I don't know about you, but I never go to stores on Black Friday. Can't think of anything worse. With my holiday gift guide, you'll be able to knock out your shopping for all your book lover friends and family without leaving your couch! Something I'm always thankful for…
Hosted by The Book Date.
This post contains affiliate links (plus: here's your Amazon Smile-specific affiliate link
).
Favorite Instagram Post
Follow me sarahsbookshelves
I finished reading…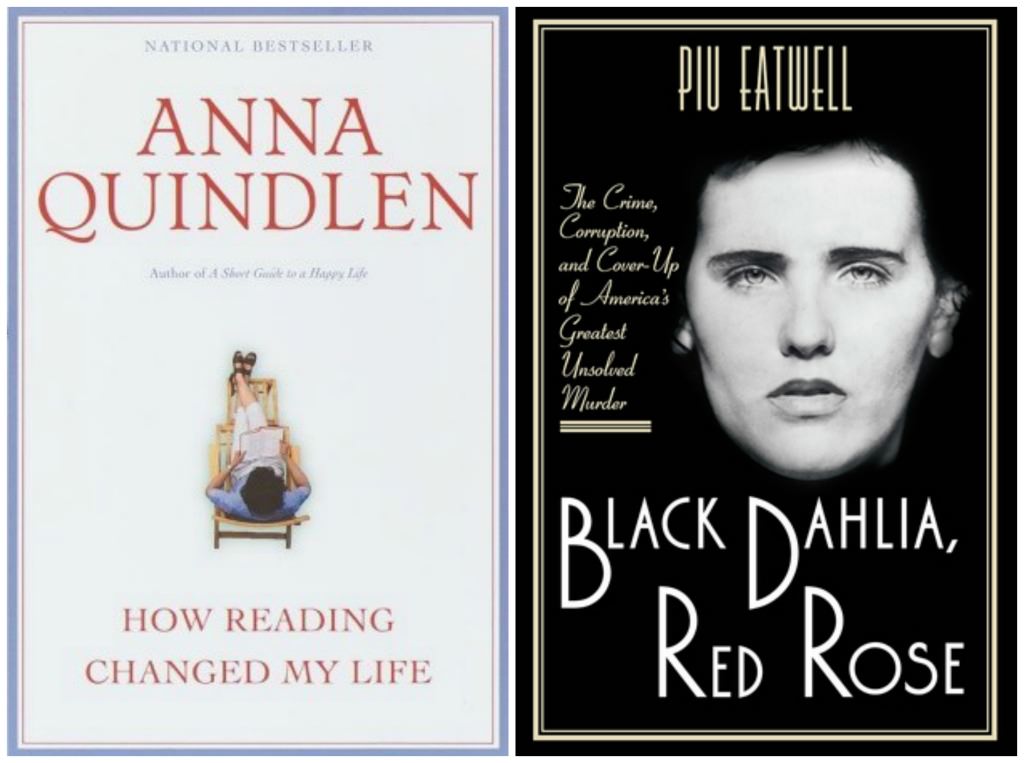 How Reading Changed My Life
by Anna Quindlen (January 1, 1998)
It pains me to say this, but this is the first Anna Quindlen I've ever not liked. I hope it will be the last. Mini review to come.
Black Dahlia, Red Rose
by Piu Marie Eatwell (October 10, 2017)
This investigation into the still unsolved Black Dahlia murder in 1940's L.A. hit my true crime spot. It's not perfect, but a pretty fascinating and maddening read for true crime or L.A. history buffs. Mini review to come.
Affiliate Link: Buy from Amazon
I'm currently reading…

Unraveling Oliver
by Liz Nugent (August 22, 2017)
My library hold for this dark and demented story came in at just the right time. It's exactly the change of pace I needed after lots of nonfiction. I'm 25% through and still not quite sure where it's is headed, but I can't wait to find out!
Affiliate Link: Buy from Amazon
I tried, but wasn't feeling…

The Senator's Children
by Nicholas Montemarano (November 7, 2017)
DNF at 49%. This story about the two daughters of a U.S. Senator and Presidential candidate came recommended by one of my go-to book gurus and it was fine, but I'm never in the mood for "just fine" during the last 2 months of the year. It's a time when I'm looking for a latecomer to sneak into my Best Books of 2017 list. So, on to the next…
Upcoming reading plans…
I'm not sure. I have a bunch of library holds that could come in any day. I also have a list of 2017 books to at least try before the end of the year, which I'll be sharing on Tuesday.
I was reading…
One Year Ago: I was hosting last year's Nonfiction November Book Pairings and didn't do a Monday update.
Two Years Ago: I'd just read one of my favorite Nonfiction November reads of 2015.
How was your reading week?