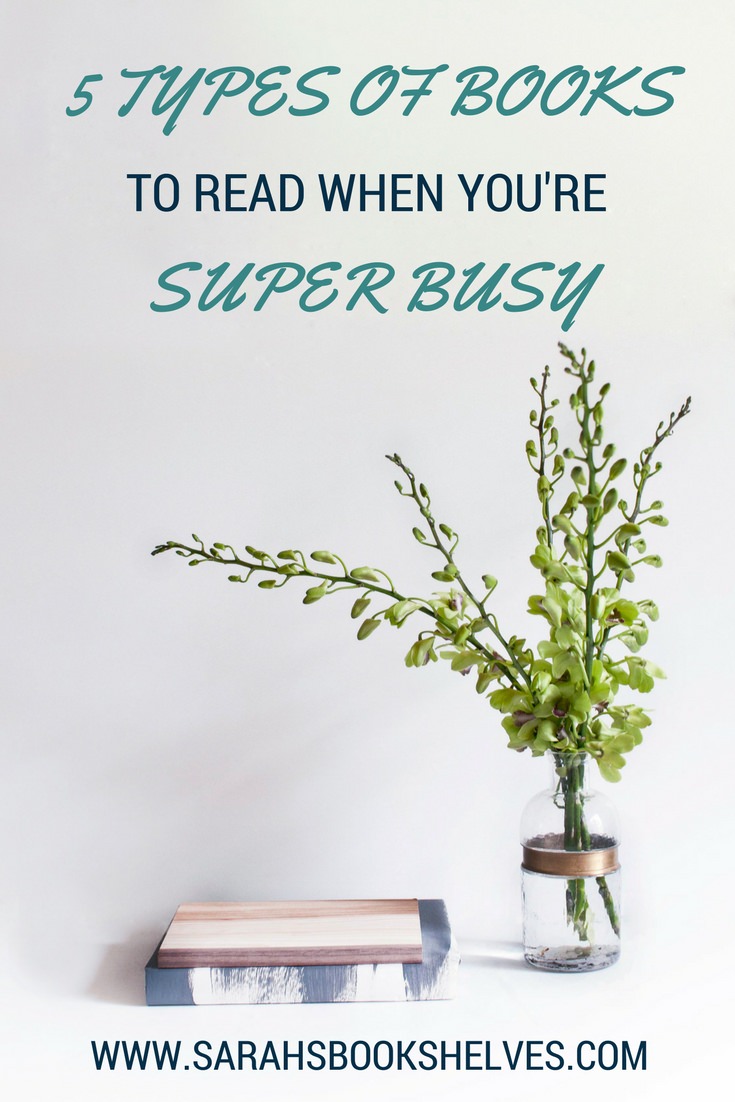 I recently asked y'all on Facebook what your biggest reading problem is these days. One reader talked about having trouble "finding consistent time to read" and said "if a book doesn't hook me right away, I have a hard time sticking with it until it gets going." Man, can I ever relate to this! This has been my overwhelming reading issue all year long.
Whether you're juggling a million holiday commitments and prep activities, trying to fit in reading wherever you can while caring for young children, working a demanding job, or are just going through life events that take up significant mental space, it can sometimes be hard to focus on reading even though you want to. And, even though escaping into a book might be just what your brain needs to de-stress.
In a post earlier this year, I talked about different ways to keep reading when life gets crazy. What I didn't cover in that post was selecting the right types of books to read when you're super busy. If I've learned anything from my reading this year, it's that choosing the types of books your brain and emotions can handle at any given moment is critical to successful reading. Sometimes what works won't be the serious, award-winning novels and that's okay.
Here are 5 types of books to read when you're super busy…
Fiction that Grabs You from the Very First Page
These types of books hook you immediately and keep you frantically turning the pages because you must find out what happens right. this. very. instant. These are the books that you can't put down and force you to put other things aside because you just have to keep reading.
Recent Examples:
Engaging, Easy to Read Novels
While these books aren't grippingly frantic like the pure page-turners of the previous category, they are still easy to sink into. They have engaging storylines and the language doesn't require a lot of concentration (i.e. they "read easy"…which is key for reading through life chaos). These books definitely don't feel like slogs even though some do deal with serious topics.
Recent Examples:
Essay Collections
Essay collections are totally underrated! Each essay can stand on it's own, so you can easily pick up and put down the collections without losing your place in the story. These types of books also work great for me on audio, which is a great substitute when you don't have a lot of time to read.
Recent Examples:
Light and/or Juicy Memoirs
Similar to essay collections, you don't generally have to keep track of intricate storylines in these light memoirs. Plus, you're probably getting some juicy gossip or mind-blowing "truth is stranger than fiction"-type stories. These tend to also be audio winners for me!
Recent Examples:
Re-Reads of Old Favorites
Re-reading old favorites can be incredibly comforting. And, you probably remember the general plot if not the details, meaning you don't have to concentrate quite as hard!
Recent Examples: Honestly, I haven't re-read a book in a few years. But, prior to that, I re-read one Pat Conroy novel (he's an old favorite author for me) every year.
Do you ever feel so busy that you can't concentrate on a book? What are your favorite types of books to read when you're super busy?