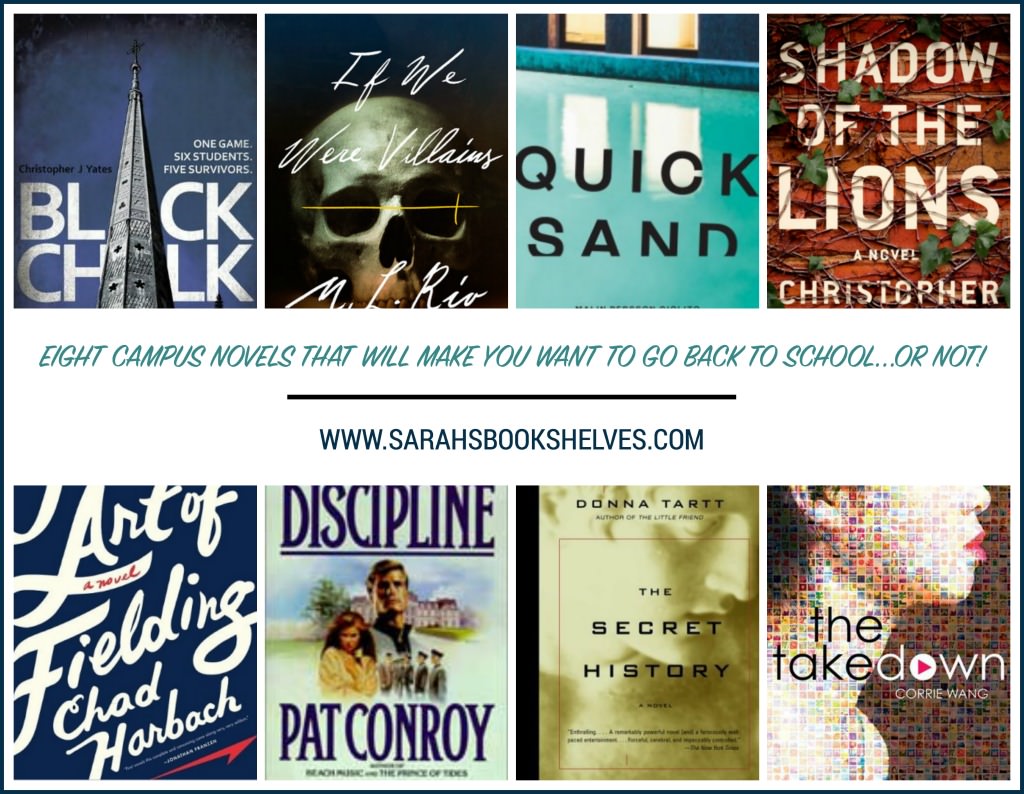 Regular readers know how big a sucker I am for campus novels, so I was so surprised when I realized I'd never done a round-up of my favorites! And, when I say campus, I mean college, boarding school, or elite private high school. For some reason the "campus" feels more "campus-y" and the potential for drama much greater with these types of schools.
You'll notice that many of these books fall into the dark and twisty category…which will probably make some of you glad you're watching all the drama from the sidelines instead of living it!
Eight Campus Novels That Will Make You Want to Go Back to School…or Not!
Black Chalk by Christopher J. Yates (my review)
I feel like I talk about this book all the time…but, with good reason! A secret society, friends backstabbing friends, dares gone way too far…at Oxford University. Bonus: Yates's sophomore novel, Grist Mill Road
, is coming out on January 8 and I couldn't be more excited! 
If We Were Villains by M.L. Rio (my review)
Seven Shakespeare students who are best friends, life imitating art, a tragedy…at the fictional Dellecher Classical Conservatory (a small, uber-intense performing arts college in the Midwest).
Quicksand by Malin Persson Giolito (my review)
Rich and neglected high schoolers that love to party, a school shooting, an obsessive love story, an abusive father…at a fictional, elite Swedish prep school.
Shadow of the Lions
by Christopher Swann (my review)
A boy who disappeared years ago, his best friend who returns to find out what happened…at Blackbourne, a fictional, all boys boarding school in Virginia (but, it's based on the very real Woodberry Forest School in Orange, VA, also the author's alma mater).
The Art of Fielding by Chad Harbach (my review)
Coming of age story, lovable characters, baseball, sports psychology (but, don't worry, this book is not really about baseball)…at Westish College (a small, fictional college on the shores of Lake Michigan). 
The Lords of Discipline by Pat Conroy (my review)
Possibly my very favorite campus novel and the grandaddy of them all! A gorgeous and sinister Charleston setting, abuse and hazing, friendship…at the very real Citadel (The Military College of South Carolina). 
The Secret History by Donna Tartt (my review)
Best friends, a murder, betrayal…at the fictional Hampden College (a small, elite Vermont college closely resembling Tartt's alma mater, Bennington College). 
The Takedown
by Corrie Wang (my review)
High school girl drama, technology and social media on steroids, public shaming…at a fictional, elite Brooklyn high school.
Are you a fellow sucker for campus novels? What are some of your favorites?