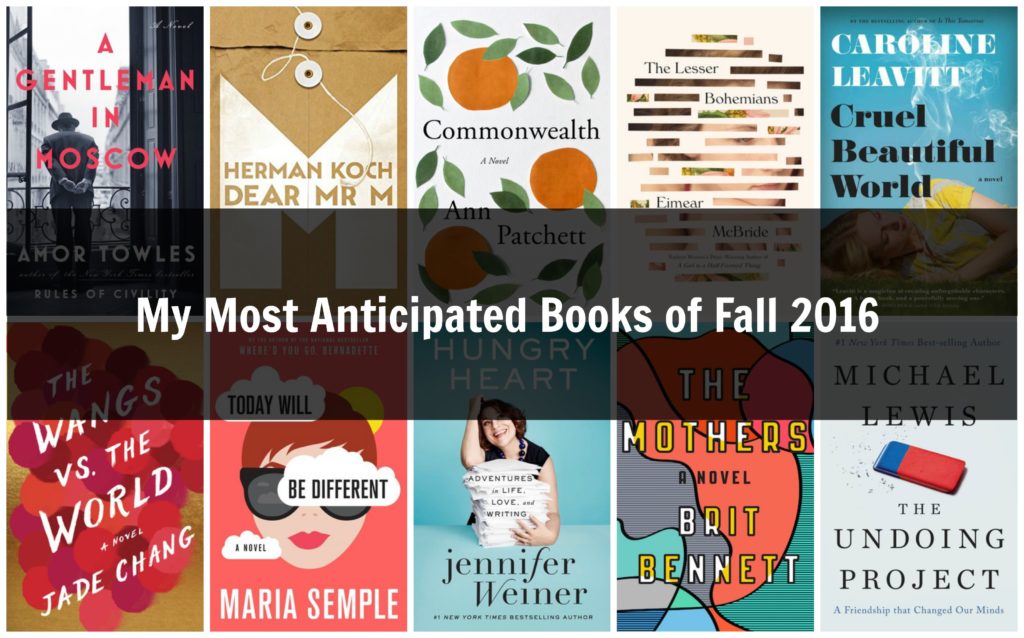 These quarterly Most Anticipated Books lists are one of my favorite types of posts to put together because they get me excited about all the shiny, new books coming up (and, especially Fall, because that's when a lot of the really "big" books are generally published)! But, when I look back at my Spring and Summer posts from this year, I noticed I'm really not fantastic at picking winners in advance (I ended up loving one book from my Summer preview and big, fat zero from my Spring preview)! But, this round has a good chance of breaking the pattern since it's filled with a lot of authors I've loved in the past.
September
A Gentleman in Moscow by Amor Towles (September 6, Viking)
I loved Towles' debut, Rules of Civility, years ago and am interested in his sophomore effort that sounds completely different from Rules of Civility.
From the New York Times bestselling author of Rules of Civility—a transporting novel about a man who is ordered to spend the rest of his life inside a luxury hotel.
Dear Mr. M by Herman Koch (September 6, Crown)
I absolutely loved the biting social commentary in Koch's The Dinner.
From various perspectives, Herman Koch tells the dark tale of a writer in decline, a teenage couple in love, a missing teacher, and a single book that entwines all of their fates. Thanks to M's novel, supposedly a work of fiction, everyone seems to be linked forever, until something unexpected spins the "story" off its rails.
Commonwealth by Ann Patchett (September 13, Harper)
And the third book in the "I absolutely loved X's previous book" sweepstakes (State of Wonder, in this case) !
One Sunday afternoon in Southern California, Bert Cousins shows up at Franny Keating's christening party uninvited. Before evening falls, he has kissed Franny's mother, Beverly—thus setting in motion the dissolution of their marriages and the joining of two families.
The Lesser Bohemians by Eimeer McBride (September 20, Hogarth)
I heard good things about this book on one of the Book Riot podcasts.
A redemptive, captivating story of passion and innocence set across the bedsits of mid-1990s London, McBride holds new love under her fierce gaze, giving us all a chance to remember what it's like to fall hard for another.
October
Cruel Beautiful World by Caroline Leavitt (October 4, Algonquin Books)
Catherine at Gilmore Guide to Books had good things to say about this new-to-me author!
Set in the early 1970s against the specter of the Manson girls, when the peace and love movement begins to turn ugly, this is the story of a runaway teenager's disappearance and her sister's quest to discover the truth.
The Wangs vs. The World by Jade Chang (October 4, Houghton Mifflin Harcourt)
This debut novel is getting some good buzz…
A hilarious debut novel about a wealthy but fractured Chinese immigrant family that had it all, only to lose every last cent—and about the road trip they take across America that binds them back together.
Today Will Be Different by Maria Semple (October 4, Little Brown)
Author of Where'd You Go, Bernadette? Yes, please!
A genius novel from the author of Where'd You Go, Bernadette, about a day in the life of Eleanor Flood, forced to abandon her small ambitions when she awakes to a strange, new future unfolding.
Hungry Heart by Jennifer Weiner (October 11, Atria Books)
It's been quite awhile since I've read Jennifer Weiner's fiction, but I follow her on Twitter and adore her commentary on life and pop culture (particular The Bachelor franchise)…so, I'm intrigued her this collection of nonfiction essays.
Jennifer Weiner is many things: a #1 New York Times bestselling author, a Twitter phenomenon, and "an unlikely feminist enforcer" (The New Yorker). She's also a mom, a daughter, and a sister; a former rower and current cyclist; a best friend and a reality TV junkie. In her first foray into nonfiction, she takes the raw stuff of her personal life and spins into a collection of essays on modern womanhood as uproariously funny and moving as the best of Tina Fey, Fran Lebowitz, and Nora Ephron.
The Mothers by Brit Bennett (October 11, Riverhead Books)
Another debut that's getting a lot of buzz…
Set within a contemporary black community in Southern California, Brit Bennett's mesmerizing first novel is an emotionally perceptive story about community, love, and ambition. It begins with a secret.
December
The Undoing Project by Michael Lewis (December 6, W.W. Norton)
My all-time favorite nonfiction writer takes on the decision-making process. For the most part, Lewis could make any topic fascinating for me.
Forty years ago, Israeli psychologists Daniel Kahneman and Amos Tversky wrote a series of breathtakingly original studies undoing our assumptions about the decision-making process. Their papers showed the ways in which the human mind erred, systematically, when forced to make judgments about uncertain situations.
*All book summaries (in block quotes) are from Goodreads.
What Fall books are you looking forward to?