Do you want to know more about the five Book of the Month Club selections before making your choice(s) each month?
Welcome to my new monthly feature "Book of the Month Club Selections: What Would I Choose?"! Every month, I'll provide commentary on the books that are chosen as that month's Book of the Month Club selections and tell you which book(s) I would choose.
This month, the Book of the Month Club selections are jam-packed with sneak peeks (i.e. books that haven't been released to the public yet)! And if you're considering adding on one of last month's selections, check out my thoughts on those. I can also now say that I've listened to The Stranger in the Woods by Michael Finkel (one of last month's selections) and it's a captivating story that would be perfect for fans of Jon Krakauer (and it's my favorite audiobook of 2017 so far).
Book of the Month Club April 2017 Selections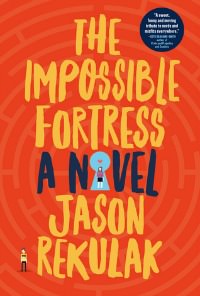 The Impossible Fortress by Jason Rekulak (Released: February 7, 2017)
285 Pages
Average Goodreads Rating: 3.75
Selected By: Tyler Coates (Culture Editor at GQ)

A dazzling debut novel—at once a charming romance and a moving coming-of-age story—about what happens when a fourteen-year old boy pretends to seduce a girl to steal a copy of Playboy but then discovers she is his computer-loving soulmate.
My Thoughts:
I've had The Impossible Fortress on my TBR list for a little while now…potentially as a candidate for my 2017 Summer Reading Guide (coming in mid-May). Kathy at Kathy Reads said it was "fun, fast, and original.  It's that book that will warm your heart and keep you smiling." However, Katie at Words for Worms found it an "enjoyable" book that was "based in nostalgia and not a literary heavy hitter." Katie also didn't think it lived up to the marketing dollars that Simon & Schuster put behind it. I've also heard discussions on at least one literary podcast about the fact that it's so jam-packed with 1980's nostalgia that it overpowers the overall story. I've also heard it's a book that will appeal to gaming nerds…I'm definitely a nerd in many ways, but gaming isn't one of them. So, my interest is wavering ever so slightly.
Startup by Doree Shafrir (Released: April 25, 2017)
304 Pages
Average Goodreads Rating: 4.03
Selected By: Glory Edim (owner of book club and newsletter Well Read Black Girl
)

From veteran online journalist and BuzzFeed writer Doree Shafrir comes a hilarious debut novel that proves there are some dilemmas that no app can solve.

Mack McAllister has a $600 million dollar idea. His mindfulness app, TakeOff, is already the hottest thing in tech and he's about to launch a new and improved version […]. Katya Pasternack is hungry for a scoop that will drive traffic. Sabrina Choe Blum just wants to stay afloat. When Mack's bad behavior collides with Katya's search for a salacious post, Sabrina gets caught in the middle as TakeOff goes viral for all the wrong reasons.
My Thoughts:
This debut novel caught my eye when I reviewed the spring 2017 publisher's catalogs. Joanna Rakoff, author of one of my favorite memoirs (My Salinger Year
, my review), said "if you have ever lived in New York or worked in an office, you will love this novel." I've done both, so I'm thinking I'll appreciate this book! And, it's been compared to Adelle Waldman's The Love Affairs of Nathaniel P.
 (another NYC novel I loved) and was included in The Millions Great 2017 Book Preview. If you're considering this one, check out some of Shafrir's writing for Buzzfeed. Also note that Startup is not coming out until April 25, so this is a chance to get your hands on it early!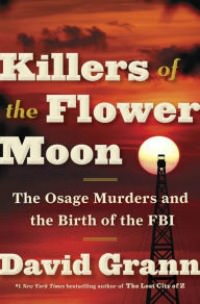 Killers of the Flower Moon by David Grann (Release Date: April 18, 2017)
320 Pages
Average Goodreads Rating: 4.43
Selected By: Sarah Weinman (writer, editor and "Crime Lady"
)

From New Yorker staff writer David Grann, #1 New York Times best-selling author of The Lost City of Z, a twisting, haunting true-life murder mystery about one of the most monstrous crimes in American history.

[…] David Grann revisits a shocking series of crimes in which dozens of people were murdered in cold blood. […] it is a searing indictment of the callousness and prejudice toward Native Americans that allowed the murderers to operate with impunity for so long. Killers of the Flower Moon is utterly riveting, but also emotionally devastating.
My Thoughts:
I hadn't heard of this book before seeing the Book of the Month Club April selections, but I love some good true crime, so my interest is now piqued! It's been blurbed by Jon Krakauer and Erik Larson (whose The Devil in the White City
 is one of my all-time favorite nonfiction books) and Le Monde (Paris) called Grann "a worthy heir to Truman Capote." High praise to be compared to the author of one of the first true crime books ever published, In Cold Blood. I thought I had my top 2 choices for this month all locked up until I saw this book!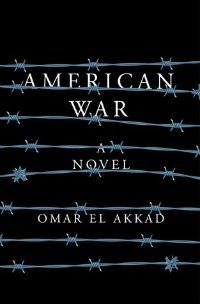 American War by Omar El Akkad (Released: April 4, 2017)
407 Pages
Average Goodreads Rating: 4.07
Selected By: Maris Kreizman (Book of the Month Club Editorial Director)

An audacious and powerful debut novel: a second American Civil War, a devastating plague, and one family caught deep in the middle a story that asks what might happen if America were to turn its most devastating policies and deadly weapons upon itself.
My Thoughts:
American War is a dystopian war novel set in 2074, which is not really in my wheelhouse. It's been compared to Emily St. John Mandel's Station Eleven
 (which I did love) and Corman McCarthy's The Road
. El Akkad is a Canadian journalist who has covered the Afghanistan war, the Guantànamo Bay military trials, and the Arab Spring revolution in Egypt. This novel portrays a world where the red states and blue states are at war and is likely to spark political debate. Publisher's Weekly called it "a very dark read."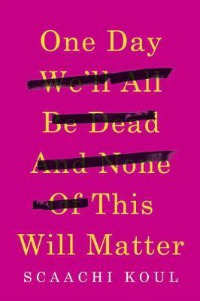 One Day We'll All Be Dead by Scaachi Koul (Released: May 2, 2017)
288 Pages
Average Goodreads Rating: 4.19
Selected By: Kevin Nguyen (Digital Deputy Editor, GQ Magazine)
For readers of Mindy Kaling, Jenny Lawson and Roxane Gay, a debut collection of fierce and funny essays about growing up the daughter of Indian immigrants in Canada, "a land of ice and casual racism," by the irreverent, hilarious cultural observer and incomparable rising star, Scaachi Koul.
My Thoughts:
Though she is a culture writer for Buzzfeed, One Day We'll All Be Dead is Scaachi Koul's first book. I don't know anyone who has personally read this book yet, but I do know of some who are excited about it (Shannon at River City Reading). It was included in The Millions Great 2017 Book Preview and received a starred review in Publisher's Weekly, which called it "simultaneously uproarious and affecting." I've had great luck with this publisher, especially with books having to do with immigrant culture (i.e. Shelter
, my review). But, I also have a hit and miss relationship with essay collections that are supposed to be funny, so while I'm definitely interested in this book, I'm going to let some other readers I trust vet it first.

What Book of the Month Club April 2017 selection(s) would I choose?
My choices this month would be Startup and Killers of the Flower Moon!
Make your Book of the Month Club selections by Thursday, April 6th.
Join Book of the Month Club…
Book of the Month Club is a subscription service for people who like to try new books from a curated selection and like to read in hardcover format. Through Book of the Month Club, you can get a hardcover book for generally significantly less than you'd pay in a bookstore or through Amazon. And, you get to try something new that has been vetted by one of Book of the Month Club's well-read judges!
Sign up for any of the subscription plans below and you get to choose one of five books selected by Book of the Month Club's panel of judges (including a surprise guest judge). Book of the Month Club will then mail your chosen book to your house with a cute note. You also have the option to purchase additional books for $9.99 each and to skip a month if you want.
Sign up for a Book of the Month Club membership (pricing below)!
1-month: $5 for first month, $14.99/month if you choose to continue
3-month: $9.99 for first 3 months, $14.99/month if you choose to continue
6-month: only available as a gift
12-month: $11.99/month
(Special March Deal: get a free BOTM tote when you sign up for a 3 month membership)


*All book descriptions are from Goodreads.