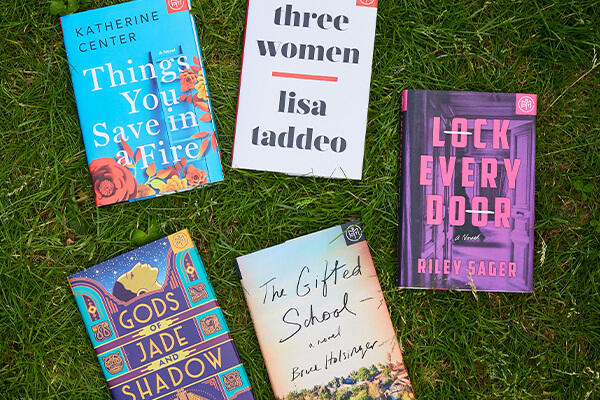 Welcome to my monthly feature "Book of the Month July 2019 Selections: What Book Should You Choose?"! Every month, I provide commentary on the books that are chosen as that month's Book of the Month selections that will hopefully help you choose your pick, and tell you which book(s) I'm going to choose. AND, I provide you with the most up to date version of my Ultimate Guide to the Book of the Month Judges with free, downloadable template (below).
I haven't read any of this month's selections, but I'm very excited about two of them and cautiously intrigued by a third.
Choose the best Book of the Month selection for you every time!
I've just updated my Ultimate Guide to the Book of the Month Judges to reflect the February 2018 structural changes that significantly changed the judges that appeared regularly. Here's a free, downloadable template to help you find your go-to BOTM judge!
Book of the Month July 2019 Selections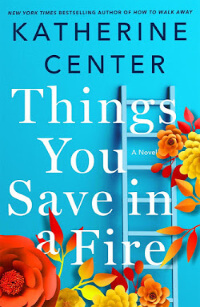 Things You Save in a Fire
by Katherine Center
Fiction – Light (Release Date: August 13, 2019)
320 Pages
Average Goodreads Rating: 4.41 on 1,672 ratings
Selected By: Siobhan Jones (Book of the Month Editorial Director)

As one of the only female firefighters in her Texas firehouse, Cassie Hanwell seen her fair share of them, and she's excellent at dealing with other people's tragedies. But when her estranged and ailing mother asks her to uproot her life and move to Boston, it's an emergency of a kind Cassie never anticipated.

The tough, old-school Boston firehouse is as different from Cassie's old job as it could possibly be. Hazing, a lack of funding, and poor facilities mean that the firemen aren't exactly thrilled to have a "lady" on the crew, even one as competent and smart as Cassie. Except for the handsome rookie, who doesn't seem to mind having Cassie around. But she can't think about that. Because she doesn't fall in love. And because of the advice her old captain gave her: don't date firefighters. Cassie can feel her resolve slipping…but will she jeopardize her place in a career where she's worked so hard to be taken seriously?
My Thoughts:
Katherine Center writes romances that have some substance and I really liked her last novel, How to Walk Away (my review), despite not thinking I would (I'm not a big romance reader)! I'm 15% into Things You Save in a Fire and I'm on the fence about it. The narration is kind of bothering me, but I'm going to give it a bit more time since so many trusted recommendation sources loved it. Tina at TBR, etc rated it 5 stars and said it's "sweet but not too saccharine, funny, and with depth." She also loved the "badass protagonist." On Episode 8 of my podcast, Ashley Spivey said it took her a little longer to get into than How to Walk Away, but that she ended up loving it even more than How to Walk Away. Kaytee Cobb of the Currently Reading podcast also rated it 4 stars. On the flip side, Hannah at Book Nerd Native rated it 3 stars and said the romance felt "rushed" and the dialogue felt "slightly immature." If you liked Josie Silver's One Day in December, this one might be a good pick for you. I have the ARC, but haven't had a chance to read it yet myself…I'm planning to read it soon.
Three Women by Lisa Taddeo
Nonfiction (Release Date: July 9, 2019)
320 Pages
Average Goodreads Rating: 4.35 on 279 ratings
Selected By: Becca Freeman (Co-Host of the Bad on Paper Podcast)

Desire as we've never seen it before: a riveting true story about the sex lives of three real American women, based on nearly a decade of reporting.

Over the past eight years, journalist Lisa Taddeo has driven across the country six times to embed herself with ordinary women from different regions and backgrounds. The result, Three Women, is the deepest nonfiction portrait of desire ever written and one of the most anticipated books of the year.
My Thoughts:
I've actually spoken to Becca Freeman (the judge who's endorsing this debut for Book of the Month) and she said it's "riveting and reads like fiction." Goodreads reviewers said you get deep understandings of these three women's inner lives, but that they're all being treated poorly by men (which some reviewers noted enraged them). The major recurring theme among Goodreads reviewers is that you legitimately forget you're reading nonfiction. Tyler Goodson and Jaclyn Crupi (two of my trusted recommendation sources) both rated it 5 stars. Elizabeth Gilbert, author of City of Girls, said it's a "nonfiction literary masterpiece at the same level as In Cold Blood." Finally Gwyneth Paltrow, who I've never seen blurb a book before (although that doesn't mean she hasn't), said she "literally could not put it down."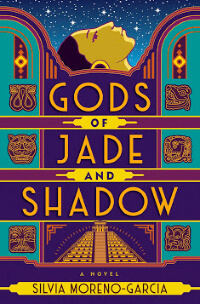 Gods of Jade and Shadow by Silvia Moreno-Garcia
Historical Fiction / Fantasy (Release Date: July 23, 2019)
352 Pages
Average Goodreads Rating: 4.15 on 214 ratings
Selected By: S.A. Chakraborty (Author of The City of Brass)

The Mayan god of death sends a young woman on a harrowing, life-changing journey in this dark, one-of-a-kind fairy tale inspired by Mexican folklore.
My Thoughts:
Gods of Jade and Shadow is a feminist twist on a fairytale and is an #ownvoices fantasy novel by the author of Signal to Noise. It's being compared to The Bear and the Nightingale. Goodreads reviewers said it was incredibly unique, 1920's Mexico and the Mayan Underworld setting was vivid, it was a page turner, it blends fantasy with mythology and historical fiction, it's filled with Mayan folklore, and it contains a bit of romance. Some reviewers also said the ending was not emotionally satisfying.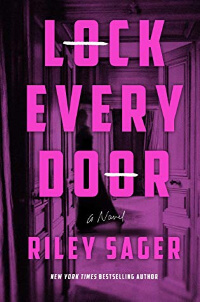 Lock Every Door by Riley Sager
Fiction – Mystery / Thriller (Release Date: July 2, 2019)
384 Pages
Average Goodreads Rating: 4.2 on 911 ratings
Selected By: Liberty Hardy (co-host of Book Riot's All the Books podcast)

No visitors. No nights spent away from the apartment. No disturbing the other residents, all of whom are rich or famous or both. These are the only rules for Jules Larsen's new job as an apartment sitter at the Bartholomew, one of Manhattan's most high-profile and mysterious buildings. Recently heartbroken and just plain broke, Jules is taken in by the splendor of her surroundings and accepts the terms, ready to leave her past life behind.

As she gets to know the residents and staff of the Bartholomew, Jules finds herself drawn to fellow apartment sitter Ingrid, who comfortingly, disturbingly reminds her of the sister she lost eight years ago. When Ingrid confides that the Bartholomew is not what it seems and the dark history hidden beneath its gleaming facade is starting to frighten her, Jules brushes it off as a harmless ghost story . . . until the next day, when Ingrid disappears.
My Thoughts:
Riley Sager (author of Final Girls and The Last Time I Lied) is back for a third time as a Book of the Month author. He writes somewhat horror-style thrillers. Tina at TBR, etc. rated his latest 5 stars and said it's Sager's "most exciting book yet," Jules is a "character you can root for" and that she definitely didn't see the ending coming. Goodreads reviewers said there are two timelines, Sager kept them guessing the whole way through, they can't say much in their reviews without spoiling the plot, addresses themes of status and privilege as well as grief and loneliness. Chelsey at Suspense Thrill broke down Riley Sager's three books like this: "Final Girls was horrific slasher, The Last Time I Lied was a campy YA, and Lock Every Door has a grown up, classic chiller feel, with an updated twist on the locked room trope."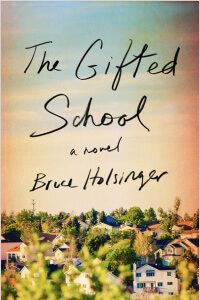 The Gifted School by Bruce Holsinger
Fiction (Release Date: July 2, 2019)
464 Pages
Average Goodreads Rating: 3.76 on 146 ratings
Selected By: Brianna Goodman (Book of the Month Editorial Team)

Set in the fictional town of Crystal, Colorado, The Gifted School is a keenly entertaining novel that observes the drama within a community of friends and parents as good intentions and high ambitions collide in a pile-up with long-held secrets and lies. Seen through the lens of four families who've been a part of one another's lives since their kids were born over a decade ago, the story reveals not only the lengths that some adults are willing to go to get ahead, but the effect on the group's children, sibling relationships, marriages, and careers, as simmering resentments come to a boil and long-buried, explosive secrets surface and detonate. It's a humorous, keenly observed, timely take on ambitious parents, willful kids, and the pursuit of prestige, no matter the cost.
My Thoughts:
The premise of The Gifted School immediately struck me as similar to Big Little Lies (in fact, Meg Wolitzer called it "Big Little Lies with standardized testing."). The author is a University of Virginia professor, so has firsthand experience with education and parents' behavior relating to their kids' education. It's told from multiple perspectives, both child and adult. Goodreads reviewers said it addresses helicopter parenting, some chapters are told in "vlog" form from a teenager's perspective, it's like watching a slow motion train wreck, it's a bit satirical with lots of social commentary, it's funny, the story is propulsive, and most of the characters are dislikable. This actually sounds like my kind of book, but it would all come down to the writing for me. I'm going to wait for some more trusted recommendation sources to vet it before I commit to 450+ pages. 
What Book of the Month July 2019 selection(s) will I choose?
I'm choosing Three Women this month…because the reviews are out of this world and Becca Freeman got me excited!
Make your Book of the Month selections by Saturday, July 6th.
What book will you choose this month?
This Month's Special Deals
NEW MEMBER DEAL: New members can get a free book when they join. Use code RIDE.
ANNUAL PAYMENT DEAL: BOTM is now a monthly subscription service. However, given that some members preferred paying upfront, they are now offering a 12-month option. Members who sign up for 12 months will pay $149.99/year. That's $12.50/book, instead of the standard price of $14.99/month.
How to Join Book of the Month…
Book of the Month is a subscription service for people who like to try new books from a curated selection and like to read in hardcover format. Through Book of the Month, you can get a hardcover book for generally significantly less than you'd pay in a bookstore or through Amazon. And, you get to try something new that has been vetted by one of Book of the Month's well-read judges!
Sign up for any of the subscription plans below and you get to choose one of five books selected by Book of the Month's panel of judges (including a surprise guest judge). Book of the Month will then mail your chosen book to your house with a cute note. You also have the option to purchase additional books for $9.99 each and to skip a month if you want.
Sign up for a Book of the Month membership (NEW pricing below)!
New members will sign up for a membership that renews monthly:
A book of your choice for $14.99 / month
Add extra books to your shipment for $9.99 each
Skip any month you want
Free shipping, always
Pin this post…