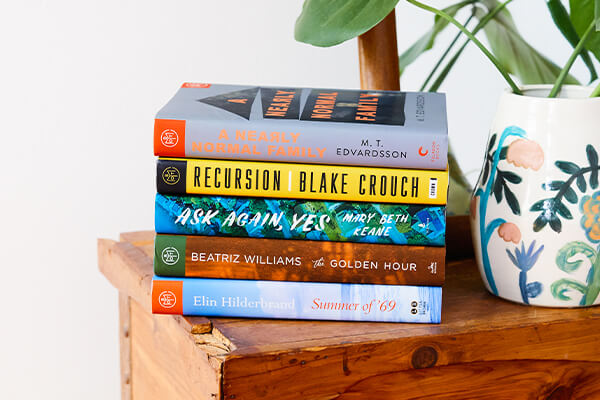 Welcome to my monthly feature "Book of the Month Selections: What Book Should You Choose?"! Every month, I provide commentary on the books that are chosen as that month's Book of the Month selections that will hopefully help you choose your pick, and tell you which book(s) I'm going to choose. AND, I provide you with the most up to date version of my Ultimate Guide to the Book of the Month Judges with free, downloadable template (below).
After a slight hiccup in May, I'm back to loving this month's selections! I've read two…I 5 star loved one and really liked the second. And, I'm interested in a third. The final two picks are from repeat authors…a topic which I'm dying to get more information about.
Choose the best Book of the Month selection for you every time!
I've just updated my Ultimate Guide to the Book of the Month Judges to reflect the February 2018 structural changes that significantly changed the judges that appeared regularly. Here's a free, downloadable template to help you find your go-to BOTM judge!
Book of the Month June 2019 Selections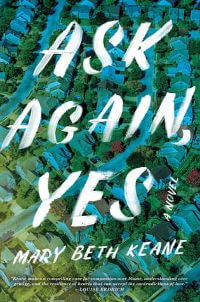 Ask Again, Yes
by Mary Beth Keane
Fiction – Literary (Release Date: May 28, 2019)
400 Pages
Average Goodreads Rating: 4.05 on 478 ratings
Selected By: Stephanie Howell (BOTM Ambassador, @plan.read.bloom)

A profoundly moving novel about two neighboring families in a suburban town, the friendship between their children, a tragedy that reverberates over four decades, and the power of forgiveness.
My Thoughts:
I 5-star loved this novel…it's on my 2019 Summer Reading Guide (in the "Something With a Bit More Substance" category) and will definitely be one of my Best Books of 2019! It's a character-driven novel that I couldn't put down. These particular characters struck a chord with me. The first 10% is a little slow, but I started flying through it after that. It's a coming of age story and an unconventional love story. It's about mental illness, addiction, and how these characters cope during the aftermath of a horrible tragedy. The beginning reminded me a bit of My Sunshine Away (the neighborhood kids hijinks), while overall, it reminded me of The Female Persuasion (my review) without the feminism angle. If you need some more recommendation sources, Tina from TBR, etc., Carla from Happiest When Reading, Stacy from Prose and Palate, Annie Jones from the From the Front Porch podcast, and author Mary Laura Philpott (she shared it on Episode 21 of my podcast) all loved it.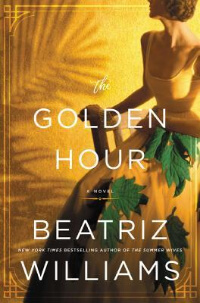 The Golden Hour by Beatriz Williams
Historical Fiction (Release Date: July 9, 2019)
480 Pages
Average Goodreads Rating: 4.04 on 93 ratings
Selected By: Susan Meissner (Author of As Bright As Heaven)

The New York Times bestselling author of The Summer Wives and A Certain Age creates a dazzling epic of World War II-era Nassau—a hotbed of spies, traitors, and the most infamous couple of the age, the Duke and Duchess of Windsor.

The stories of two unforgettable women thread together in this extraordinary epic of espionage, sacrifice, human love, and human courage, set against a shocking true crime . . . and the rise and fall of a legendary royal couple.
My Thoughts:
Beatriz Williams writes light historical fiction that usually have some romance. She wrote my all-time favorite summer read, A Hundred Summers (my review), but I feel like her books have gone downhill since then (for more details, check out Podcast Ep. 20: All-Time Favorite Summer Reads). So, I'm not jumping on this one even though the premise sounds deliciously intriguing (the Bahamas setting, espionage, the Royals)…and I love that the real-life Duke and Duchess of Windsor play a role. Goodreads reviewers say there are multiple plot lines, a large cast of characters, and multiple POV's…the beginning is a bit slow and the amount of stuff going on is a bit "disorienting." But, they also say Williams skillfully weaves real people in with her fictional characters, readers wanted to Google the real people while reading, they liked the two strong female protagonists, and some said it's their favorite Beatriz Williams book to date.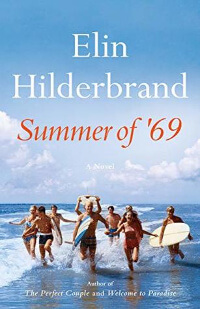 Summer of '69 by Elin Hilderbrand
Historical Fiction (Release Date: June 18, 2019)
432 Pages
Average Goodreads Rating: 4.18 on 65 ratings
Selected By: Siobhan Jones (Book of the Month Editorial Director)

It's 1969, and for the Levin family, the times they are a-changing. Every year the children have looked forward to spending the summer at their grandmother's historic home in downtown Nantucket: but this year Blair, the oldest sister, is marooned in Boston, pregnant with twins and unable to travel. Middle sister Kirby, a nursing student, is caught up in the thrilling vortex of civil rights protests, a passion which takes her to Martha's Vineyard with her best friend, Mary Jo Kopechne. Only son Tiger is an infantry soldier, recently deployed to Vietnam. Thirteen-year-old Jessie suddenly feels like an only child, marooned in the house with her out-of-touch grandmother who is hiding some secrets of her own. As the summer heats up, Teddy Kennedy sinks a car in Chappaquiddick, a man flies to the moon, and Jessie experiences some sinking and flying herself, as she grows into her own body and mind.
My Thoughts:
Summer of '69 is this month's second historical novel with some real-life royalty (the American kind…the Kennedys) thrown in, but it's apparently the first time Hilderbrand has tackled historical fiction. Goodreads reviewers said the characters are well developed, the Author's Note at the end is not to be missed, the ending needed a bit more fleshing out, it has multiple POV's, it tackles some serious issues despite it being very much a beach read, and it's packed with 1960's nostalgia. Kelly Massry rated it 5 stars and said it was the perfect historical summer read. She also said Hilderbrand seamlessly weaves real events into her fictional family drama. Honestly, this book sounds very similar to The Golden Hour…different time periods, but similar elements and structure.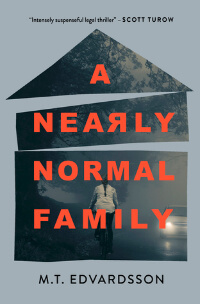 A Nearly Normal Family by M.T. Edvardsson
Fiction – Mystery / Thriller (Release Date: June 25, 2019)
400 Pages
Average Goodreads Rating: 4.29 on 454 ratings
Selected By: Angie Kim (Author of Miracle Creek)

M.T. Edvardsson's A Nearly Normal Family is a gripping legal thriller that forces the reader to consider: how far would you go to protect the ones you love? In this twisted narrative of love and murder, a horrific crime makes a seemingly normal family question everything they thought they knew about their life—and each other.
My Thoughts:
A Nearly Normal Family is a Swedish courtroom / family drama (is Swedish suspense becoming a thing?)…it's also a translation. Goodreads reviewers said there is an unusual 3 part structure (each Part is from a different POV: the daughter, the father, and the mother), it asks the question of how far you would go to protect your child, it features the classic pastor/rebellious child combination, there are lots of lies to untangle, and the suspense steadily builds (some called it a "slow burn"). Some reviewers found it repetitive and said the writing (or maybe the translation?) was a bit choppy. The synopsis and reviews remind me a bit of Miracle Creek (my review)…another courtroom drama where every character is lying at least a little bit for their own reasons. Katie from Katie Needs a Bigger Bookshelf rated it 5 stars and said "this one had me hooked from page one. I loved that the story was told from three perspectives but one at a time instead of interspersed. I changed my mind on what could have happened so many times." This one definitely piques my interest as I tend to like Swedish suspense, but I'm going to wait for a few more trusted sources to read it before pulling the trigger.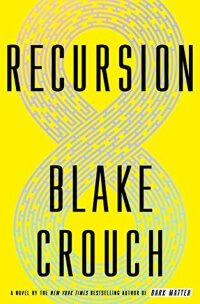 Recursion by Blake Crouch
Science Fiction (Release Date: June 11, 2019)
336 Pages
Average Goodreads Rating: 4.35 on 525 ratings
Selected By: Seth Fried (Author of The Municipalists)

Memory makes reality. 

That's what NYC cop Barry Sutton is learning, as he investigates the devastating phenomenon the media has dubbed False Memory Syndrome—a mysterious affliction that drives its victims mad with memories of a life they never lived.

That's what neuroscientist Helena Smith believes. It's why she's dedicated her life to creating a technology that will let us preserve our most precious memories. If she succeeds, anyone will be able to re-experience a first kiss, the birth of a child, the final moment with a dying parent.

As Barry searches for the truth, he comes face to face with an opponent more terrifying than any disease—a force that attacks not just our minds, but the very fabric of the past. And as its effects begin to unmake the world as we know it, only he and Helena, working together, will stand a chance at defeating it.
My Thoughts:
I don't read much Sci-Fi, but Blake Crouch is the exception (I loved his last book, Dark Matter). He reads incredibly human takes on Sci-Fi that always make you consider a big life question. In Recursion's case, the question is "what is memory?" There's a LOT going on in this novel (I had no idea what was going on at first)…it's somewhat of a mind-bending and made my brain hurt at times, but in a good way. I wanted to figure out what was going on and I was flying through the pages trying to find out. It actually reads like part Sci-Fi, part save-the-world action thriller. Goodreads reviewers mentioned having trouble keeping track of all the timelines, and though it did take a bit of effort, I thought that part was manageable. If you liked Dark Matter (my review), I think you'll also like Recursion. This one was in my 2019 Summer Reading Guide and Modern Mrs. Darcy's as well. And, Susie from Novel Visits rated it 4 stars.

What Book of the Month June 2019 selection(s) will I choose?
I'm choosing Ask Again, Yes this month…because I loved it so much that I want a hard copy for my shelves!
Make your Book of the Month selections by Thursday, June 6th.
What book will you choose this month?
This Month's Special Deals
NEW MEMBER DEAL: New members can get a free book when they join. Use code SUMMERVACAY.
ANNUAL PAYMENT DEAL: BOTM is now a monthly subscription service. However, given that some members preferred paying upfront, they are now offering a 12-month option. Members who sign up for 12 months will pay $149.99/year. That's $12.50/book, instead of the standard price of $14.99/month.
How to Join Book of the Month…
Book of the Month is a subscription service for people who like to try new books from a curated selection and like to read in hardcover format. Through Book of the Month, you can get a hardcover book for generally significantly less than you'd pay in a bookstore or through Amazon. And, you get to try something new that has been vetted by one of Book of the Month's well-read judges!
Sign up for any of the subscription plans below and you get to choose one of five books selected by Book of the Month's panel of judges (including a surprise guest judge). Book of the Month will then mail your chosen book to your house with a cute note. You also have the option to purchase additional books for $9.99 each and to skip a month if you want.
Sign up for a Book of the Month membership (NEW pricing below)!
New members will sign up for a membership that renews monthly:
A book of your choice for $14.99 / month
Add extra books to your shipment for $9.99 each
Skip any month you want
Free shipping, always
Pin this post…