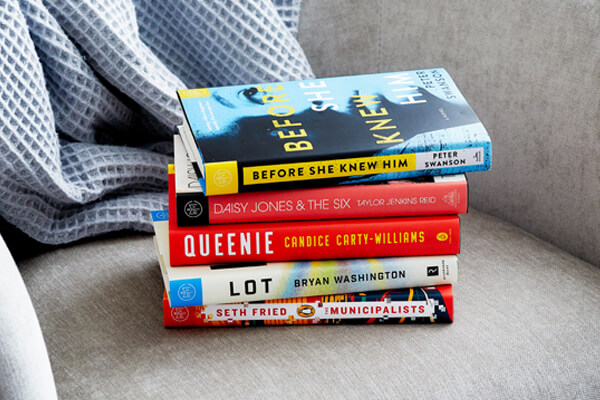 Welcome to my monthly feature "Book of the Month Selections: What Book Should You Choose?"! Every month, I provide commentary on the books that are chosen as that month's Book of the Month selections that will hopefully help you choose your pick, and tell you which book(s) I'm going to choose. AND, I provide you with the most up to date version of my Ultimate Guide to the Book of the Month Judges with free, downloadable template (below).
Way to go, Book of the Month! For the second month in a row, there are multiple selections that I'm interested in! There's a hyped novel in a unique format, a psychological thriller from an author I like, a debut Sci-Fi novel from an acclaimed short story writer, a debut short story collection that's getting critical hype, and debut novel billed as a cross between Bridget Jones Diary and Americanah.
Choose the best Book of the Month selection for you every time!
I've just updated my Ultimate Guide to the Book of the Month Judges to reflect the February 2018 structural changes that significantly changed the judges that appeared regularly. Here's a free, downloadable template to help you find your go-to BOTM judge!
Book of the Month March 2019 Selections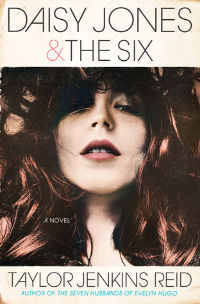 Daisy Jones & the Six by Taylor Jenkins Reid
Release Date: March 5, 2019
368 Pages
Average Goodreads Rating: 4.41 on 1,242 ratings
Selected By: Katherine Center (Author of How to Walk Away and others)

Everyone knows Daisy Jones & The Six, but nobody knows the reason behind their split at the absolute height of their popularity . . . until now.

The making of that legend is chronicled in this riveting and unforgettable novel, written as an oral history of one of the biggest bands of the seventies.
My Thoughts:
Daisy Jones & The Six is one of the more hyped releases of the year from a beloved author (although, this book is a departure for her). Though the premise sounds like nonfiction, this is a novel. To me, it sounds like a fictional music version of Live from New York since it's told in an oral history / interview format. Three book sources I trust have read it and landed in slightly different places. Susie from Novel Visits loved the format, the 70's rock scene setting, and the three very different female characters…and she rated it 5 stars. Gayle from The Readerly Report Podcast and Everyday I Write the Book blog liked it a lot (4 stars), but didn't loved it as much as she thought she would (the sex/drugs angle got a little tiresome, but the band felt so real she sometimes forgot she was reading fiction). And, Renee from It's Book Talk (who isn't a big music lover) also got frustrated with the amount of sex/drugs and felt disconnected from the characters because of the oral history format. Ashley Spivey (a recent podcast guest) loved it. Amazon has ordered a limited series adaptation of Daisy Jones & The Six with Reese Witherspoon producing (source: Variety). If you liked VH1's Behind the Music back in the day or Live from New York, I think this could be a good pick for you.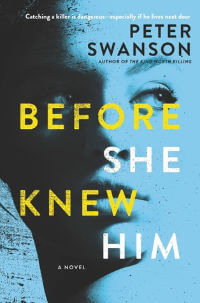 Before She Knew Him by Peter Swanson
Release Date: March 5, 2019
320 Pages
Average Goodreads Rating: 4.01 on 362 ratings
Selected By: Riley Sager (Author of Final Girls and The Last Time I Lied)

From the hugely talented author of The Kind Worth Killing comes an exquisitely chilling tale of a young suburban wife with a history of psychological instability whose fears about her new neighbor could lead them both to murder . . .
My Thoughts:
Y'all know how finicky I am about psychological thrillers, but Peter Swanson is an author I've actually had a good experience with! I really liked The Kind Worth Killing and it was different than all those thrillers that tend to run together. That being said, I'm always nervous about plots that center around neighborhood drama. Goodreads reviewers said it has a noir feeling and was unputdownable, the twists didn't feel outlandish, the first half is a lot of setting the stage (but, the second half takes off), and that this is a wild plot that somehow does work. They also recommend you go in blind (I agree…lots was given away in some of the Goodreads reviews I read…and they weren't "hidden for spoilers"). It was blurbed by Alafair Burke (author of The Wife, another thriller I like).
The Municipalists by Seth Fried
Release Date: March 19, 2019
272 Pages
Average Goodreads Rating: 4.05 on 22 ratings
Selected By: Siobhan Jones (Book of the Month Editorial Director)

In Metropolis, the gleaming city of tomorrow, the dream of the great American city has been achieved. But all that is about to change, unless a neurotic, rule-following bureaucrat and an irreverent, freewheeling artificial intelligence can save the city from a mysterious terrorist plot that threatens its very existence.
My Thoughts:
The Municipalists is a debut Sci-Fi novel from an acclaimed short story writer (The Great Frustration). It centers around male friendship and apparently has an optimistic outlook on AI (Artificial Intelligence), which is different from many other books about AI. There is only one meaningful review on Goodreads that describes it as a fun adventure. The reviewer liked the voice and finished it in one night, but wished for more world building. Author Karen Russell (Swamplandia!) has called Fried "a delight to read."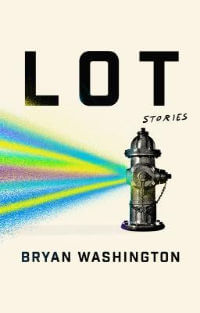 Lot: Stories by Bryan Washington
Release Date: March 19, 2019
240 Pages
Average Goodreads Rating: 4.53 on 33 ratings
Selected By: Mat Johnson (Author of Pym and Loving Day)

In the city of Houston – a sprawling, diverse microcosm of America – the son of a black mother and a Latino father is coming of age. He's working at his family's restaurant, weathering his brother's blows, resenting his older sister's absence. And discovering he likes boys.
My Thoughts:
Washington is 24 years old and has written nonfiction and social commentary, but this is his debut story collection. Goodreads reviewers said the stories are interconnected with half following a bi-racial family with a gay son and half following the surrounding neighborhood. They describe these stories as raw and intense, and said they paint a picture of the city of Houston. One reviewer said this collection addresses a lot of issues, but they felt organic to the story. Tyler Goodson (Manager of Avid Bookshop in Athens, GA and one of my best recommendation sources) rated this one 5 stars and said "the light that shines from these stories is almost too much." Aja Gabel (author of The Ensemble, one of my favorite books of 2018) called it "haunting and powerful." It's also been compared to Junot Diaz's Drown.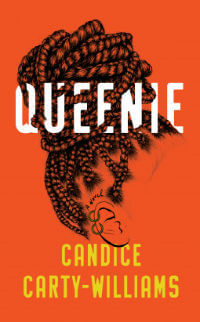 Queenie by Candice Carty-Williams
Release Date: March 19, 2019
320 Pages
Average Goodreads Rating: 3.93 on 243 ratings
Selected By: JoJo Moyes (Author of Me Before You)

Bridget Jones's Diary meets Americanah in this disarmingly honest, boldly political, and truly inclusive novel that will speak to anyone who has gone looking for love and found something very different in its place.

Queenie Jenkins is a 25-year-old Jamaican British woman living in London, straddling two cultures and slotting neatly into neither. She works at a national newspaper, where she's constantly forced to compare herself to her white middle class peers. After a messy break up from her long-term white boyfriend, Queenie seeks comfort in all the wrong places…including several hazardous men who do a good job of occupying brain space and a bad job of affirming self-worth.
My Thoughts:
This debut, part epistolary novel is said to be a mash-up of Bridget Jones Diary and Americanah (quite a pairing!). But, Goodreads reviewers disagreed with the comparison to Bridget Jones Diary…saying it ends at a girl living in London and struggling with dating. They said the story is not light and feel-good, but much deeper than Bridget Jones Diary. They said Queenie is a complex character…funny and raw, but makes a lot of really bad decisions. Some loved Carty-Williams' handling of mental illness and particularly how it's viewed in the Caribbean and black communities, while others mentioned the issues didn't feel fully organic to the story. Jaclyn Crupi (a reviewer I trust) praised the character development, but struggled with Queenie's "lack of agency in sex" and thought Carty-Williams tried to cram too much into the novel. JoJo Moyes called it "brilliant, timely, funny, heartbreaking."
What Book of the Month March 2019 selection(s) will I choose?
I'm choosing Daisy Jones & the Six this month…because of all the good reviews I'm seeing from people I trust, my love for the oral history format (however, I am nervous because I'm not a big music person!), and my love for her last book, The Seven Husbands of Evelyn Hugo (my review).
But, if you're looking for a psychological thriller, I recommend Before She Knew Him based on my prior experience with Peter Swanson!
Make your Book of the Month selections by Wednesday, March 6th.
What book will you choose this month?
This Month's Special Deals
NEW MEMBER DEAL: New members can get a free book when they join. Use code SPRINGFLING.
ANNUAL PAYMENT DEAL: BOTM is now a monthly subscription service. However, given that some members preferred paying upfront, they are now offering a 12-month option. Members who sign up for 12 months will pay $149.99/year. That's $12.50/book, instead of the standard price of $14.99/month.
How to Join Book of the Month…
Book of the Month is a subscription service for people who like to try new books from a curated selection and like to read in hardcover format. Through Book of the Month, you can get a hardcover book for generally significantly less than you'd pay in a bookstore or through Amazon. And, you get to try something new that has been vetted by one of Book of the Month's well-read judges!
Sign up for any of the subscription plans below and you get to choose one of five books selected by Book of the Month's panel of judges (including a surprise guest judge). Book of the Month will then mail your chosen book to your house with a cute note. You also have the option to purchase additional books for $9.99 each and to skip a month if you want.
Sign up for a Book of the Month membership (NEW pricing below)!
New members will sign up for a membership that renews monthly:
A book of your choice for $14.99 / month
Add extra books to your shipment for $9.99 each
Skip any month you want
Free shipping, always
Support Sarah's Book Shelves on Patreon!
(and get personalized book recommendations and access to our private Facebook Group)