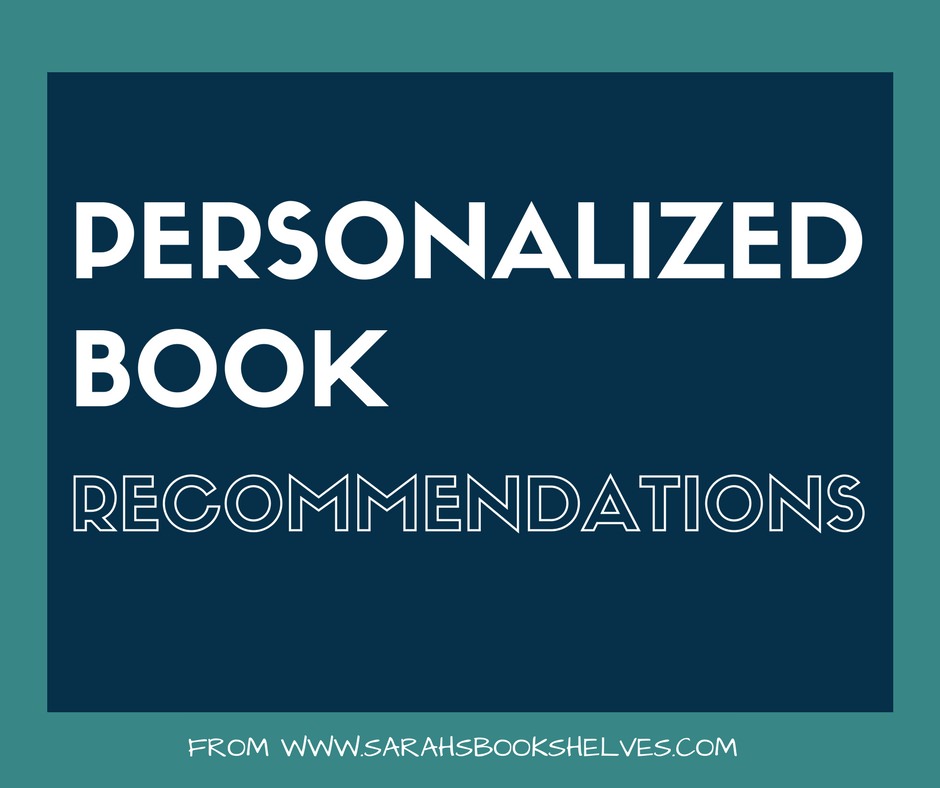 UPDATE: PERSONALIZED BOOK RECOMMENDATIONS ARE NOW HERE!
Click HERE to submit a recommendation request.
My regular readers might remember a few months back when I got introspective about where I wanted to take this blog (you can get a refresher here and here if you're interested). I mentioned that I was planning to test run a small book recommendations project around Mother's / Father's Days.
Personalized book recommendations are what I was referring to.
After reading the book reviews and lists on my blog, people frequently reach out to me asking for a particular type of book recommendation. Which got me thinking about about book recommendation services…
There are many book recommendation services available at the moment:
Amazon and Goodreads use computer algorithms to tell you what you might enjoy based on what you've previously purchased (Amazon) and added to your various lists (Goodreads). 
Book of the Month Club allows members to choose from five curated selections each month and mails you a hardcover book (incidentally, this is a great service if you like reading hardcover books and aren't looking for personalized recommendations).
Some independent bookstores (i.e. Fountain Bookstore in Richmond, VA) also have personalized recommendation services where they mail you either a hardcover or paperback of the book they recommend for you. 
But, I keep thinking, why aren't there more book recommendation services…
For people who prefer to e-read or listen to audiobooks?
Where humans give you a recommendation based on your personal tastes? Like the internet version of your neighborhood independent bookseller?

That 

pair personalized book recommendations with the freedom to

choose your format and retailer?
So, I'm excited to announce a test run for a personalized book recommendations service from Sarah's Book Shelves!
It will be a limited (and free) trial for the Mother's / Father's Day holidays (mid-April through mid-June) to gauge interest and gather your valuable feedback (via a follow-up survey).
Bonus! If you participate in the Mother's / Father's Day trial, you will receive a special discount if you sign-up for the paid service when it officially launches.
How Will the Trial Work?
Click on the Get Personalized Book Recommendations option on the Sarah's Book Shelves menu (this option isn't there right now, I will add it when I launch in mid-April).

Complete a short questionnaire about the kind of recommendation you're looking for, and whether it's for you or a gift.

I will email you 2-3 book recommendations that fit your criteria within a few days.

If your recommendations are for a gift, I can 1) email them directly to you so you can purchase the book(s) in whatever format you prefer OR 2) I can email the recommendations directly to your gift recipient!

After you receive your recommendations, I will send you a brief survey to complete. Everyone who completes a survey will be entered to win a $15 gift certificate to Amazon (which will generally cover at least one e-book or paperback).
After the test run…
I'll review the survey and hope to launch the paid service in one of the following formats:  
A simple personalized book recommendation service where you can either buy one-time recommendations or a monthly subscription.

A premium level of Sarah's Book Shelves content with a monthly personalized book recommendation as its key element, in addition to a few other features.
I'd love your feedback on this new endeavor. Please feel free to leave a comment or email me directly at sarahsbookshelves@gmail.com.