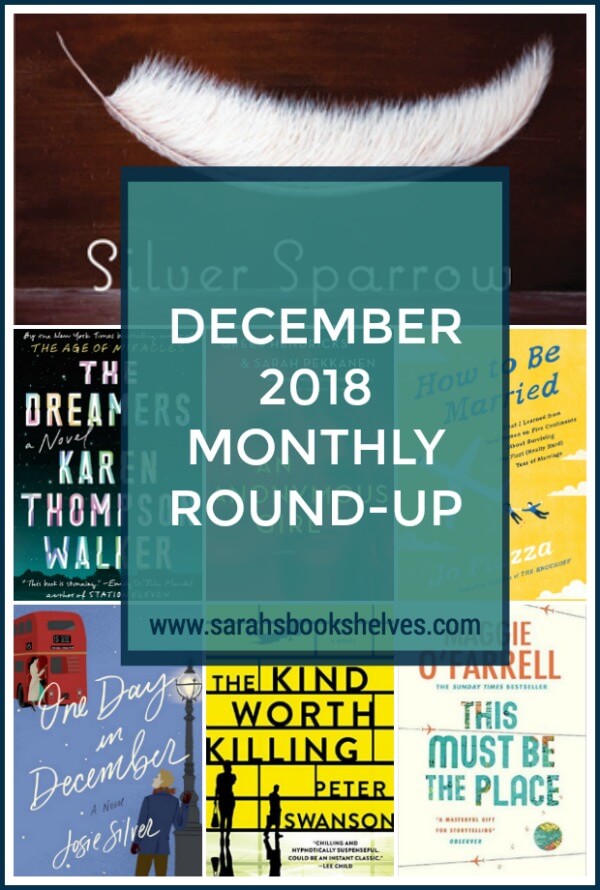 This post contains affiliate links (plus: here's your Amazon Smile-specific affiliate link
), through which I make a small commission when you make a purchase (at no cost to you!).
I hope you're relaxing after the holiday chaos…I'm trying to! I didn't do a Monthly Round-Up last month since I was participating in Nonfiction November (instead, I posted my Nonfiction November Mini Reviews), but I'm back! However, this may be the last monthly round-up for awhile. My workload has drastically increased with the podcast (more details below), so I'm going to be making some changes. I'm thinking these monthly posts might be the first thing to go…they take a long time to write and don't get that much traffic. Speak up in the comments if you have strong feelings about this!
I read 7 books this month…which is low for me, but there was lots of holiday chaos and I spent a lot of my reading time getting the podcast ready to launch. I also decided to listen to Helter Skelter, the book about the Manson murders, which is 26 hours long, so that sucked up many of my audiobook hours (and I still have 15 hours to go!).
I always spend most of December reading backlist books (which I don't get to very much during the year) and this year's crop was excellent! 
Winners
DNF's
Best-Selling Book (via my affiliate links)
Announcements
Sarah's Book Shelves has a podcast! I'll be talking with a bookish guest every week and books he/she recommends. Episode 1 (with Georgia Hunter, bestselling author of

We Were the Lucky Ones

) is now live wherever you listen to podcasts!
The New and Improved 2019 Rock Your Reading Tracker is now available for $14.99! I've made lots of improvements from last year's tracker…check out more details here.
Personalized Book Recommendations and the Superstars Facebook Group are available to anyone who supports Sarah's Book Shelves on Patreon!
December Quality and Recommendation Sources
Reading Quality
December 2018
% Successful Books Attempted (includes DNF's) = 86%
% Successful Books Finished (does not include DNFs) = 100%
2018 Full Year
% Successful Books Attempted (includes DNF's) = 64% (way above my 43% success rate from 2017!)
% Successful Books Finished (does not include DNFs) = 86%
Successful Recommendation Sources
If you're interested in tracking these types of stats, my "Rock Your Reading" Tracker does all the heavy lifting for you! Enter your book details and it automatically compiles everything into Summary Charts in real time! Go here for more details.
Most Popular Posts
Posts Actually Published in December
Eight 2018 Books That Deserved the Hype…and Five That Didn't
Book of the Month December 2018: What Book Should You Choose?
Best Books of 2018
Overall Posts
Book Club Recommendations
Where the Crawdads Sing by Delia Owens
Behind Her Eyes and THAT Ending: Spoiler Discussion (#WTFthatending)

Best Books of 2018 Lists by Fellow Bloggers / Podcasters
Most Anticipated Books of 2019 Lists
How was your reading month?