My June reading was pretty good! Not the best month I've had all year, but solid. I was also scouting books for my 2019 Summer Reading Guide, so was very quick to DNF books that weren't working for me and wouldn't make my Summer Reading Guide.
And, I had one 5 star book, which always makes a reading month better!
Hosted by Modern Mrs. Darcy.
This post contains affiliate links (plus: here's your Amazon Smile-specific affiliate link
).
June 2019 Books to Read
Favorite Book of June 2019
City of Girls 
by Elizabeth Gilbert
Fiction – Literary (Release Date: Jun 4, 2019)
480 Pages
Affiliate Link: Buy from Amazon

Source: Publisher (Riverhead)

Plot Summary: Vivian Morris looks back on her unconventional life in New York City…beginning in the 1940's when she was sent to live her with Aunt Peg above a small theater (the Lily Playhouse), kicking off a free-spirited life of pleasure, love, and friendship.
My Thoughts: I almost didn't read this novel because I'm not much into historical fiction or the NYC theater scene…but, this is not your average historical fiction and I'm so glad I have it a shot because it was a 5 star read! I immediately loved the voice…it's funny, readable, and reminded me a bit of a cross between Lillian Boxfish Takes a Walk
and The Heart's Invisible Furies (my review). The characters make this story come alive…they're unapologetically frivolous and fun and most of them are bawdy, badass ladies in an era when ladies weren't generally badass or bawdy. There's a vibrancy to all of it…the New York City setting, the characters, etc. World War II plays a role in the story, it's not really about World War II. It explores women's sexuality and promiscuity and society's judgment of those things, especially in women…and gets a bit racy. But, it's also a heart-warming tribute to love, friendship, and "chosen" family. My one tiny complaint was that Vivian tells the story in a letter to another character (Angela) in response to her question "what were you to my father?" I liked this structure (particularly the funny, parenthetical asides Vivian addresses directly to Angela), but once Angela's role in the story was revealed, I didn't understand why she needed Vivian's life story in such detail in response to that question. It was a stretch. City of Girls is going on my 2019 Summer Reading Guide!
Anyway, at some point in a woman's life, she just gets tired of being ashamed all the time. After that, she is free to become whoever she truly is.
Also Read These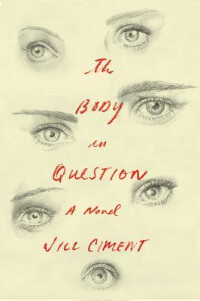 The Body in Question
by Jill Ciment
Fiction – Literary (Release Date: June 11, 2019)
192 Pages
Affiliate Link: Buy from Amazon

Source: Publisher (Pantheon Books)

Plot Summary: A courtroom drama set in Central Florida that's focused on the jury (which is sequestered in a nearby Econolodge) for the trial of a rich, white teenage girl (who is also a twin) accused of murdering her toddler brother.
My Thoughts: This slim novel is described by the publisher as a courtroom drama and it kind of is, but it's not what you think of when you think of courtroom dramas. The trial itself is very much in the background of this story. The story is really centered around the sequestered jury and one juror in particular. It's about what goes on within a jury…personally and related to the trial and how those two pieces intersect. Though I've never been on a jury, it does seem like a realistic portrayal…if not a bit worrisome to consider. And, it's about the impact a high profile trial can have on the individual jury members. The Body in Question is a slightly weird book, but I was riveted the entire time and it went to places I never expected. For 192 pages, it covered a lot of territory. Annie Jones really liked it too! PS – I think the publisher's description gives away too much…go into this one blind!
She doesn't consider herself a judgmental person, though judge she does – all the time. She judges her friend and colleague who got a MacArthur grant for her random, blurry snapshots; she judges her mother for choosing cruel boyfriends; she judges photography contests where she'd rather go blind than give an honorable mention to the tasteless photo of a homeless person. But this judgment is something else entirely. This judgment is as close as mortals get to God.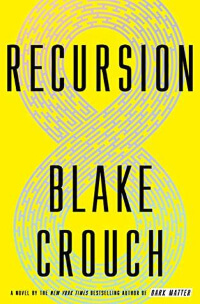 Recursion
by Blake Crouch
Sci-Fi / Thriller (Release Date: June 11, 2019)
336 Pages
Affiliate Link: Buy from Amazon
Source: Publisher (Crown)

Plot Summary: While a new disease called False Memory Syndrome (which causes people to remember things that never happened and whole lives they never lived) is spreading throughout the country, Barry Sutton investigates the death of a woman possibly afflicted with this illness, which leads him to a neuroscientist (Helena) developing a technology involving memory that could have sinister consequences.
My Thoughts: I don't read much Sci-Fi, but Blake Crouch is the exception (I loved his last book, Dark Matter). He writes incredibly human takes on Sci-Fi that always make you consider a big life question. In Recursion's case, the question is "what is memory?" There's a LOT going on in this novel (I had no idea what was going on at first)…it's mind-bending and made my brain hurt at times, but in a good way. I wanted to figure out what was going on and I was flying through the pages trying to find out. It actually reads like part Sci-Fi, part save-the-world action thriller. Goodreads reviewers mentioned having trouble keeping track of all the timelines, and though it did take a bit of effort, I thought that part was manageable. It also made me consider what big thing in my life I'd change if I had the opportunity. And, buried in the Acknowledgements, is a little note that in 2012, two MIT neuroscientists "implanted a false memory in the brain of a mouse." Consider that for a minute, especially after you read this book! If you liked Dark Matter, I think you'll also like Recursion. And, this one is on my 2019 Summer Reading Guide and would make a great book club pick! 
If memory is unreliable, if the past and the present can simply change without warning, then fact and truth will cease to exist. How do we live in a world like that? This is why we're seeing an epidemic of suicides.
Skip This One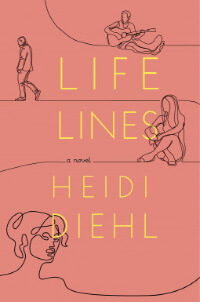 Lifelines
by Heidi Diehl
Fiction – Literary (Release Date: June 18, 2019)
336 Pages
Affiliate Link: Buy from Amazon

Source: Publisher (Houghton Mifflin Harcourt)

Plot Summary: Louise returns to Germany, where she lived with her German ex-husband while studying art in the 1970's, for her mother-in-law's funeral and is forced to confront her past.
My Thoughts: This character-driven family drama had promise, but it lacked the unputdownable quality of my favorite character-driven novels. Diehl was compared to Meg Wolitzer and Maggie Shipstead, but I found the beginning of the story more reminiscent of The Age of Light (my review)…and the writing reminded me of Mary Beth Keane's in Ask Again, Yes (my review). The story is told in alternate perspectives (Louise's, her current husband's, and her daughter with her ex-husband's). I enjoyed seeing the ramifications of WWII on regular German people…and how it impacted their lives even decades after it was over. But, this story really needed more propulsion. I felt myself wondering why I should care about these people and what happens to them…and caring about the characters is key to a successful character-driven novel. And, the ending wasn't really an ending. It just kind of petered out. While this novel didn't fully work for me, I did really love Diehl's writing style and will be interested to see what she does next.
"Completely strange," Dieter said. "Confusing. But that kind of impossible combination is all I've ever known. We don't talk about the war, though we have an East Germany and a West. We don't mention the Holocaust, as though that will make it disappear. But some of the Nazis are still working in government. We can buy those Nazi forks."
The DNF's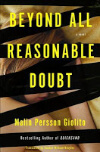 Beyond All Reasonble Doubt by Malin Persson Giolito (June 4, 2019)
DNF at Page 132
I loved this Swedish legal thriller author's last novel, Quicksand (my review), but this one just dragged and dragged. By page 132, the lawyer still hadn't officially decided to take the case that was at the center of the story.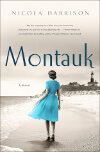 Montauk by Nicola Harrison (June 4, 2019)
DNF at 6%
Lots of ladies doing Junior League type things in Montauk. Not my scene…although I do love Montauk.
Mrs. Everything by Jennifer Weiner (June 11, 2019)
DNF at 7%
I really thought I would love what people had been saying was Weiner's most ambitious novel yet, but I was bored and there were some moral lessons that felt like after-school specials to me. I know 7% doesn't seem like much, but this is a 500 page book.
Places and Names: On War, Revolution, and Returning
 by Elliot Ackerman (June 11, 2019)
DNF at 23%
I think this memoir is well-done, but it was too war-focused for me. In Waiting for Eden, he focused more on the personal impact of war once you got home, which was more appealing to me.
Pin this post…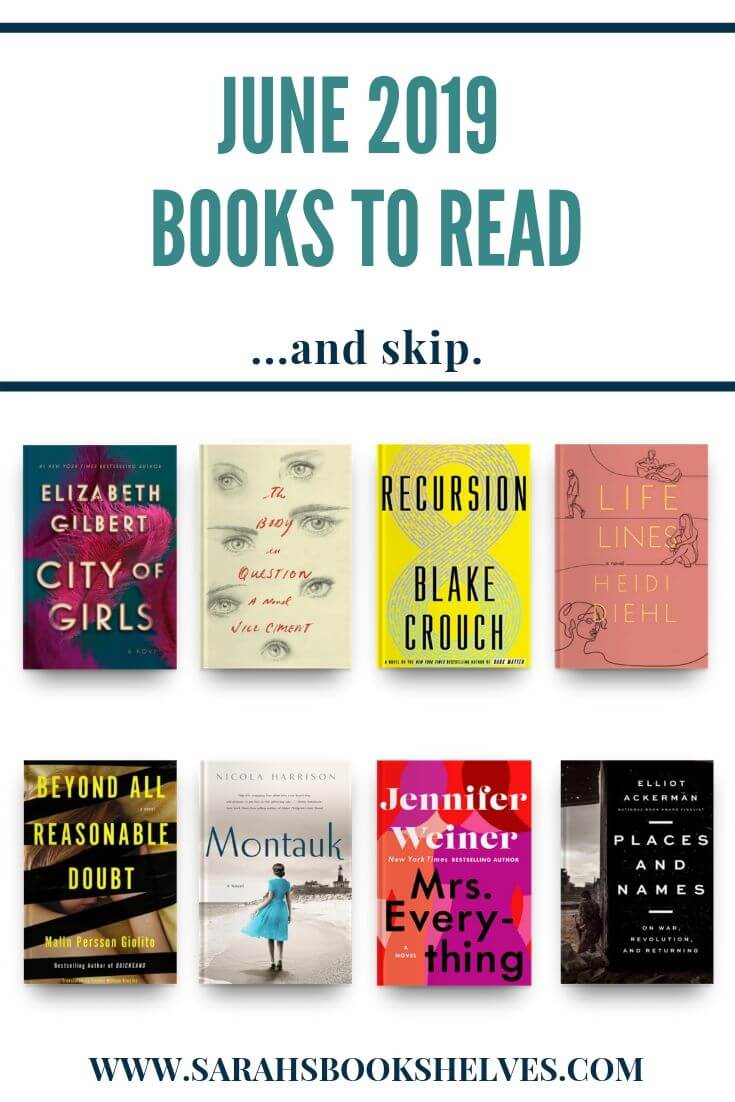 What's the best book you've read so far this month?
Do you want a monthly personalized book recommendation from me and access to our private Facebook Group?
Support Sarah's Book Shelves on Patreon for access to these special bonuses (more details here)!