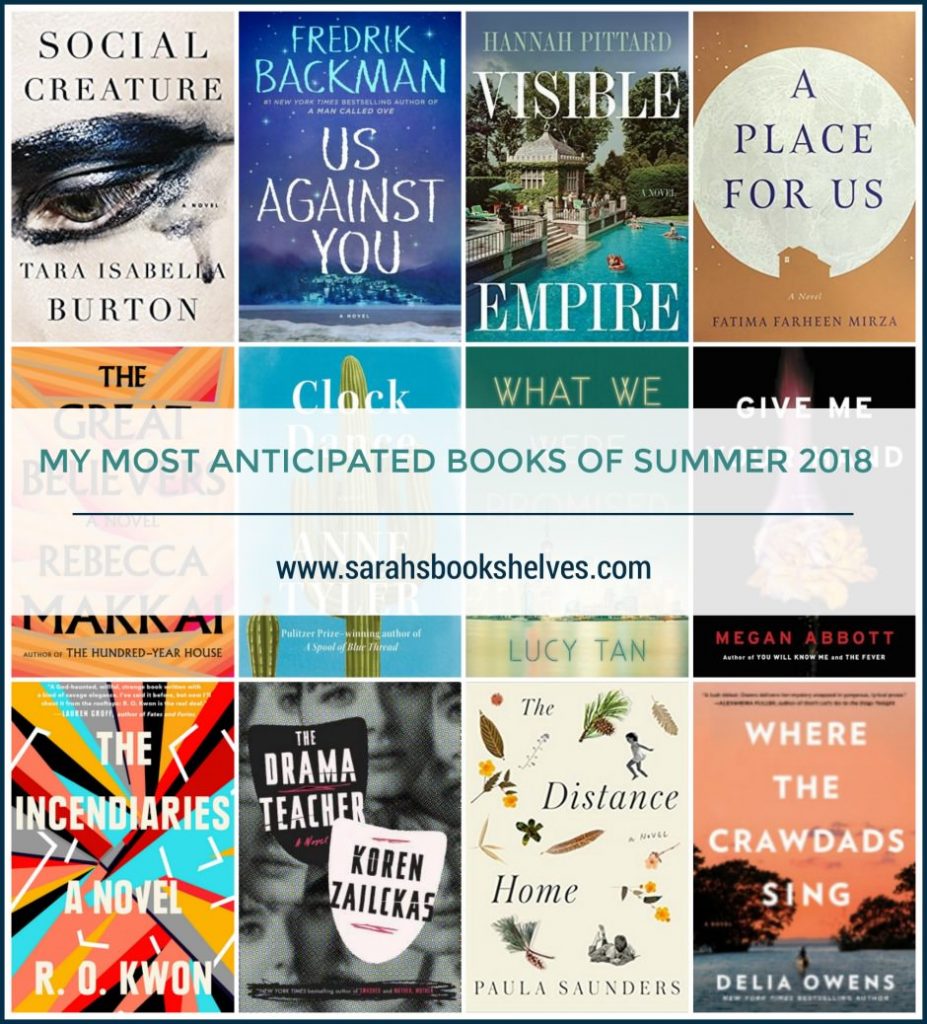 In case you missed it last week, I posted my 2018 Summer Reading Guide, which is chock full of awesome books for summer that I've already vetted. Today's Most Anticipated Books of Summer 2018 list focuses on upcoming releases that I'm excited about, but (for the most part) have not yet read. I hope I'll be adding many of these to my Summer Reading Guide as the summer goes on.
My Most Anticipated Books of Summer 2018 list is mostly made up of books from trusted sources (to find your personal trusted recommendation sources, check out this post and free downloadable template) who, in as many cases as possible, have already read the book. I did not look at a single publisher's catalog to create this list. I'm sharing the recommendation source for each book and will specify if that source has or has not read it yet.
I use my "Rock Your Reading" Tracker (available for purchase for $11.99), to keep an ongoing eye on my most trusted recommendation sources…and have improved my reading success by 26% from last year!
This post contains affiliate links (plus: here's your Amazon Smile-specific affiliate link
), through which I make a small commission when you make a purchase (at no cost to you!).
June
Social Creature
 by Tara Isabella Burton (June 5, Doubleday)
I've read this one and it's intriguing, addictive, and extremely messed up. It's super dark and definitely not for everyone, but I'm still thinking about it over a month after reading it. It was also my #1 "Intense / Fast-Paced" pick on my 2018 Summer Reading Guide!
Louise has nothing. Lavinia has everything. After a chance encounter, the two spiral into an intimate, intense, and possibly toxic friendship. A Talented Mr. Ripley for the digital age, this seductive story takes a classic tale of obsession and makes it irresistibly new.
Recommendation Source(s): Already read by ME, Tyler Goodson (manager at Avid Bookshop in Athens, GA), and Annie Jones from From the Front Porch podcast.
Us Against You by Fredrick Backman (June 5, Atria Books)
The sequel to Beartown (my review), one of my favorite books of last year!!! This is probably my most anticipated book of the entire year. Beartown reminded me so much of Friday Night Lights and Us Against You sounds like it picks up about where Dillon was split into East and West.
After everything that the citizens of Beartown have gone through, they are struck yet another blow when they hear that their beloved local hockey team will soon be disbanded. What makes it worse is the obvious satisfaction that all the former Beartown players, who now play for a rival team in Hed, take in that fact. […]

Soon a new team starts to take shape around Amat, the fastest player you'll ever see; Benji, the intense lone wolf; and Vidar, a born-to-be-bad troublemaker. But bringing this team together proves to be a challenge as old bonds are broken, new ones are formed, and the enmity with Hed grows more and more acute.
Recommendation Source(s): Trusted Author and already read by Modern Mrs. Darcy (2018 Summer Reading Guide) and Jan Belisle (blog reader whose taste I generally agree with).
Visible Empire
 by Hannah Pittard (June 5, Houghton Mifflin Harcourt)
I love novels based on real events and this one reminded me of a less epic A Man in Full by Tom Wolfe. I also loved Pittard's 2014 novel, Reunion.
It's a humid June day when the phones begin to ring in Atlanta: disaster has struck. Air France Flight 007, which had been chartered to ferry home more than one hundred of Atlanta's cultural leaders following a luxurious arts-oriented tour of Europe, crashed shortly after takeoff in Paris. In one fell swoop, many of the city's wealthiest residents perished.

Left behind were children, spouses, lovers, friends, and a city on the cusp of great change: the Civil Rights movement was at its peak, the hedonism of the 60s was at its doorstep. In Hannah Pittard's dazzling and most ambitious novel yet, she gives us the journeys of those who must now rebuild this place and their lives.
Recommendation Source(s): Trusted author and already read by ME and Modern Mrs. Darcy (2018 Summer Reading Guide).
A Place for Us
 by Fatima Farheen Mirza (June 12, SJP for Hogarth)
I love complicated family stories and this one sounds like a good one. I read the sample and was immediately intrigued. The author is only 26 years old and this is her debut novel! It's also the first acquisition by Sarah Jessica Parker's imprint at Hogarth.
A Place for Us unfolds the lives of an Indian-American Muslim family, gathered together in their Californian hometown to celebrate the eldest daughter, Hadia's, wedding–a match of love rather than tradition. It is here, on this momentous day, that Amar, the youngest of the siblings, reunites with his family for the first time in three years. Rafiq and Layla must now contend with the choices and betrayals that lead to their son's estrangement–the reckoning of parents who strove to pass on their cultures and traditions to their children, and of children who in turn struggle to balance authenticity in themselves with loyalty to the home they came from.
Recommendation Source(s): Already read by Modern Mrs. Darcy (2018 Summer Reading Guide).
The Great Believers
 by Rebecca Makkai (June 19, Viking)
I've never read Rebecca Makkai before, but have heard she's kind of extraordinary. One of my best recommendation sources rated this one 5 stars!
In 1985, Yale Tishman, the development director for an art gallery in Chicago, is about to pull off an amazing coup, bringing an extraordinary collection of 1920s paintings as a gift to the gallery. Yet as his career begins to flourish, the carnage of the AIDS epidemic grows around him. One by one, his friends are dying and after his friend Nico's funeral, he finds his partner is infected, and that he might even have the virus himself. The only person he has left is Fiona, Nico's little sister.

Thirty years later, Fiona is in Paris tracking down her estranged daughter who disappeared into a cult. While staying with an old friend, a famous photographer who documented the Chicago epidemic, she finds herself finally grappling with the devastating ways the AIDS crisis affected her life and her relationship with her daughter. Yale and Fiona's stories unfold in incredibly moving and sometimes surprising ways, as both struggle to find goodness in the face of disaster.
Recommendation Source(s): Already read by Tyler Goodson (manager at Avid Bookshop in Athens, GA).
July
Clock Dance
 by Anne Tyler (July 10, Knopf)
Believe it or not, I've never read Anne Tyler. But, women's reinvention journey novels have been totally appealing to me lately and Tyler Goodson, one of my top recommendation sources, rated this one 5 stars.
A bittersweet novel of hope and regret, fulfillment and renewal, Clock Dance brings us the everyday life of a woman who decides it's never too late to change direction, and choose your own path.
Recommendation Source(s): Already read by Tyler Goodson (manager at Avid Bookshop in Athens, GA), Modern Mrs. Darcy (2018 Summer Reading Guide), and Jaclyn Crupi
What We Were Promised
 by Lucy Tan (July 10, Little Brown)
I'm a sucker for family stories and the Shanghai setting of this one especially intrigues me.
Set in modern Shanghai, a debut by a Chinese-American writer about a prodigal son whose unexpected return forces his newly wealthy family to confront painful secrets and unfulfilled promises.
Recommendation Source(s): Already read by Modern Mrs. Darcy (2018 Summer Reading Guide)
Give Me Your Hand
 by Megan Abbott (July 17, Little Brown)
I'm super picky about my psychological thrillers, but Megan Abbott is one of my most trusted authors. She writes demented high school girls better than anyone I know. I loved The Fever and You Will Know Me and this time around she tackles the world of science.
A mesmerizing psychological thriller about how a secret can bind two friends together forever…or tear them apart.
Recommendation Source(s): Trusted Author
The Incendiaries
 by R.O. Kwon (July 31, Riverhead Books)
Annie Jones got me interested in this one when she talked about it on Anne Bogel's What Should I Read Next? podcast…she said the writing is gorgeous. Plus, R.O. Kwon was one of Bookpage's 11 Women to Watch in 2018.
A powerful, darkly glittering novel about violence, love, faith, and loss, as a young Korean American woman at an elite American university is drawn into acts of domestic terrorism by a cult tied to North Korea.
Recommendation Source(s): Already read by Tyler Goodson (manager at Avid Bookshop in Athens, GA), and Annie Jones from From the Front Porch podcast
August
The Drama Teacher
 by Koren Zailckas (August 7, Crown)
Catherine at Gilmore Guide to Books (one of my most trusted book bloggers) loved Zailckas' debut novel, Mother, Mother and I'm always on the hunt for new-to-me psychological thriller authors.
Gracie Mueller seems like an average person. […] But she has a lot to hide—she's not even a US citizen—and when Randy's failing career as a real estate agent makes finances tight, he leaves town for a better job, their home goes into foreclosure, and Gracie turns back to the creatively illegal lifestyle of her past to keep things afloat for her kids.

An expert in fake identities, she becomes Tracey Bueller, who later becomes Mariana DeFelice. […] After a deadly stint upstate when a friend asks too many questions, she leaves town for New York City, finding her way into the best school in Manhattan for her kids, where she gets a job as the drama teacher. But as she struggles to keep her web of lies spun taut and her secrets hidden, more questions about her past are raised.
Recommendation Source(s): Catherine at Gilmore Guide to Books (not read)
The Distance Home
 by Paula Saunders (August 7, Random House)
I'm a sucker for a good family saga and Tyler Goodson, one of my top recommendation sources, rated this one 5 stars.
A "riveting family saga" (Mary Karr) set in the American West, about sibling rivalry, dark secrets, and a young girl's struggle with freedom and artistic desire.
Recommendation Source(s): Already read by Tyler Goodson (manager at Avid Bookshop in Athens, GA)
Where the Crawdads Sing
 by Delia Owens (August 14, Putnam)
I love a coming of age story that has a bit of mystery and the North Carolina marsh setting of this debut novel grabbed my attention (I'm secretly hoping she'll remind me a bit of Pat Conroy). PS – Owens is a biologist and wildlife writer.
For years, rumors of the "Marsh Girl" have haunted Barkley Cove, a quiet town on the North Carolina coast. So in late 1969, when handsome Chase Andrews is found dead, the locals immediately suspect Kya Clark, the so-called Marsh Girl. But Kya is not what they say. Sensitive and intelligent, she has survived for years alone in the marsh that she calls home, finding friends in the gulls and lessons in the sand. Then the time comes when she yearns to be touched and loved. When two young men from town become intrigued by her wild beauty, Kya opens herself to a new life–until the unthinkable happens.
Recommendation Source(s): None – I received an ARC of this from the publisher and the description caught my attention.
*All book summaries (in block quotes) are from Goodreads (edited for length).
What Sumer 2018 books are you looking forward to?