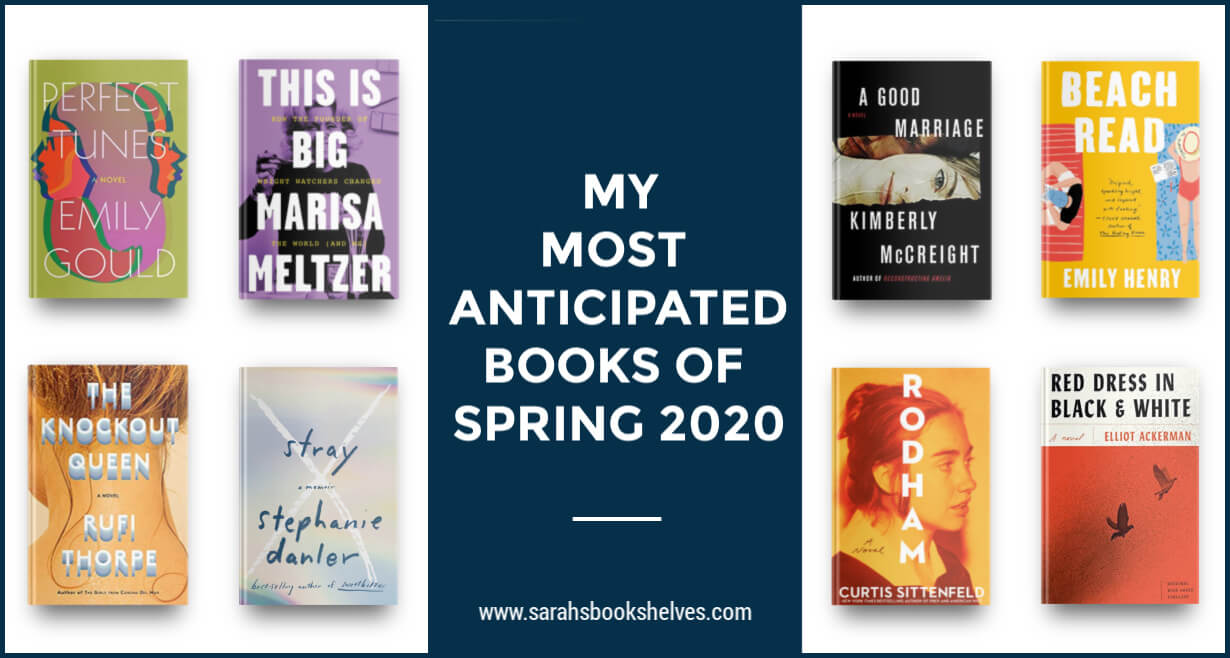 If you missed yesterday's episode of the Sarah's Bookshelves Live podcast (listen above), Catherine from Gilmore Guide to Books and I covered 13 books we're excited about coming out this Spring. I'm talking about 5 of them again in today's blog post (noted by each book)…but, check out the podcast to hear about the rest! Just click on the time stamp link next to each book and it will take you right to the place in the podcast where we talk about that book.
Additional Spring 2020 Releases I Covered in the Podcast
As always, my Most Anticipated Books of Spring 2020 list is mostly made up of books from trusted sources who, in as many cases as possible, have already read the book. I did not look at a single publisher's catalog to create this list. I'm sharing the recommendation source for each book and will specify if that source has or has not read it yet.
I use my "Rock Your Reading" Tracker (available for purchase for $14.99) to keep an ongoing eye on my most trusted recommendation sources…and improved my reading success 42% from last year!
This post contains affiliate links (plus: here's your Amazon Smile-specific affiliate link
), through which I make a small commission when you make a purchase (at no cost to you!).
My Most Anticipated Books of Spring 2020
April
Perfect Tunes by Emily Gould (April 14, Avid Reader Press)
Discussed on the podcast [14:55]
I loved this character-driven novel about a woman balancing motherhood and time and attention to children with pursuing an artistic dream (in this case, music) of her own. It was the book about pursuing an artistic dream that I wanted Lily King's Writers & Lovers (my review) to be.
The breakout novel from Emily Gould: a story of music and motherhood, ambition and compromise—of life, in all its dissonance and harmony.

Funny, wise, and utterly immersive, Perfect Tunes explores the fault lines between parents and children, and asks whether dreams deferred can ever be reclaimed.
Recommendation Source(s): Already read and loved by ME…and Becca Freeman from the Bad on Paper Podcast, Cristina Arreola, and Stephanie Danler (author of Sweetbitter).
This is Big: How the Founder of Weight Watchers Changed the World — And Me
by Marisa Meltzer
(April 14, Little Brown)
I'm almost halfway through this quasi-memoir about Meltzer's own lifetime struggle with weight and the life of Jean Nidetch (the founder of Weight Watchers) is surprisingly interesting. Meltzer's writing is relatable, funny, and goes down easy. Plus, her job as a journalist covering beauty and wellness adds an unique perspective to this story.
Weaving Jean's incredible story as weight loss maven and pathbreaking entrepreneur with her own journey through Weight Watchers, Marisa chronicles the deep parallels, and enduring frustrations, in each woman's decades-long efforts to lose weight and keep it off. The result is funny, unexpected, and unforgettable: a testament to how transformation goes far beyond a number on the scale.
Recommendation Source(s): (Partially) read and really liked by ME.
The Knockout Queen by Rufi Thorpe (April 28, Knopf)
Discussed on the podcast [22:49]
This dark coming of age story about two teenagers who feel like outsiders in their own ways trying to come to terms with who they are amid their own family drama was only my second 5 star book of 2020! Thorpe's voice and writing shine and the characters of Bunny and Michael are flawed, yet endearing.

In The Knockout Queen two unlikely friends form an alliance—a slight, hyper-intelligent gay teen named Michael Hesketh and his next-door neighbor, the remarkably tall Bunny Lampert. Each is antagonized for their differences—Michael for being attracted to the "wrong" people (much older men from the Internet) and Bunny for having the "wrong" body, one with a strength she can't always control. As their bond intensifies, an accidental act of violence leaves both characters, and their friendship, forever transformed.
Recommendation Source(s): Already read and loved by ME…and Tyler Goodson.
May
Stray by Stephanie Danler (May 5, Knopf)
Discussed on the podcast [36:27]
Danler's debut novel, Sweetbitter (my review), was one of my Best Books of 2016! I hear her memoir is gorgeously written (not surprising given how fantastic her writing was in Sweetbitter), raw, and unflinching.
From the bestselling author of Sweetbitter, a memoir of growing up in a family shattered by lies and addiction, and of one woman's attempts to find a life beyond the limits of her past.
Recommendation Source(s): Trusted author.
A Good Marriage by Kimberly McCreight (May 5, Harper)
I loved McCreight's Reconstructing Amelia and Where They Found Her. Plus, this is the kind of book that's working well for me in the coronavirus era.
Big Little Lies meets Presumed Innocent in this riveting novel from the New York Times bestselling author of Reconstructing Amelia, in which a woman's brutal murder reveals the perilous compromises some couples make—and the secrets they keep—in order to stay together.
Recommendation Source(s): Trusted author and already read and loved by Annie Jones.
Beach Read by Emily Henry (May 19, Berkley)
Though rom-coms aren't usually my thing, this one supposedly deals with more serious topics, which worked for me in Evvie Drake Starts Over (my review). Plus, it was an April Book of the Month pick and is the kind of book that's working me in the coronavirus era.
A romance writer who no longer believes in love and a literary writer stuck in a rut engage in a summer-long challenge that may just upend everything they believe about happily ever afters.
Recommendation Source(s): April Book of the Month pick and already read and loved by @katieneedsabiggerbookshelf (one of my top recommendation sources of Q1 2020).
Rodham by Curtis Sittenfeld (May 19, Random House)
Discussed on the podcast [51:39]
I loved Sittenfeld's fictional take on Laura Bush's life in American Wife and can't wait to see what she'll do with Hillary Clinton. Plus, I love her writing in general.
From the New York Times bestselling author of American Wife and Eligible, a novel that imagines a deeply compelling what-might-have-been: What if Hillary Rodham hadn't married Bill Clinton?
Recommendation Source(s): Trusted author and already read and liked by Jordan from @jordys.book.club.
Red Dress in Black and White by Elliot Ackerman (May 26, Knopf)
Discussed on the podcast [46:25]
Ackerman's novel Waiting for Eden (my review) was my #1 book of 2018, so I'll read any new novel he writes.
From the widely acclaimed author of Waiting for Eden: a stirring, timely new novel that unfolds over the course of a single day in Istanbul: the story of an American woman attempting to leave behind her life in Turkey–to leave without her husband.
Recommendation Source(s): Trusted author.
*All book summaries (in block quotes) are from Goodreads (edited for length).
What Spring 2020 books are you looking forward to?
Pin this post…