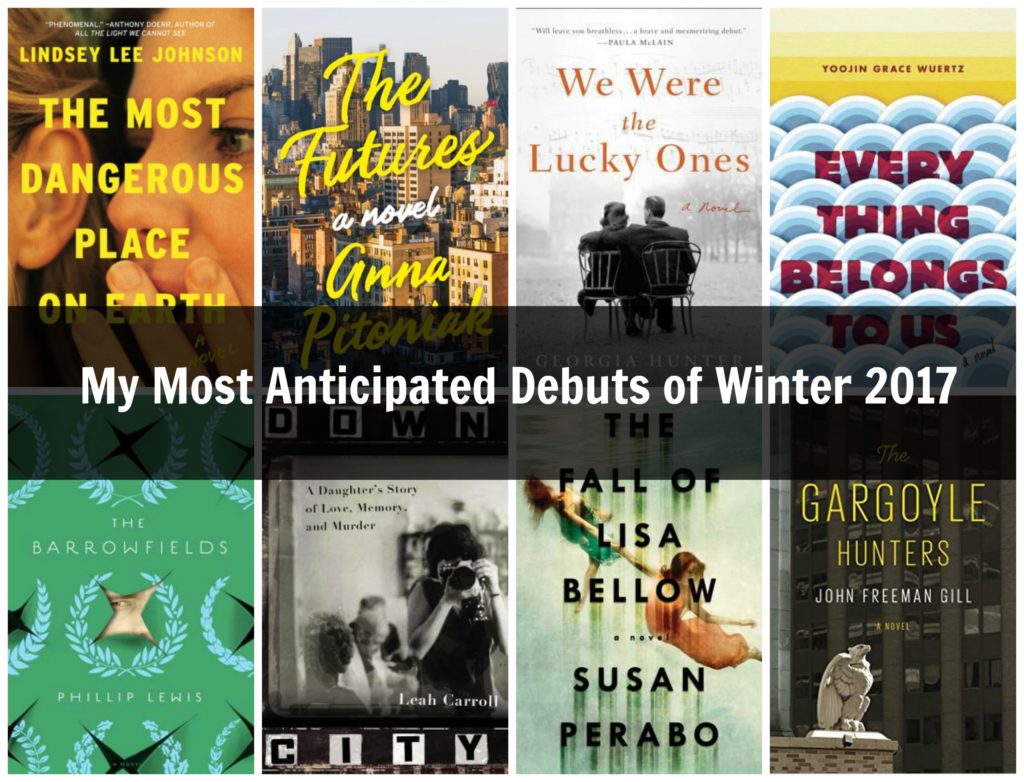 This post contains affiliate links.
A little while ago, I shared My Most Anticipated Books of Winter 2017, but that list did not include debuts. And, thank God, because there are so many debuts I'm looking forward to this year! There's no way would I have been able to combine everything into one list. Last year, 6 of my top 10 books of the year were debuts, so this crop has extra large shoes to fill!
January
The Most Dangerous Place on Earth
 by Lindsey Lee Johnson (January 10, Random House)
Demented high school books always suck me in…plus, a blurb by Megan Abbott, the queen of demented high school books.
A captivating debut novel for readers of Celeste Ng's Everything I Never Told You and Curtis Sittenfeld's Prep, The Most Dangerous Place on Earth unleashes an unforgettable cast of characters into a realm known for its cruelty and peril: the American high school.
The Futures
 by Anna Pitoniak (January 17, Lee Boudreaux Books)
Another type of book I'm a sucker for: the coming of age in New York City story. And, the publisher claims this book is for fans of Adelle Waldman (The Love Affairs of Nathaniel P.) and Maggie Shipstead (Seating Arrangements).
The Futures is a glittering story of a couple coming of age and a tender, searing portrait of what it's like to be young and full of hope in a city that often seems determined to break us down—but ultimately may be the very thing that saves us.
February
We Were the Lucky Ones
 by Georgia Hunter (February 14, Viking)
This is the only book on this list that I've already read, so I can recommend it wholeheartedly. It's a mind-blowing story and feels like a page turner.
An extraordinary, propulsive novel based on the true story of a family of Polish Jews who are separated at the start of the Second World War, determined to survive and to reunite.
Everything Belongs to Us
 by Yoojin Grace Wuertz (February 28, Random House)
I'm interested in reading more about South Korea and Kate at Parchment Girl included this book on her Winter 2017 Book Preview.
Two young women of vastly different means each struggle to find her own way during the darkest hours of South Korea s economic miracle in a striking debut novel for readers of Anthony Marra and Chimamanda Ngozie Adichie.
March
The Barrowfields
 by Phillip Lewis (March 7, Hogarth)
I've had great luck with debut Southern coming of age stories (My Sunshine Away, Only Love Can Break Your Heart) the past few years…this one is set in North Carolina.
A richly textured coming-of-age story about fathers and sons, home and family, recalling classics by Thomas Wolfe and William Styron, by a powerful new voice in fiction.
Down City
 by Leah Carroll (March 7, Grand Central)
This memoir was a Barnes & Noble Discover Great New Writers Pick and ya'll know I love dysfunctional childhood memoirs.
Down City is a raw, wrenching memoir of a broken family and an indelible portrait of Rhode Island – a tiny state where the ghosts of mafia kingpins live alongside the feisty, stubborn people working hard just to get by.
The Fall of Lisa Bellow
 by Susan Perabo (March 14, Simon & Schuster)
I loved Perabo's short story collection, Why They Run the Way They Do, despite generally having trouble with short stories.
The suspenseful, breakout novel from the critically acclaimed author of the short story collections Who I Was Supposed to Be and Why They Run the Way They Do—when a middle school girl is abducted in broad daylight, a fellow student and witness to the crime copes with the tragedy in an unforgettable way.
The Gargoyle Hunters
 by John Freeman Gill (March 21, Knopf)
Another Barnes & Noble Discover Great New Writers Pick and I'm having visions of the movie The Thomas Crown Affair.
Hilarious and poignant, The Gargoyle Hunters is a love letter to a vanishing city, and a deeply emotional story of fathers and sons. […], the novel solves the mystery of a brazen and seemingly impossible architectural heist – the theft of an entire historic Manhattan building – that stunned the city and made the front page of The New York Times in 1974.
*All book summaries (in block quotes) are from Goodreads.
What Winter 2017 debuts are you looking forward to?