My October reading has been stellar! I've got a couple successful books to share with you today and stay tuned for my review of one more, A Cloud in the Shape of a Girl, on Thursday, October 18.
Hosted by Modern Mrs. Darcy.
This post contains affiliate links (plus: here's your Amazon Smile-specific affiliate link
).
Read These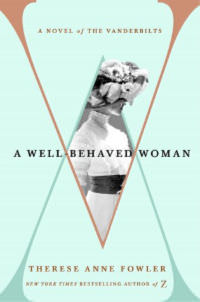 A Well-Behaved Woman by Therese Anne Fowler
Historical Fiction (Release Date: October 16, 2018)
400 Pages
Affiliate Link: Buy from Amazon
Source: Publisher (St. Martin's Press)

Plot Summary: To save her family from financial ruin, Alva Smith finagles a marriage to the extremely wealthy, but socially shunned William K. Vanderbilt, but it doesn't turn out to be everything she'd hoped.
My Thoughts: I absolutely adored Fowler's 2013 novel, Z: A Novel of Zelda Fitzgerald (my review)…so, A Well-Behaved Woman had big shoes to fill. While I liked A Well-Behaved Woman, it was a lukewarm like and it didn't come close to filling Z's shoes. Alva is interesting, but not nearly as dynamic a character as Zelda. I liked that Alva was a modern woman in some ways (i.e. her desire to have a hobby beyond social obligations, her belief that husbands shouldn't be allowed to treat their wives badly, etc) and had a sassy side. I liked the fact that it made me think about class, the working rich vs. the inherited money rich, and women's roles in society and the household. But, I got tired of all the rules of society and machinations people went through to rise to the top. I just didn't care all that much and couldn't understand why they did. Overall, it's a decent read, but it just didn't knock my socks off like I expected. 
These men must believe themselves completely beyond reproach! And, well, why wouldn't they? Wives permit all of it. Because of course if we're to believe what we read in the Lady's Book, the True Woman is completely fulfilled by her domestic duties – her home, her children, her charity functions. The True Woman understands that men have needs of a different kind. 

But I don't believe a word of it. We accept their behavior because of what would happen if we didn't.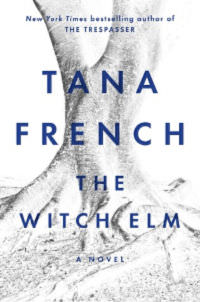 The Witch Elm
 by Tana French
Fiction – Mystery (Release Date: October 9, 2018)
464 Pages
Affiliate Link: Buy from Amazon
Source: Publisher (Viking)

Plot Summary: After lucky golden boy Toby gets beaten in his apartment during a burglary, he goes to Ivy House (his ancestral home) to recover and care for his dying uncle Hugo…but, a skull is found in the trunk of a massive elm tree in the garden.
My Thoughts: The Witch Elm is only my second Tana French (I read The Secret Place years ago) and expectations played a big role in my reading experience this time around. I consider Tana French a "mystery" author, but The Witch Elm doesn't start out with a "mystery" feel. It's more of a family drama / mystery hybrid, which I knew was absolutely up my alley once I aligned my expectations. It's a mystery with a level of complexity and character development generally uncharacteristic of the genre…and that's a good thing! It's a slow build but, especially by the quarter mark, I was engrossed in the story. I wanted to find out what happened, but I also wanted to enmesh myself with this flawed family. It's a story filled with shades of gray…the characters aren't entirely likable or dislikable, the revelations about the mystery aren't entirely blame-worthy or understandable, and there is no obvious honorable path to take. I loved these elements and think they'd make for great book club discussion if your club is cool with 500 page books. But, on that note, I do think editors could've cut out about a hundred pages or so (specifically, there was a great ending point to this story, but then a couple extra plot points were tacked on…almost like putting a tacky topper on a delicious wedding cake).
I think my luck was built into me, the keystone that cohered my bones, the golden thread that stitched together the secret tapestries of my DNA; I think it was the gem glittering at the fount of me, coloring everything I did and every word I said. And if somehow that has been excised from me, and if in fact I am still here without it, then what am I?
Skip This One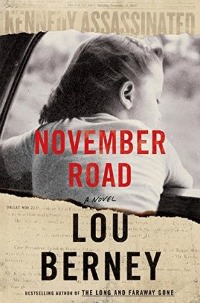 November Road
 by Lou Berney
Fiction – Historical (Release Date: October 9, 2018)
336 Pages
Affiliate Link: Buy from Amazon
Source: Publisher (William Morrow)

Plot Summary: Frank Guidry, a lieutenant of New Orleans mob boss Carlos Marcello is on the run because he knows too much about JFK's assassination, and Charlotte, a mother of two girls on the run from her husband and previous life, meet up for a road trip West.
My Thoughts: November Road was my September Book of the Month choice and it appealed to me because I'm pretty much in for anything JFK assassination conspiracy theory-related. However, for a book that was supposed to have a thriller-style plot, it was kind of boring. Once Guidry's connection to the assassination became clear, I got really intrigued, but the story veered from there to a run-of-the-mill chase across the country. Guidry really could've been on the run from pretty much anything and the story would've played out the same…the JFK assassination ceased to really drive the story. The pace did pick up at the end, but I didn't buy some of Guidry's feelings or decisions. The writing style was gruff…I could hear a bunch of old men more or less grunting at each other through a haze of smoke, using two or three words instead of full sentences. This style fit the story's plot, but I didn't particularly enjoy reading it. Overall, I just didn't see the point of the book and didn't particularly care about these characters. If you're looking for fast-paced fiction about JFK assassination conspiracy theories, try The Bone Tree by Greg Isles (my review) instead.
It was a big, big world. How hard could it be to disappear off the face of it? Oh, so hard if Carlos Marcello was the man searching for you.
The DNF's
Bitter Orange by Claire Fuller (October 9, 2018)
DNF at 24%
Sigh…I loved Fuller's previous two novels, Our Endless Numbered Days (my review) and Swimming Lessons
 (my review), but this one was sloooow. The writing was too descriptive and focused too much on architecture. I also couldn't get a good sense of Frances (the main character)…she felt vague and the whole story felt hazy. There was supposed to be simmering tension similar to Tangerine (my review), but I felt absolutely zero tension.

Virgil Wander by Leif Enger (October 2, 2018)
DNF at 18%
When I started reading this story about a small, down-on-its-luck Midwestern town and its residents, I'd get into the story, but then completely forget what I'd read when I picked it up the next day. I kept zoning out and couldn't keep track of all the characters. But, I also tried to read it right after finishing a 5 star book that absolutely blew me away and I don't think it was the right choice for that moment.
What's the best book you've read so far this month?
Do you want a monthly personalized book recommendation from me and access to our private Facebook Group?
Support Sarah's Book Shelves on Patreon for access to these special bonuses (more details here)!