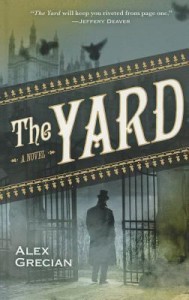 The Yard

by Alex Grecian, Historical Fiction (Released May, 2012)
Bottom Line: Read it.
Summary: Following Jack the Ripper's reign, London's Scotland Yard "Murder Squad" must solve the murder of one of their own detectives.
My Thoughts: This book is somewhat similar to The Gods of Gotham, which I reviewed last year and included on my 2012 Holiday Gift Ideas List. However, I liked this one a little better than The Gods of Gotham, mainly because of the historical context of post-Ripper London. I never realized how terrified and paralyzed Londoners were following the Ripper's reign, and also how public sentiment turned against Scotland Yard for failing to catch him. Another interesting dynamic is that Scotland Yard was having a hard time wrapping its head around the existence of "serial killers" and was mentally fighting the fact that someone other than the Ripper might be killing just for sport. Aside from the context, there were three cases going on at once and part of the suspense is trying to figure out how they will all connect in the end. And, there is a focus on the developing forensics technology (including fingerprinting) of the time and the methodology of solving cases without the advanced technology we have today. If you are interested in criminal history or the development of forensics, you will find this book fascinating. The Yard is going on my Books for Guys List.