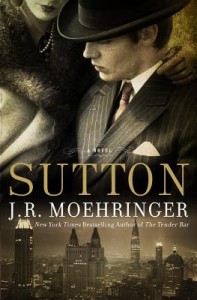 Sutton by J.R. Moehringer
Historical Fiction (Released September, 2012)
386 Pages
Bottom Line: Read it.
Affiliate Link: Buy from Amazon

Source: Purchased

Plot Summary 
Willie Sutton, the notorious Depression-era bank robber who was on the FBI's first ever Most Wanted List, is released from prison on Christmas Eve and takes a newspaper reporter and photographer on a trip down memory lane.
My Thoughts
Sutton contains lots of action that you would expect from a story about a bank robber – two of his escapes from maximum security prison left me wondering if he was the inspiration for Andy Dufresne's breakout from Shawshank State Penitentiary. 
But, Willie Sutton wasn't your average bank robber – he seriously studied his craft, was an avid reader, fancied himself a "right guy," and was considered somewhat of a folk hero by much of the general public. Moehringer probably portrayed Sutton as a much better guy than he actually was, but it was great for the book. 
Sutton is not just driven by a good story, there is a pleasant rhythm to Moehringer's writing style – short sentences, pared down language, and spot on dialogue (especially Sutton's).  This one is going on my Books for Guys List.