Every Tuesday fellow blogger Bibliophile By the Sea hosts First Chapter First Paragraph Tuesday Intros, where bloggers share the first paragraph of the book they are currently reading or thinking about reading soon.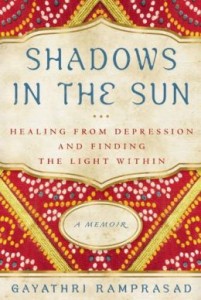 I'm participating in an upcoming online tour for this book through TLC Book Tours. I agreed to review this book because my cousin and his family are currently living in Bangalore, India, so I was curious to read about the culture there.
Shadows in the Sun Plot Summary from Amazon:
As a young girl in Bangalore, Gayathri was surrounded by the fragrance of jasmine and flickering oil lamps, her family protected by Hindu gods and goddesses. But as she grew older, demons came forth from the dark corners of her fairytale-like kingdom—with the scariest creatures lurking within her. The daughter of a respected Brahmin family, Gayathri began to feel different. "I can hardly eat, sleep, or think straight. The only thing I can do is cry unending tears." Her parents insisted it was all in her head. Because traditional Hindu culture has no concept of depression, no doctor could diagnose and no medicine could heal her mysterious illness.

Here's the second paragraph of the Prologue (which I chose because it's a much better introduction to the story than the first paragraph!):
"Mine was a world of otherworldly tales, castles, flickering oil lamps, and fragrant sandalwood dreams. At some point in a fairy-tale life, I suppose, it should come as no surprise to discover dragons, demons, and dungeons in the dark corners of the kingdom. What was surprising was to discover that all the scariest creatures were within me, and that the castle of my dreams could become a prison from which the only escape was death. Later, I would discover that these demons had names: anxiety disorder, suicidal depression, postpartum depression, mental illness. But for nearly a decade of my life, I had no words for it. 'It' was me. In that fairy-tale life, I turned out to be both dragon and dragon slayer, but it did not start out that way. In the beginning, I was a princess." 
What do you think? Would you keep reading? Stay tuned for my full review on March 19…