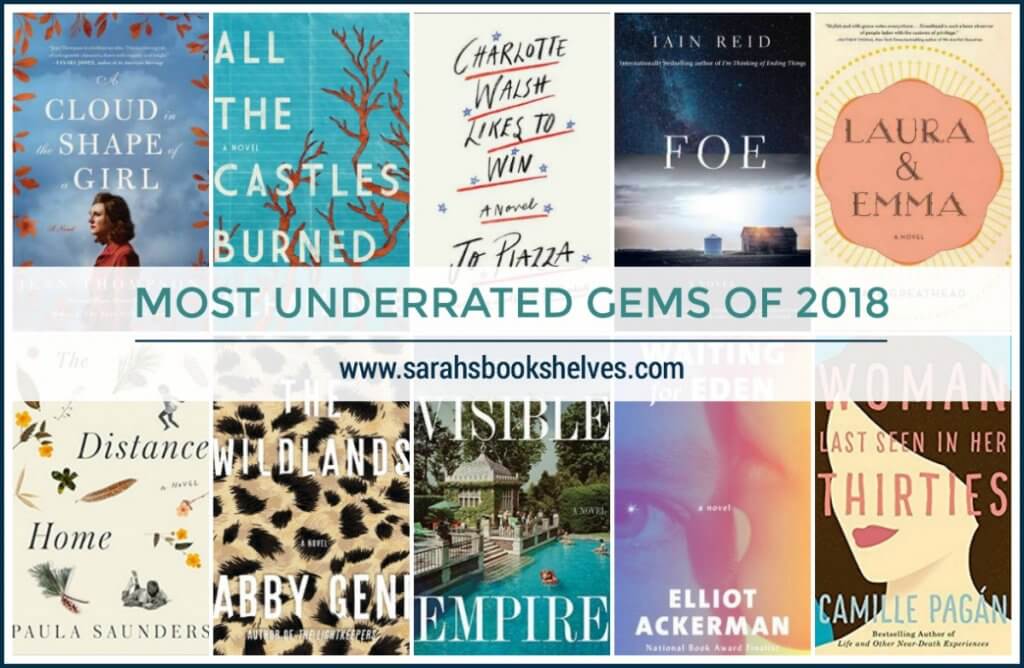 My Best Books of 2018 list is coming on Thursday, but in the meantime, I wanted to give some love to books I really enjoyed, but that didn't get much attention from regular readers and bloggers.
This post contains affiliate links (plus: here's your Amazon Smile-specific affiliate link
).
Most Underrated Gems of 2018
A Cloud in the Shape of a Girl
 by Jean Thompson (my review)
I loved how Thompson wrote about women's roles in marriage and in the home in this book…and particularly how she talked about the differences in viewpoints between generations. Though she's been nominated for a National Book Award in the past, this novel didn't get much attention. But, a few other bloggers I trust did really like it (but not many even read it!). 
Affiliate Link: Buy from Amazon
All the Castles Burned
 by Michael Nye (my review)
I actually can't think of a single other blogger I follow who read this book. But, it's a campus novel about a toxic male friendship with some basketball thrown in. Easy reading, but dark. Right up my alley…I included it in my 2018 Summer Reading Guide.
Affiliate Link: Buy from Amazon

Charlotte Walsh Likes to Win
 by Jo Piazza (my review)
This brain candy novel was one of my favorite summer books! It's easy reading, but smart and contains astute observations on women in politics. I feel like Piazza got a lot more attention for her previous book, Fitness Junkie, but this one is not to be missed!
Affiliate Link: Buy from Amazon

Foe by Iain Reid (my review)
Reid's sophomore novel is sort of Sci-Fi, but not quite (maybe Sci-Fi Lite?)…but, it's also a rumination on marriage, which I love. It was nominated for a Goodreads Choice Award in the Horror category (huh?!), but it finished in the bottom third of the voting, which tells me not many people read it. But, more should because it had me on the edge of my seat in a creepy, quiet way.
Affiliate Link: Buy from Amazon

Laura & Emma
 by Kate Greathead (my review)
I think I did see this one on one Best Books of 2018 list, but it was fairly divisive among readers I know. Some didn't like the vignette format, some didn't like the ending, and some didn't like Laura's voice (or that we didn't hear much from Emma). But, it totally worked for me!
Affiliate Link: Buy from Amazon
The Distance Home
 by Paula Saunders (my review)
You'd think this book would've gotten more attention since Paula Saunders is George Saunders' wife at least. But, no. The writing was gorgeous, but I only know of two other bloggers who even read it.
Affiliate Link: Buy from Amazon
The Wildlands
 by Abby Geni (my review)
I saw this genre mash-up around #bookstagram a little bit when it was published, but not nearly as much as I would have expected! It's a totally unique book and doesn't really fit into one genre…but that's what I love about it!
Affiliate Link: Buy from Amazon
Visible Empire
 by Hannah Pittard (my review)
This novel had the feel of a scaled down A Man in Full by Tom Wolfe. I included it on my 2018 Summer Reading Guide and Anne Bogel from Modern Mrs. Darcy did too…other than that, I really didn't see it around anywhere.
Affiliate Link: Buy from Amazon
Waiting for Eden by Elliot Ackerman (my review)
I'm pretty sure I know why this book isn't getting widespread attention. It's hard, emotionally gut-punching…and those types of books aren't for everyone. But, it affected me more than any other book I read this year. It's outstanding in a very small number of pages. I'm actually re-reading parts of it right now for a book club discussion and it's hitting me just as hard the second time around.
Affiliate Link: Buy from Amazon
Woman Last Seen in Her Thirties
 by Camille Pagan (my thoughts)
Pagan is like a lighter, more sarcastic version of Anna Quindlen. And this book is an easy and fun, but not silly read with small threads of darkness running underneath. I thought more people would've appreciated her pointed talk about marriage, divorce, and aging for women.
Affiliate Link: Buy from Amazon
What are your favorite underrated gems of 2018?