Y'all, we had 70 degree weather for multiple days last week! It was so nice to exercise outside for a couple days and actually sweat! On the downside, the winter illnesses are still around. We got hit by the stomach bug last week as well…
Podcast
Episode 6 of the Sarah's Book Shelves Live podcast came out last week! Tara of Running N Reading talked her job as a clinical chaplain, finding the right listening material for long runs, and a bit about The Bachelor…plus, book recommendations!
Episode 7, featuring Ashley Spivey, former Bachelor contestant and founder of #SpiveysClub Facebook Group is coming on Wednesday!
New on the Blog
Hosted by The Book Date.
This post contains affiliate links (plus: here's your Amazon Smile-specific affiliate link
), through which I make a small commission when you make a purchase (at no cost to you!).
Favorite Instagram 
Follow me at sarahsbookshelves
I finished reading…
The Age of Light
by Whitney Scharer (February 5, 2019)
I was totally engrossed in this based on real life love story set in 1930's Paris. Mini review coming on Thursday!
Affiliate Link: Buy from Amazon
This Will Only Hurt a Little
by Busy Phillips (October 16, 2018) – AUDIOBOOK
Actress Busy Phillips is raw, honest, down-to-earth, hilarious, and unafraid to share some experiences from her childhood that many people would feel uncomfortable talking about. A fun listen!
Affiliate Link: Buy from Amazon
I'm currently reading…
The Last Romantics
by Tara Conklin (February 5, 2019)
I almost bypassed this book and I'm so glad I didn't! It's been compared to Commonwealth (one of my favorite books of 2016!) and Allison from Mind Joggle and Carla from Happiest When Reading both loved it! I'm about halfway through and it's one of those character-driven novels I can't put down…I feel my first 5 star book of 2019 coming as long as things don't go off the rails in the second half!
Affiliate Link: Buy from Amazon

Our Prince of Scribes
edited by Nicole A. Seitz (September 15, 2018)
I'm slowly working my way through this collection of essays by friends, family, and fellow authors remembering Pat Conroy, my all-time favorite author. I read one essay every night and I just love hearing as much as I can about him. Plus, it's a nice, comforting way to end the day. I'm now about 70% through! Should be done by next week.
Affiliate Link: Buy from Amazon
Upcoming reading plans…
I meant to start this last week, but snuck in The Last Romantics
instead…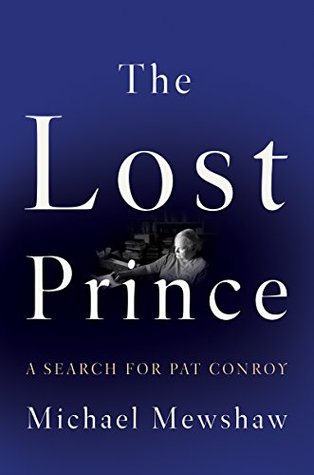 The Lost Prince: A Search for Pat Conroy
by Michael Mewshaw (February 26, 2019)
The true story of Mewshaw's friendship with Pat Conroy…then their subsequent falling out and reconciliation. I talked about this book on my Winter 2019 Book Preview podcast and am a little nervous to read it just because I don't want my image of him to be tainted!

I was reading…
One Year Ago: I read a necessary nonfiction pairing: a daytime read and a nighttime read.
Two Years Ago: I was reading a 5 star book that many other people didn't like.
How was your reading week?