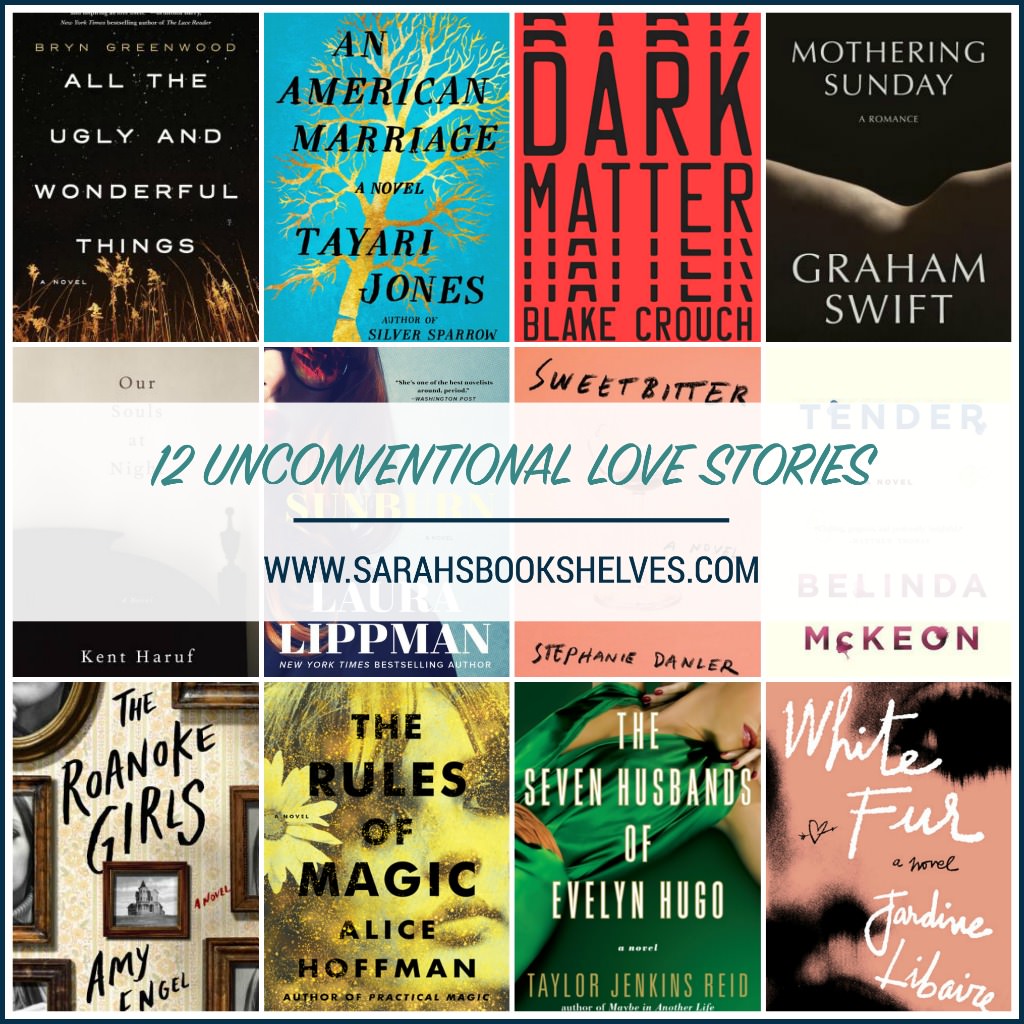 So…Valentine's Day is actually one of my least favorite holidays. I feel pressure to participate in the cheesiness even though cheesy feels so uncomfortable to me. Luckily, my husband isn't really into Valentine's Day either.
Since it's almost the big red day, you're probably seeing lots of lists of "the best romances, etc" around the bookish internet. Here's what bugs me about traditional "romances." The predictable (no matter how unrealistic) happy endings, the cheesy dialogue, the equally cheesily written love scenes. Shall I go on? I promise, you won't find those elements in these unconventional love stories. Most readers probably wouldn't even call these love stories. But, I do and they're the kind I prefer.
This post contains affiliate links (plus: here's your Amazon Smile-specific affiliate link
).
Linking up with Top Ten Tuesday hosted by That Artsy Reader Girl
12 Unconventional Love Stories for Readers Who Don't Like Romance
All the Ugly and Wonderful Things by Bryn Greenwood (my review)
Some would call this love story horrifying. I definitely did at times. But, it's also different than anything I've ever read and Greenwood makes you question what you thought were your rock solid convictions.
Affiliate Link: Buy from Amazon
An American Marriage
 by Tayari Jones (my review)
What happens to a love story when a husband of only a year and a half goes to prison? Oprah sure wants her book club members to find out!
Affiliate Link: Buy from Amazon
Dark Matter by Blake Crouch (my review)
Most people probably wouldn't consider this sci-fi page turner a love story. But, ultimately, Jason is fighting tooth and nail to be with his wife and child…his idea of home.
Affiliate Link: Buy from Amazon
Mothering Sunday
 by Graham Swift (my review)
An illicit affair between a British heir and his neighbor's maid. It definitely doesn't have a happy ending, but I finished the book completely satisfied.
Affiliate Link:
 Buy from Amazon
Our Souls at Night by Kent Haruf (my review)
Two older people (Louis and Addie) stop caring what everyone else thinks and do what they need to do to be happy. It's sort of like they read The Life-Changing Magic of Not Giving a F*ck by Sarah Knight.
Affiliate Link: Buy from Amazon
Sunburn
 by Laura Lippman
A love story where the two lovebirds are totally messing with each other and you have no idea who will come out on top.
Affiliate Link: Pre-Order from Amazon
Sweetbitter by Stephanie Danler (my review)
This is the kind of love story that many of us had in our youth (especially if you lived in NYC) and look back on with horror. We wish we would've been stronger, smarter, and valued ourselves more. It's raw and most definitely not sweet.
Affiliate Link: Buy from Amazon
Tender by Belinda McKeon (my review)
A story of friendship, unrequited love, desperation and obsession. This one will make you uncomfortable…I was cringing often.
Affiliate Link: Buy from Amazon
The Roanoke Girls
 by Amy Engel (my review)
Probably the most F'd up love story you'll ever read (with a love story you can actually root for buried amid the horror)…starring a supremely dysfunctional family.
Affiliate Link: Buy from Amazon
The Rules of Magic
by Alice Hoffman
Love permeates this story about family and magic. Can the Owens children find love? Should they? 
Affiliate Link: Buy from Amazon
The Seven Husbands of Evelyn Hugo
by Taylor Jenkins Reid (my review)
The true love story of this book isn't the one you think it will be.
Affiliate Link: Buy from Amazon
White Fur
 by Jardine Libaire (my review)
A classic "wrong side of the tracks" love story…told in a raw, gritty, edgy, and uncomfortable way.
Affiliate Link: Buy from Amazon 
How do you feel about romances? Do you prefer the traditional or unconventional type?