I actually finished two books and one audiobook last week…I'm shocked! I'm sure it's because my kids finally finished school for the year and because both books were only around 200 pages. And, the audiobook I finished was My Year of Running Dangerously
by Tom Foreman, which I really enjoyed!
I went to the doctor for my back and hip pain and will be getting an MRI this week. The good news is she didn't think it was disc related. The bad news is she thinks I might have a tear or a strain in my glute connectors/attachments, which can also cause pain in the lower back area. We'll see what the MRI says, but in the meantime, no running or swimming. I can ride my bike and do strength training, though…silver linings!
Hosted by The Book Date.
This post contains affiliate links.
I finished reading…

What We Lose
 by Zinzi Clemmons (July 11, 2017)
There were flashes of brilliance in this debut novel, but it was overall really jumpy and I had trouble getting into it. Mini review to come.
Goodbye, Vitamin
 by Rachel Khong (July 11, 2017)
A sweet novel about a young girl who goes home to help take care of her Dad, who is suffering from Alzheimer's. I adored Ruth's (the narrator and main character) voice! Mini review to come.
Affiliate Link: Buy from Amazon
I'm currently reading…

Final Girls
 by Riley Sager (July 11, 2017)
Y'all know I'm skittish about thrillers, but Stephen King called this one "the first great thriller of 2017." So, I'm giving it a shot. However, he also said you'd like this if you liked Gone Girl, which caused me to immediately lose a tiny bit of respect for him. Mr. King, you are too good to stoop to a Gone Girl comparison! 
I tried, but wasn't feeling…

The Outer Cape
 by Patrick Dacey (June 27, 2017)
DNF at 16%. One of the main characters is just insufferable and I couldn't deal any longer…even though dislikable characters don't generally bother me.
Who Is Rich?
 by Matthew Klam (July 4, 2017)
DNF at 5%. Meg Wolitzer (who I adore) called this novel "funny, dark, big, and bold," but there was a massive rundown of characters right out of the gates and I got bored. However, given Wolitzer's endorsement, I'd be willing to give this one another shot if another blogger I trust likes it.
Upcoming reading plans…
Unless one of my library holds comes in…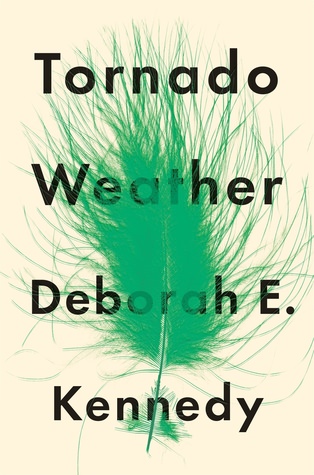 Tornado Weather
 by Deborah E. Kennedy (July 11, 2017)
This debut novel about a young girl who goes missing in a small town has been compared to Everything I Never Told You, which I loved. It sounds like it could be one of those books that includes a crime, but the story is about much more than the crime, which I also love. 
I was reading…
One Year Ago: I read a disappointing book by an author whose previous book I loved.
Two Years Ago: I was on vacation and not writing blog posts!
How was your reading week?