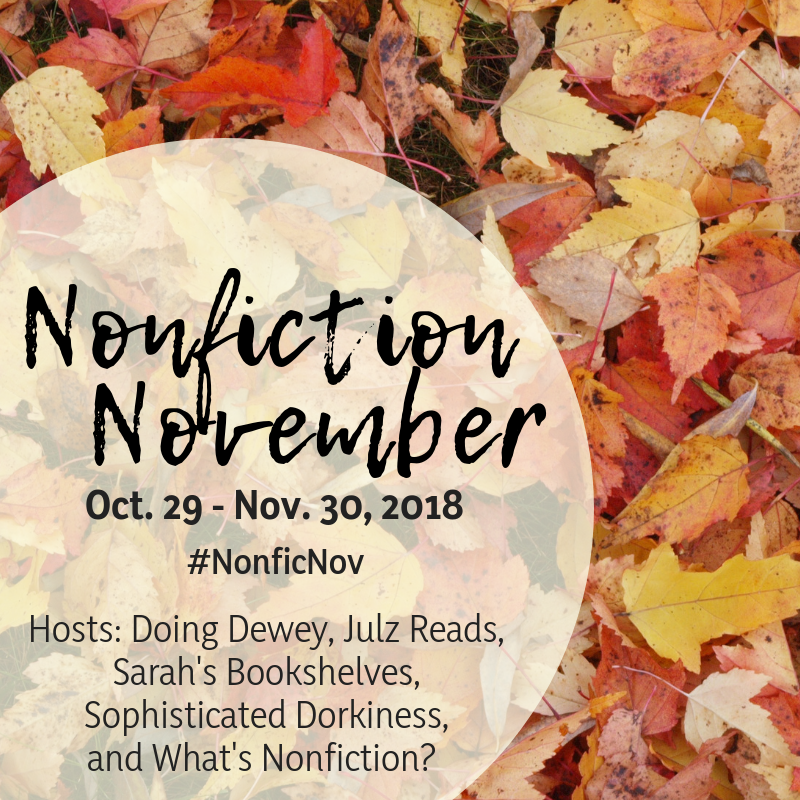 Today's Nonfiction November (hosted by Katie at Doing Dewey, Rennie at What's Nonfiction?, Julie at Julz Reads, Kim at Sophisticated Dorkiness, and me) topic is Reads Like Fiction (head over to What's Nonfiction? for the link-up!):
Nonfiction books often get praised for how they stack up to fiction. Does it matter to you whether nonfiction reads like a novel? If it does, what gives it that fiction-like feeling? Does it depend on the topic, the writing, the use of certain literary elements and techniques? What are your favorite nonfiction recommendations that read like fiction? And if your nonfiction picks could never be mistaken for novels, what do you love about the differences?
This post contains affiliate links (plus: here's your Amazon Smile-specific affiliate link
), through which I make a small commission when you make a purchase (at no cost to you!).
When people ask me for nonfiction recommendations, they often request something that "reads like fiction." Personally, I don't need my nonfiction to read like fiction to love it…but, I do love a good nonfiction that reads like fiction! I do feel like many of the iconic nonfiction books could be described as reading like fiction. 

For me, a nonfiction book reads like fiction if there is a strong story arc. If there are central characters whose fates you care about and the story has a beginning, middle and an end. Also, not being able to put it down helps!
Nonfiction That Reads Like Fiction
All Over But the Shoutin'
by Rick Bragg
Bragg's memoir about his childhood growing up destitute, with an alcoholic and mostly absentee father, in rural Alabama. It's one of my all-time favorite nonfiction books and Bragg is the author I've found that comes closest to Pat Conroy (if you're a regular blog reader, you know how big a compliment this is coming from me!) so far.

The Devil in the White City
 by Erik Larson (my review)
The true story of the creation of the 1893 Chicago World's Fair and the serial killer masquerading as a doctor who cast a shadow over the proceedings. An excellent true crime / history mash-up and the book that many people would say is the epitome of nonfiction that reads like fiction (I think I agree).

Educated
 by Tara Westover (my review)
Westover's memoir about growing up in a survivalist Mormon family who didn't believe in public education and her journey to break the mold by getting her PhD at Cambridge University. Educated was recently named the #1 Book of 2018 by Amazon and Library Reads.

Forty Autumns
by Nina Willner (my review)
Willner, an ex-U.S. intelligence officer covering East Germany, tells the true story of her family being separated by the Berlin Wall and their experience living in Communist East Germany. This one was my favorite book of last year's Nonfiction November and would make a great pairing with Georgia Hunter's We Were the Lucky Ones.

From the Corner of the Oval
 by Beck Dorey-Stein
This quarter life crisis memoir set in the world of politics might be my favorite audiobook of the year! It's like listening to your fun friend who happens to have a job (stenographer) in the White House with access to the President give you all the very best anecdotes (plus, a good dose of her love life) over a glass of wine!
In the Garden of Beasts by Erik Larson (my review)
Told through the eyes of Martha Dodd, the US Ambassador to Berlin's daughter, Larson paints a picture of how the German people remained oblivious as Hitler very gradually accumulated the power to enable him to pull off the Holocaust under their noses.
Midnight in the Garden of Good and Evil by John Berendt
The true story of the Savannah murder of Billy Hansen and the subsequent trial of antiques dealer and social gadfly Jim Williams. This one blends a suspenseful murder mystery with a portrait of an eccentric Southern town…and, I'm long overdue for a re-read.

My Salinger Year by Joanna Rakoff (my review)
The story of Rakoff's experience as a young woman in the 90's living in NYC and working at the literary agency representing reclusive legend, J.D. Salinger. But, this one reads like a coming of age novel with celebrity guest appearances! 
On Wings of Eagles
by Ken Follett
The story of eventual Presidential candidate Ross Perot's rogue rescue of his Electronic Data Systems employees after they were imprisoned in Tehren during the 1978 Iranian Revolution. One of those truth is stranger than fiction stories…that also reads like fiction.
Red Notice by Bill Browder
The true story of Browder's experience as one of the first foreign investors in Russia after the fall of Communism and widespread privatization. This is one of the few nonfiction books that reads like a thriller.
The Girl Who Smiled Beads
 by Clemantine Wamariya (my review)
Clemantine was six years old when she and her older sister (Claire) were separated from their family during the Rwandan genocide and spent the next six years as refugees before being granted asylum in the U.S., and in Clemantine's case, going on to get a degree from Yale. I kind of wish this one was actually fiction…

The Rules Do Not Apply
 by Ariel Levy (my review)
Current New Yorker staff writer Levy's memoir of self-examination takes a brutally raw and honest look at her life including love, massive loss, and bad decisions.

What are your favorite nonfiction books that read like fiction?