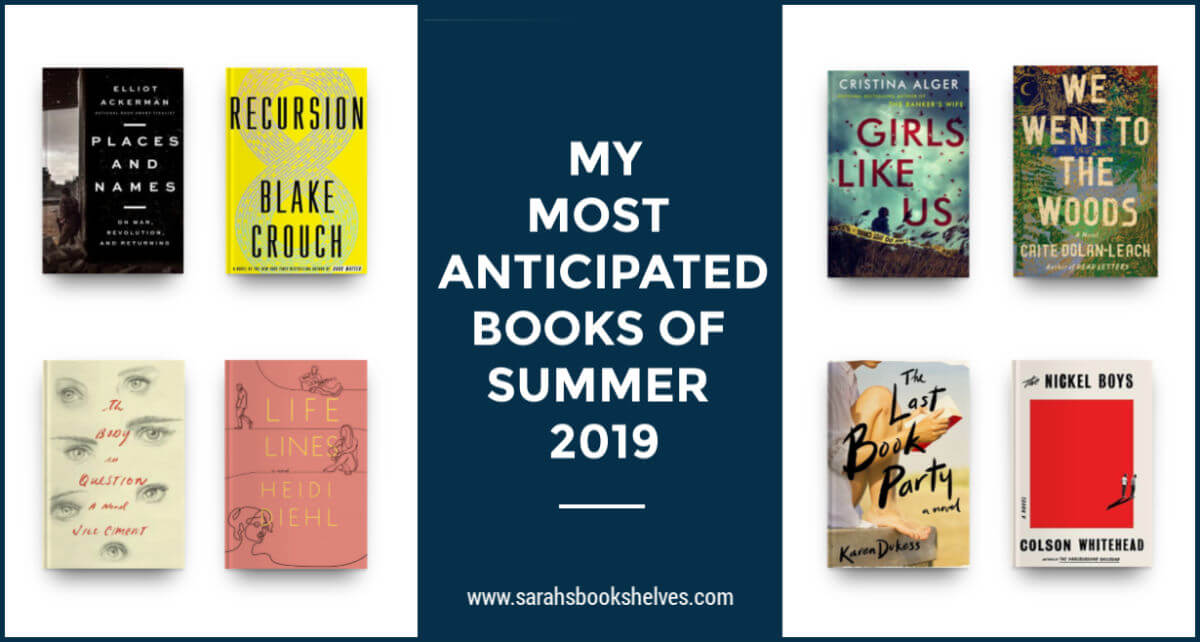 I always get so excited thinking about the first crop of books coming out in a new year…and planning (well, loosely planning) what I'm going to read! 
This year, I'm doing these quarterly posts a little differently since I now have a podcast! If you missed yesterday's episode of the Sarah's Book Shelves Live podcast (listen here), Catherine from Gilmore Guide to Books and I covered 16 books we're excited about coming out this Summer. I'm talking about 5 of them again in today's blog post (noted by each book)…but, check out the podcast to hear about the rest! Just click on the time stamp link next to each book and it will take you right to the place in the podcast where we talk about that book.
And, stay tuned for my 2019 Summer Reading Guide (books I've already read and loved that I think would make great summer reads) coming on Tuesday! 
Summer 2019 Releases I Covered in the Podcast 
June:
July:
As always, my Most Anticipated Books of Summer 2019 list is mostly made up of books from trusted sources (to find your personal trusted recommendation sources, check out this post and free downloadable template) who, in as many cases as possible, have already read the book. I did not look at a single publisher's catalog to create this list. I'm sharing the recommendation source for each book and will specify if that source has or has not read it yet.
I use my "Rock Your Reading" Tracker (available for purchase for $14.99) to keep an ongoing eye on my most trusted recommendation sources…and improved my reading success 42% from last year!
This post contains affiliate links (plus: here's your Amazon Smile-specific affiliate link
), through which I make a small commission when you make a purchase (at no cost to you!).
My Most Anticipated Books of Summer 2019
June
Places and Names: On War, Revolution, and Returning
by Elliot Ackerman (June 11, Penguin Press)
Ackerman wrote my #1 book of last year, Waiting for Eden (my review), so I'm obviously excited to see what he does in a memoir.
At once an intensely personal book about the terrible lure of combat and a brilliant meditation on the larger meaning of the past two decades of strife for America, the region and the world, Places and Names bids fair to take its place among our greatest books about modern war.
Recommendation Source(s): Trusted author.
Recursion by Blake Crouch (June 11, Crown)
Discussed on the podcast [14:04]
Y'all know I don't normally read Sci-Fi action thrillers, but I loved Crouch's last novel, Dark Matter (my review). And, a lot of other people who normally don't read Sci-Fi did too. I've already read Recursion and I flew through it in just a few days! It's mind-bending and really makes you think, but also reads like an action thriller. And, I think if you liked Dark Matter, you'll like Recursion too.
Memory makes reality. 

That's what NYC cop Barry Sutton is learning, as he investigates the devastating phenomenon the media has dubbed False Memory Syndrome—a mysterious affliction that drives its victims mad with memories of a life they never lived.

That's what neuroscientist Helena Smith believes. It's why she's dedicated her life to creating a technology that will let us preserve our most precious memories. If she succeeds, anyone will be able to re-experience a first kiss, the birth of a child, the final moment with a dying parent.

As Barry searches for the truth, he comes face to face with an opponent more terrifying than any disease—a force that attacks not just our minds, but the very fabric of the past. And as its effects begin to unmake the world as we know it, only he and Helena, working together, will stand a chance at defeating it.
Recommendation Source(s): Already read and rated 4 stars by ME, Anne Bogel recommended it on her One Great Book podcast for Patreon subscribers, and trusted author.
The Body in Question
by Jill Ciment (June 11, Pantheon)
Discussed on the podcast [18:55]
This slim novel (it's under 200 pages!) is described by the publisher as a courtroom drama and it kind of is, but it's not what you think of when you think of courtroom dramas. The jury is the main focus of this one. It covers a lot of territory for its size and goes to places I never expected. PS – go in blind…the publisher's synopsis gives away too much!
A spare, masterful novel about a shocking murder trial, a sequestered jury, and an affair between two of the jurors–the woman, in free fall in her life and marriage to a much older man.
Recommendation Source(s): Already read and rated 4 stars by ME and Annie Jones of From the Front Porch podcast.
Lifelines
by Heidi Deihl (June 18, Houghton Mifflin Harcourt)
This novel is a bit of a risk for me because it comes recommended by someone who has steered me right before, but who hasn't actually read this book yet! But, I can't ignore a Meg Wolitzer / Maggie Shipstead combo comparison. I've just started reading it and was immediately pulled into the story. I'm not that far into it yet, but it feels like it could be a character-driven novel I can't put down.
For fans of Meg Wolitzer and Maggie Shipstead: a sweeping debut novel following an American artist who returns to Germany—where she fell in love and had a child decades earlier—to confront her past at her former mother-in-law's funeral.
Recommendation Source(s): I'm currently reading it and like it so far (25%).
July
Girls Like Us by Cristina Alger (July 2, Putnam)
Discussed on the podcast [28:20]
I loved Alger's last novel, The Banker's Wife (my review), and thought it was a welcome reprieve from the run-of-the-mill domestic thrillers. 
From the celebrated and bestselling author of The Banker's Wife, worlds collide when an FBI agent investigates a string of grisly murders on Long Island that raises the impossible question: What happens when the primary suspect is your father?
Recommendation Source(s): Trusted author.
We Went to the Woods by Caite Dolan-Leach (July 2, Random House)
Discussed on the podcast [37:20]
Dolan-Leach's debut novel, Dead Letters (my review), was one of my favorite books of 2017! Dolan-Leach's style is dark, twisty, and snarky…in other words, right up my alley.
They went off the grid. Their secrets didn't. For readers of The Secret History and The Immortalists comes a novel about the allure–and dangers–of disconnecting.

Certain that society is on the verge of economic and environmental collapse, five disillusioned twenty-somethings make a bold decision: They gather in upstate New York to transform an abandoned farm, once the site of a turn-of-the-century socialist commune, into an idyllic self-sustaining compound called the Homestead.
Recommendation Source(s): Trusted author.
The Last Book Party
by Karen Dukess (July 9, Henry Holt)
This pick is another risk as it doesn't come recommended by any trusted sources who've already read it, but the premise sounds totally up my alley. I'm a sucker for books set in the publishing world and I like the nostalgia of the 1980's.
A propulsive tale of ambition and romance, set in the publishing world of 1980's New York and the timeless beaches of Cape Cod.

In the summer of 1987, 25-year-old Eve Rosen is an aspiring writer languishing in a low-level assistant job, unable to shake the shadow of growing up with her brilliant brother. With her professional ambitions floundering, Eve jumps at the chance to attend an early summer gathering at the Cape Cod home of famed New Yorker writer Henry Grey and his poet wife, Tillie. Dazzled by the guests and her burgeoning crush on the hosts' artistic son, Eve lands a new job as Henry Grey's research assistant and an invitation to Henry and Tillie's exclusive and famed "Book Party"— where attendees dress as literary characters. But by the night of the party, Eve discovers uncomfortable truths about her summer entanglements and understands that the literary world she so desperately wanted to be a part of is not at all what it seems.
Recommendation Source(s): None.
The Nickel Boys by Colson Whitehead (July 16, Doubleday)
I never read Whitehead's Pulitzer Prize-winning novel (The Underground Railroad)…mostly because I'm not a big magical realism fan. But, I do love books based on real events and, though this one will definitely be a tough read, it comes highly recommended from a couple trusted sources. And, I'm looking forward to giving Whitehead a try without the magical realism. 
Based on the real story of a reform school in Florida that operated for one hundred and eleven years and warped the lives of thousands of children […].
Recommendation Source(s): Already read and rated 5 stars by Annie Jones of From the Front Porch podcast and Jaclyn Crupi. Already read and rated 4 stars by Tyler Goodson (manager of Avid Bookshop in Athens, GA).
*All book summaries (in block quotes) are from Goodreads (edited for length).
What Summer 2019 books are you looking forward to?
Pin this post…