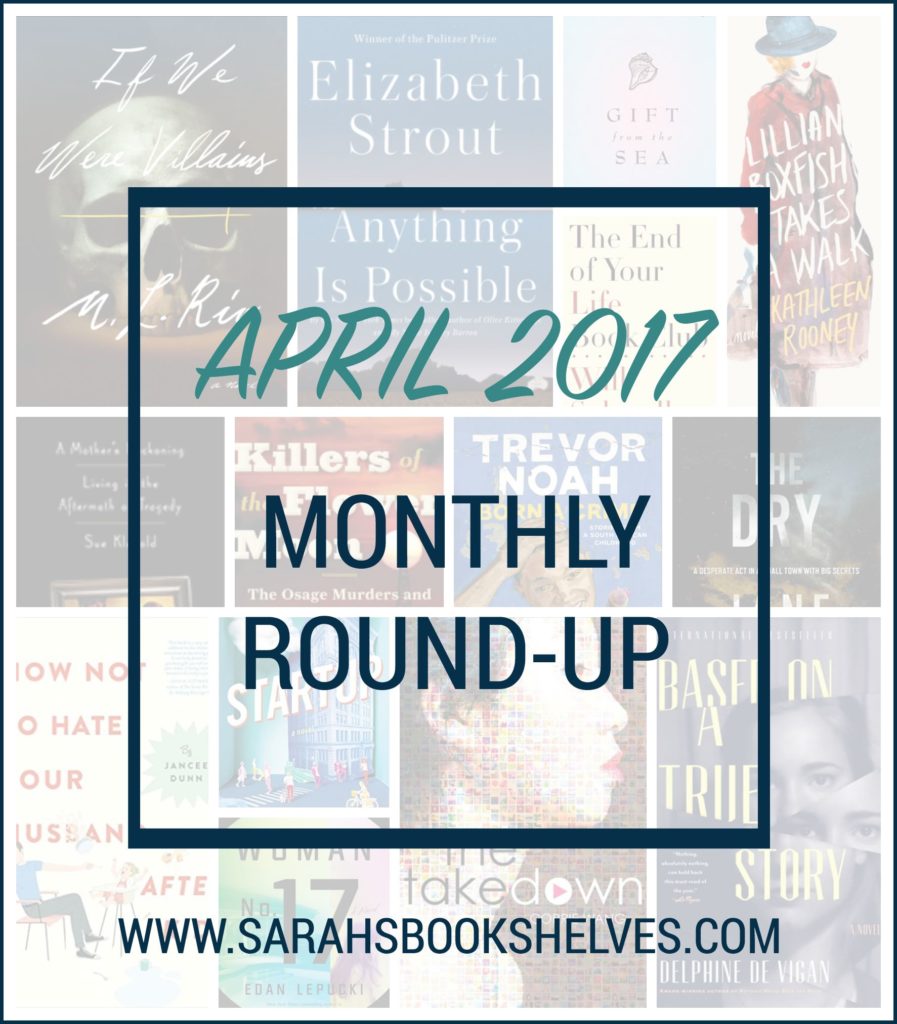 This post contains affiliate links and I will make a small commission if you make a purchase after clicking on my links.
April Reading / Life
I read/listened to 14 books in April…how did that happen?! I think that might be my highest monthly total ever.

I think my five audiobooks is what contributed the most towards my high April book count. And, all (Gift from the Sea, How Not to Hate Your Husband After Kids, Born a Crime, A Mother's Reckoning) but one (The End of Your Life Book Club) were winners.
I vetted a number of books for my up-coming 2017 Summer Reading Guide: If We Were Villains, Anything Is Possible, The Takedown, Startup, and Based on a True Story.
I fit in two previous Book of the Month Club selections and enjoyed them both: Lillian Boxfish Takes a Walk and Killers of the Flower Moon.
I really only had two duds this month: The Dry and Woman No. 17, both of which I'd heard great things about and thought I'd love.
As many of you know, I'm currently running a free trial of my personalized book recommendation service! Mother's Day is just around the corner…request a recommendation for an awesome book to get your mom (or treat yourself)!
Finally, you have two more days to choose your May Book of the Month Club selection(s) AND there are two awesome deals right now! Check out all the details and my commentary on which selection I'd choose here!
My Favorite Book(s) of the Month
Best Books of the Month
Based on a True Story
by Delphine de Vigan (May 9, 2017)
Fiction, 384 Pages
Affiliate Link: 
Buy from Amazon
If We Were Villains
by M.L Rio (April 11, 2017), My Review
Nonfiction, 352 Pages
Affiliate Link: 
Buy from Amazon
PS – last year's Best Book of April was Shelter by Yung Jun (my review)…one of my Top 3 Books of 2016!
Best Selling Book(s) of the Month (via my affiliate links)
Black Chalk by Christopher J. Yates
Dead Letters by Caite Dolan-Leach
Lillian Boxfish Takes a Walk
by Kathleen Rooney
The Roanoke Girls by Amy Engel
May Releases I'm Excited About
Based on a True Story
by Delphine de Vigan (May 9)
The Fact of a Body
by Alexandria Marzano-Lesnevich (May 16)
Trophy Son
by Douglas Brunt (May 30)
White Fur
 by Jardine Libaire (May 30)
Most Popular Posts
Posts Actually Published in April
It's Monday, What Are You Reading? (4/10/17)
Book of the Month Club April 2017 Selections: What Would I Choose?
How to Ask for Book Recommendations…So You Find Books You'll Love
Overall Posts
Book Club Recommendations
Behind Her Eyes and THAT Ending: Spoiler Discussion
A Gentleman in Moscow by Amor Towles: On Appreciating, Yet Not Loving a Book*
*Ya'll, this is the first time a book review has been one of my top posts! Who knew not liking A Gentleman in Moscow would get me so many pageviews?!
Favorite Posts by Fellow Bloggers
How was your reading month?
Looking for a specific book recommendation? I've got you covered!
Participate in a limited time, free trial of my
new PERSONALIZED BOOK RECOMMENDATION service!