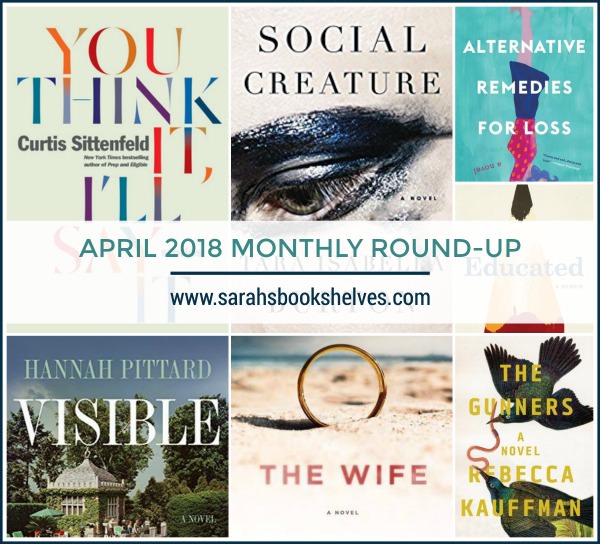 April brought some great reading…much of which consisted of trying to fit in as many candidates for my 2018 Summer Reading Guide as possible! Hunting for Summer Reading Guide candidates also brought some DNFs since I was being extra picky, but I'm okay with that.
This month, I also had one of my very favorite reading experiences that I don't get to indulge in very often…a full 3 days of beach reading! This is super rare in my current, kid-filled stage of life and I appreciate it immensely.
I read 7 books this month…and none of those were audiobooks. That's mostly because I've been listening to the new Tiger Woods biography, which is over 15 hours long…about 3 times the length of my normal audiobooks. Hopefully, I'll be finishing it up soon.
Winners
Losers
None! I was super diligent about DNFing what I didn't like this month!
DNF's
Best-Selling Book (via my affiliate links)
The Female Persuasion
 by Meg Wolitzer (my review) – by a landslide!
Announcements
Mother's Day is just over a week away…I've got some books that would make awesome gifts for your Mom!
Personalized Book Recommendations and the Superstars Facebook Group are now available to anyone who supports Sarah's Book Shelves on Patreon!
The 2018 Summer Reading Guide is coming in mid-May…with a couple new features!
April Quality and Recommendation Sources
Reading Quality 
April 2018
% Successful Books Attempted (includes DNF's) = 70% (way above my 43% success rate from 2017)
% Successful Books Finished (does not include DNFs) = 100%
2018 Year-to-Date (through April)
% Successful Books Attempted (includes DNF's) = 54% (still above my 43% success rate from 2017)
% Successful Books Finished (does not include DNFs) = 85%
Successful Recommendation Sources
If you're interested in tracking these types of stats, my "Rock Your Reading" Tracker does all the heavy lifting for you! Enter your book details and it automatically compiles everything into Summary Charts in real time! Go here for more details.
May Releases I'm Excited About
The Mars Room by Rachel Kushner (May 1)
The Optimistic Decade by Heather Abel (May 1)
Alternative Remedies for Loss
 by Joanna Cantor (May 8)
How to Walk Away by Katherine Center (May 15)
The Ensemble by Aja Gabel (May 15)
Most Popular Posts
Posts Actually Published in April
Book of the Month April 2018 Selections: What Book Should You Choose?
12 Books That Would Make Great Gifts for Moms
Q1 2018 Update: My Go-To and No-Go Book Recommendation Sources
Overall Posts
Book Club Recommendations
Behind Her Eyes and THAT Ending: Spoiler Discussion (#WTFthatending)
Am I the Only One Who Didn't Love Eleanor Oliphant is Completely Fine?
Favorite Posts by Fellow Bloggers
How was your reading month?