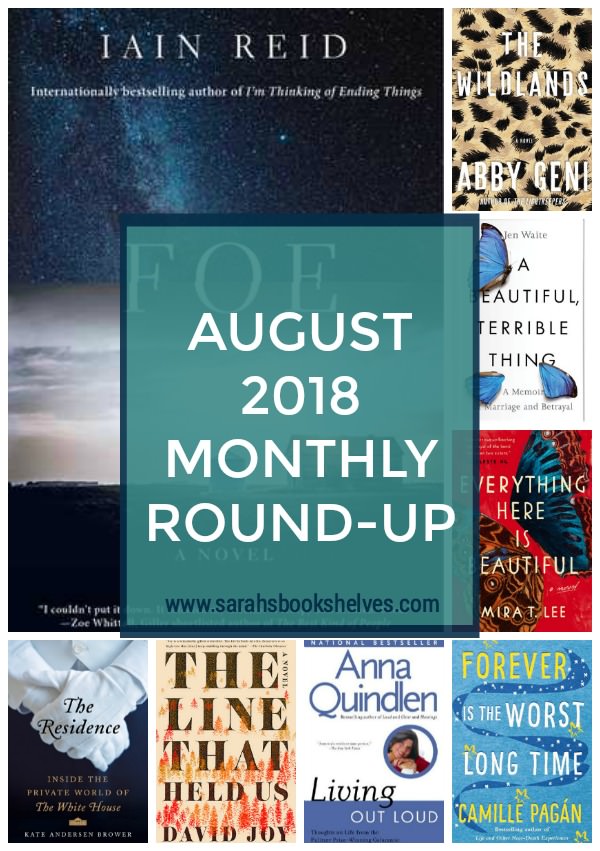 This post contains affiliate links (plus: here's your Amazon Smile-specific affiliate link
), through which I make a small commission when you make a purchase (at no cost to you!).
My August reading was solid…but, just solid. No one book stood out far above the others, but almost everything I read was good! Sometimes I wonder if I'd prefer a single out of this world book among a sea of "meh" or if I'd rather have a string of solid, 4 star reads. What do you think? Tell me in the comments!
I read 8 books this month…which is about normal for me. I read more backlist than usual and also listened to two audiobooks! I also mood-read more in August than usual…which I guess fits right in with the lazy days of summer!
Winners
Losers
None! I DNF'd everything that wasn't working for me this month!
DNF's
Best-Selling Book (via my affiliate links)
Where the Crawdads Sing by Delia Owens (my review) – good, it should be!
Announcements
It's time to start thinking about Fall books! I shared My Most Recommended Books of Fall 2018 last week. So far, I've read two books on this list and really liked them both!
And, Fall means school starting up again! I wish more books like these had been on my school curriculum!
Personalized Book Recommendations and the Superstars Facebook Group are available to anyone who supports Sarah's Book Shelves on Patreon!
August Quality and Recommendation Sources
Reading Quality
August 2018
% Successful Books Attempted (includes DNF's) = 89% (above my 43% success rate from 2017)
% Successful Books Finished (does not include DNFs) = 100%
2018 Year-to-Date (through August)
% Successful Books Attempted (includes DNF's) = 61% (above my 43% success rate from 2017)
% Successful Books Finished (does not include DNFs) = 86%
Successful Recommendation Sources
If you're interested in tracking these types of stats, my "Rock Your Reading" Tracker does all the heavy lifting for you! Enter your book details and it automatically compiles everything into Summary Charts in real time! Go here for more details.
Septemeber Releases I'm Excited About
The Wildlands by Abby Geni (September 4)
Foe by Iain Reid (September 4)
The Golden State by Lydia Kiesling (September 4)
The Real Lolita by Sarah Weinman (September 11)
Most Popular Posts
Posts Actually Published in August
Book of the Month August 2018 Selections: What Book Should You Choose?
My Favorite Nonfiction Audiobooks
August 2018 Books to Read (and Skip)
Overall Posts
Am I the Only One Who Didn't Love Eleanor Oliphant is Completely Fine?
Book Club Recommendations
Behind Her Eyes and THAT Ending: Spoiler Discussion (#WTFthatending)
Favorite Posts by Fellow Bloggers
It's a light month for blogger shout-outs, mainly because I was awful at keeping track of posts I loved! Chalk it up to the lazy days of summer? I'll do better next time, I promise!
I love food and used to read tons of foodie memoirs (somehow, this has fallen by the wayside), so I loved Rikki & Michaela at The Ardent Biblio's list of Best Books for Foodies & Lovers of Food Writing.
I love a good campus novel (the darker, the better…I'm looking at you, The Secret History), so I was thrilled to peruse Modern Mrs. Darcy's list of 10 Campus Novels that Will Take You Back to Your School Days.
Big, buzzy book season is upon us and bloggers have been sharing their Most Anticipated Books of Fall (here's mine!). Check these out: Bookpage (nonfiction), Novel Visits, Modern Mrs. Darcy, Read a Latte (thrillers), Novels and Nonfiction (September books).
How was your reading month?