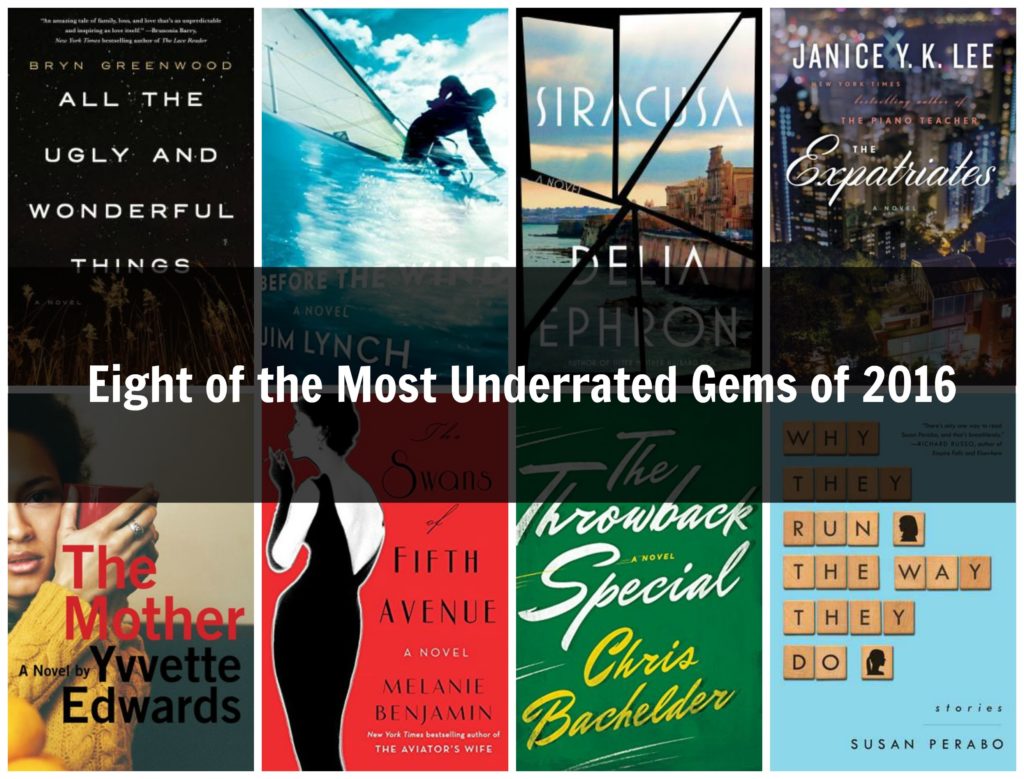 I'm linking up at with the lovely ladies at The Broke and The Bookish for Top Ten Tuesday! 
Yep, I'm throwing in one last 2016 round-up list. This might be one of my favorites because I think all these books deserve a ton of love and attention! And, it enables me to give some love to books that just missed making my Best Books of 2016 list.
Eight of the Most Underrated Gems of 2016
All the Ugly and Wonderful Things by Bryn Greenwood
I think I understand why this book hasn't taken off with the broad reading public…it's supremely uncomfortable and icky at times, but turns into something sweet and beautiful by the end.
Before the Wind by Jim Lynch
I'm still thanking my lucky stars that Catherine at Gilmore Guide recommended this local-to-her author and I'm hoping his dysfunctional sailing family novel gets the broad acclaim it deserves.
Siracusa by Delia Ephron
I was surprised this dark vacation page turner didn't take off more this summer.
The Expatriates by Janice Y.K. Lee
This novel got a fair amount of love from the book blogging world when it came out a year ago, but it came this close to making my Best Books of 2016 list…and I didn't see it on a single other Best of the Year list.
The Mother by Yvvette Edwards
Not to be confused with The Mothers by Brit Bennett, this novel packs a serious punch despite its small package…it's emotional, suspenseful, and makes important observations about life and crime in a tough neighborhood.
The Swans of Fifth Avenue by Melanie Benjamin
So many people loved this book as a light and fun read, but I think it was more than that. Benjamin captured Capote's voice so perfectly I occasionally forgot I wasn't actually reading him and she went deep beneath the surface to the darker side of his swans' (particularly Babe Paley) glittering lifestyles.
The Throwback Special by Chris Bachelder
A Finalist for the 2016 National Book Award and long-listed for the 2017 Tournament of Books, this novel isn't lacking in critical acclaim. But, I'd love to see some popular appeal follow!
Why They Run the Way They Do by Susan Perabo
Short stories are a tough sell…and it's rare that a collection ends up getting a lot of attention outside of the book world. But, this collection is accessible and would appeal to readers who are skittish about the genre.