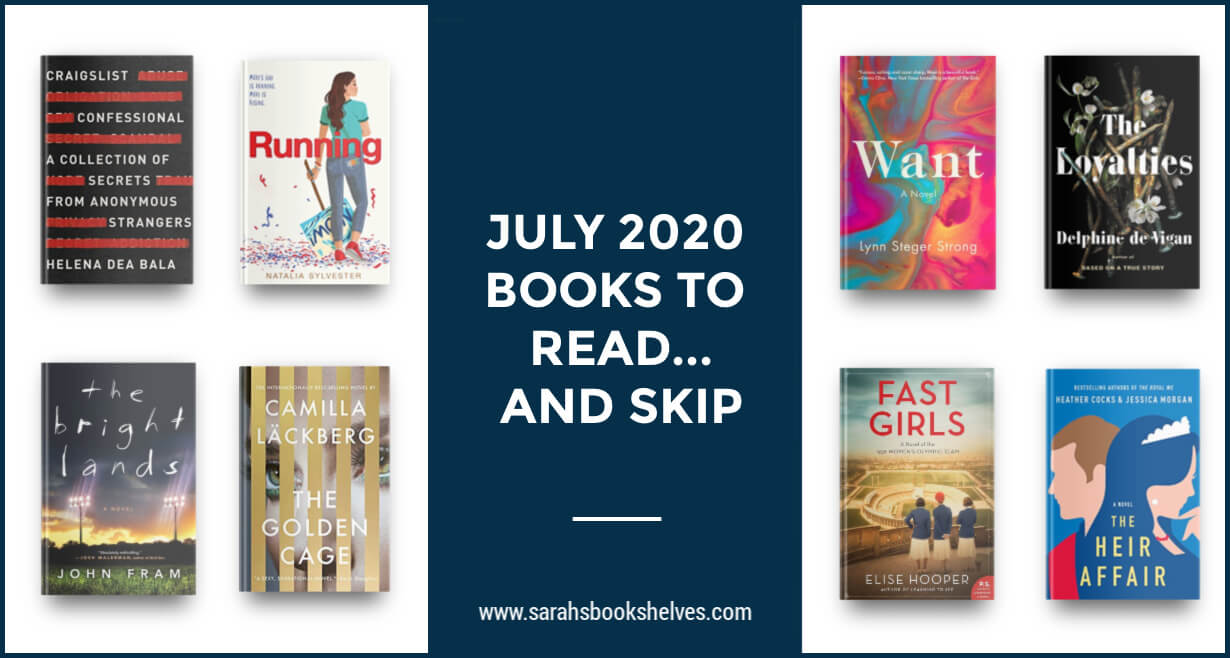 July was a huge month for new books! I've got a lot to share with you today…including a 5 star read, multiple other books I'm recommending, and a book by a trusted author that didn't pan out.
Hosted by Modern Mrs. Darcy.
This post contains affiliate links (plus: here's your Amazon Smile-specific affiliate link
).
Favorite Book of July 2020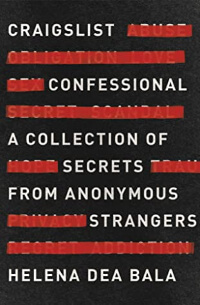 Craigslist Confessional by Helena Dea Bala
Nonfiction – General (Release Date: July 7, 2020)
256 Pages
Affiliate Link: Buy from Amazon

Source: Publisher (Gallery Books)

Plot Summary: The author shares personal stories from her project called Craigslist Confessional, where she asked strangers what they would "confess if you knew it would never get back to your spouse, your colleagues, or [their] family." 
My Thoughts: I didn't know much about this book going into it and kind of expected it to be light-hearted (clearly I didn't read the synopsis closely). I couldn't have been more wrong. These stories are the take-your-breath-away kind that I remember from Tiny Beautiful Things…just without the advice element (Dea Bala chose to strictly listen). They're deeply raw and unfiltered and cover issues ranging from infidelity to addiction to racism to abuse to terminal illness to identity to mundane marriage issues. Just like life, some stories end on a hopeful note and offer life wisdom…and others don't really have an ending and / or don't leave the reader with much hope. I was riveted. Each story is relatively short, so you could easily read this in snippets or take breaks if the stories become too emotionally overwhelming. And, Dea Bala's personal story (which she shares in the Introduction) of immigrating to America from Albania with her successful parents (a doctor and an Ambassador) who then worked at Home Depot and cleaned houses to make ends meet in the U.S. is astounding in and of itself. A 5 star book that came out of nowhere for me! P.S. – check out my podcast episode with the author!
In this climate, where diversity is simultaneously celebrated and used to monger fear, judgment, and separatism, I've learned above all else that pain, in all its protean forms, can unite us as human beings—that each of us can be a light when someone's day feels particularly dark.
Also Read These…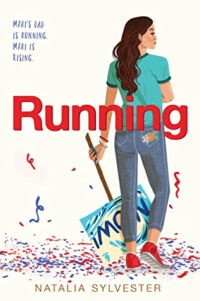 Running by Natalia Sylvester
Fiction – Young Adult (Release Date: July 14, 2020)
336 Pages
Affiliate Link: Buy from Amazon

Source: Publisher (Clarion Books)

Plot Summary: When 15 Year old Cuban American Mariana Ruiz's father decides to run for President, Mariana struggles with living in the spotlight and discovers she doesn't necessarily agree with her father's political positions. 
My Thoughts: First off, Running didn't feel overly YA to me (a must for me to like a YA novel). It deals with the cost of living in the spotlight (the level of sacrifice and invasion of privacy required of a politician's family is heartbreaking), living truthfully, working through the process of figuring out what you believe, and what you're comfortable doing about those beliefs. It's kind of like Mari's political awakening…she starts to notice the imbalances in her own parents' marriage (i.e. how her mom has become an accessory to her Dad) and there are some race and LGBTQ themes. The story uses lots of language and themes that've been used in racial injustice conversations recently and it feels timely to current events. Mari might be super relatable to some people as she's not used to talking about politics (her Dad had a "no politics at the dinner table" rule even though he was a politician) and is uncomfortable with it. She struggles with how to balance these personality traits with feeling compelled to do something about an issue she's passionate about. There are some "teachable moments" in the book that might've felt contrived in adult fiction, but were palatable to me since this YA. A timely story in this election year!
Don't talk politics with your kids, but make them pose for your campaign pictures. Don't talk politics with your kids, but have them say they approve your message in sketchy videos that maybe are or maybe aren't for the PACs. Don't talk politics with your kids, but expect them to support your policies.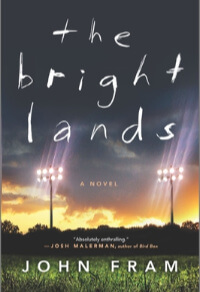 The Bright Lands by John Fram
Fiction – Thriller / Horror (Release Date: July 7, 2020)
480 Pages
Affiliate Link: Buy from Amazon

Source: Publisher (Hanover Square Press)

Plot Summary: Joel left his small, football-obsessed Texas town as soon as he could after graduating, but returns home when his star quarterback younger brother (Dylan) appears to be in trouble. 
My Thoughts: I have complicated feelings about this debut novel and almost wish I could give it two separate ratings…one for the first 50-60% and one for the remaining 40% or so. The first segment reads like a Friday Night Lights-esque (and a bit of Beartown) literary thriller with an undercurrent of eerie supernatural elements and an #ownvoices LGBTQ perspective. I was quickly turning the pages and appreciated the serious issues the story addressed (prejudice, history repeating itself, and the immense pressure put on high school athletes in towns like this). Fram also paints a vivid and haunting picture of the small, Texas town that doesn't have much to pin its hopes on beyond football. I'd rate this segment 5 stars. The story then took a hard left turn into horror (those eerie supernatural elements that I could tolerate because they were in the background became much more prominent) and the ending went off the rails even if I ignored the horror portion. There were major elements (that are unrelated to the horror theme) that I felt totally unrealistic. Unfortunately, the last 40% or so would be 2.5 stars for me. How to reconcile this into an overall recommendation and rating? I'm settling on 3.75 stars because A) I couldn't stop turning the pages, even when I was reading the outlandish parts B) the journey of a book is important to me and this one was excellent (i.e. a less than stellar ending doesn't kill a book for me) C) but, I do have to dock the rating a bit for that ending. However, John Fram has obvious talent and I'm looking forward to seeing what he does next. For a more in-depth discussion of my thoughts on this book, check out my Summer 2020 Book Preview podcast.
Joel realized you didn't have to be gay to feel trapped in this town. How could a kid Dylan's age look at a place with half its businesses chained shut, at a community where your every mistake was a topic of conversation, and not yearn to escape?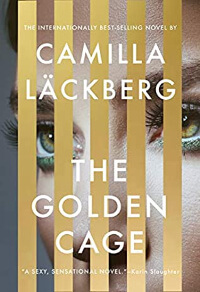 The Golden Cage
by Camilla Lackberg
Fiction – Thriller (Release Date: July 7, 2020)
352 Pages
Affiliate Link: Buy from Amazon

Source: Publisher (Knopf)

Plot Summary: Faye and Jack met at the London School of Economics and, though she's smarter than he is and came up with some of the key components of his now-billion dollar company, she chose to stay at home to care for their daughter. When Jack begins treating her terribly, she vows to take him down with an epic revenge plot.
My Thoughts: I'm always on the hunt for unique mysteries and thrillers and European thrillers are one category that stand out for me (i.e. A Nearly Normal Family, Quicksand, Based on a True Story). I'd never read Camilla Lackberg before, but she is the author of a number of massive best-sellers…and The Golden Cage is apparently a departure for her. Like the other European thrillers that have worked for me, The Golden Cage is a bit more subtle than American thrillers, more of a slower burn, and more character driven…which I loved. I liked that the story is more about the how and why then about the what. And the big theme is women using their brains to empower themselves over men…and to get revenge. It doesn't read like a full-on thriller until the very end and, despite thinking I wasn't going to like the ending, Lackberg didn't let me down when all was said and done. Great pick if you're looking for a different kind of thriller!
Faye couldn't be bothered to play any more games. They were both trapped in golden cages. Like a couple of peacocks.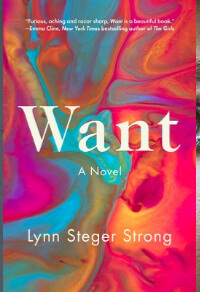 Want
by Lynn Steger Strong
Fiction – Literary (Release Date: July 7, 2020)
224 Pages
Affiliate Link: Buy from Amazon

Source: Publisher (Henry Holt)

Plot Summary: When a New York City teacher (Elizabeth) with a husband, kids, 2 jobs, and a graduate degree finds herself completely overwhelmed and financially underwater, she reconnects online with an old friend who is also struggling.
My Thoughts: Rufi Thorpe (author of The Knockout Queen, one of my favorite books of 2020 so far) sent me this galley with the highest praises and I figured I'd be able to relate to Elizabeth as a mother who often feels overwhelmed (which I did, to a certain extent). It's about wanting more out of life in general, but also about the feeling that people constantly want and/or need something from you (hello, moms!) and being so overwhelmed that you don't have the brain space to worry about other people. Elizabeth suffers from depression, which makes her situation even more bleak. And, the book overall is bleak, but it also felt 100% accurate. It's heavily character-driven and you can feel the depression and hopelessness in the writing style, so it won't be for everyone, but I appreciated that it will make many women feel less alone. This is also the story of a female friendship over time…one where the two parties are not necessarily on equal footing and one that frequently veers into toxic territory. This friendship reminded me of the one in The Girls from Corona del Mar (fitting!). If you can relate to some of the issues Elizabeth is facing and aren't turned off by bleak books, Want will likely hit the spot for you (4 stars)!
I sat in a hospital bed and no one wanted or needed from me for eight whole hours and it was the calmest that I felt in months.
Skip this one…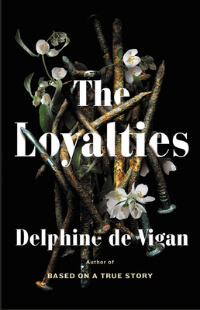 The Loyalties by Delphine de Vigan
Literary Fiction (Release Date: July 21, 2020)
192 Pages
Affiliate Link: Buy from Amazon

Source: Publisher (Little, Brown)

Plot Summary: The story of "4 people (12 year olds Theo and Mathis, their teacher Helene, and Mathis' mother Cecile) trapped in a conspiracy of silence hurtling toward a desperate and devastating act." – Goodreads
My Thoughts: I loved de Vigan's last novel, Based on a True Story (spoiler discussion), because of its slow burn, high level of emotional tension, and just the right amount of weirdness to be intriguing. Unfortunately, The Loyalties was just too odd for me and I didn't really get the point. The premise is super vague and I'm glad the publisher used restraint because I was definitely surprised when the big secret was revealed. It's not what you think it would be and it was an intriguing premise for a book. However, I don't feel like the author really did anything with this intriguing premise. It felt like a set-up (and it was a good set-up!) to a bigger story that never happened. It's been compared to The Dinner and I can see why, but The Dinner is a far more fleshed out and complete novel.
And it's strange, the feeling of calm you get when finally it emerges, the thing you refused to see but knew was there, buried nearby; a feeling of relief when the worst is confirmed.
The DNF's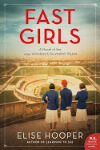 Fast Girls by Elise Hooper (July 7, 2020)
DNF at 20%
This historical fiction (based on real people) about three female Olympians' journey to compete in the 1936 Olympic Games in Berlin on the first integrated women's Olympic team had potential (I love the Olympics), but I was just kind of bored. It also felt like nonfiction and I'd been reading a lot of nonfiction lately, so I could've been a bit burned out of that.
The Heir Affair by Heather Cox and Jessica Morgan (July 7, 2020)
DNF at 31%
I had high expectations for the sequel to The Royal We (my review). I'm so sad this was a DNF. It just dragged…I don't think the story had anywhere else to go and a sequel might've been a mistake. I was boring and felt entirely too long. I felt like I was reading the first 30% for ages. 

What's the best book you've read so far this month?
Pin this post…