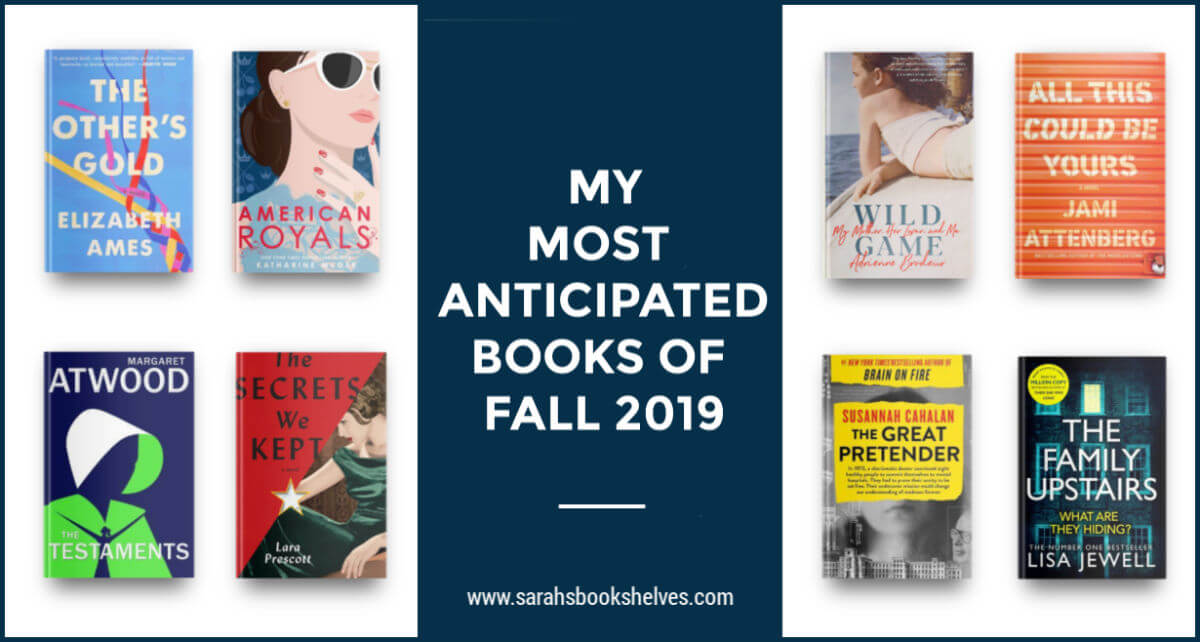 It's big, buzzy book season! But, I'm choosing carefully.
This year, I'm doing these quarterly posts a little differently since I now have a podcast! If you missed yesterday's episode of the Sarah's Book Shelves Live podcast (listen here), Catherine from Gilmore Guide to Books and I covered 18 books we're excited about coming out this Fall. I'm talking about 4 of them again in today's blog post (noted by each book)…but, check out the podcast to hear about the rest! Just click on the time stamp link next to each book and it will take you right to the place in the podcast where we talk about that book.
Additional Fall 2019 Releases I Covered in the Podcast 
August:
September:
October:
November:
As always, my Most Anticipated Books of Fall 2019 list is mostly made up of books from trusted sources (to find your personal trusted recommendation sources, check out this post and free downloadable template) who, in as many cases as possible, have already read the book. I did not look at a single publisher's catalog to create this list. I'm sharing the recommendation source for each book and will specify if that source has or has not read it yet.
I use my "Rock Your Reading" Tracker (available for purchase for $14.99) to keep an ongoing eye on my most trusted recommendation sources…and improved my reading success 42% from last year!
This post contains affiliate links (plus: here's your Amazon Smile-specific affiliate link
), through which I make a small commission when you make a purchase (at no cost to you!).
My Most Anticipated Books of Fall 2019
August
The Other's Gold by Elizabeth Ames (August 27, Viking)
Discussed on the podcast [14:28]
I love campus novels and female friendship stories and this one is 5 stars (my review)!
An insightful and sparkling novel that opens on a college campus and follows the friendship of four women across life-defining turning points.
Recommendation Source(s): Already read and rated 5 stars by ME…and read and loved by Susie at Novel Visits.
September
American Royals by Katherine McGee (September 3, Random House Books for Young Readers)
Becca Freeman from the Bad on Paper Podcast recommended this first novel in a YA series on Episode 24 of the podcast. It's been compared to The Royal We, which I loved (my review)!
What if America had a royal family? If you can't get enough of Harry and Meghan or Kate and William, meet American princesses Beatrice and Samantha.

Two princesses vying for the ultimate crown. 
Two girls vying for the prince's heart. 
This is the story of the American royals.
Recommendation Source(s): Already read by Becca Freeman (co-host of the Bad on Paper Podcast).
The Testaments
by Margaret Atwood (September 10, Nan A. Talese)
A sequel to The Handmaid's Tale?! Hell, yeah! And also, I'm beyond nervous…this could go horribly wrong. There are no galleys of this to be found anywhere, so we all have to wait with bated breath!
"Dear Readers: Everything you've ever asked me about Gilead and its inner workings is the inspiration for this book. Well, almost everything! The other inspiration is the world we've been living in." —Margaret Atwood
Recommendation Source(s): Trusted author.
The Secrets We Kept by Lara Prescott (September 17, Knopf)
Discussed on the podcast [20:24]
I don't often call historical fiction page-turning, but this one is. The writing is highly readable and it's the kind of book you could finish in a weekend. Bottom line, this is one helluva story!

A thrilling tale of secretaries turned spies, of love and duty, and of sacrifice—inspired by the true story of the CIA plot to infiltrate the hearts and minds of Soviet Russia, not with propaganda, but with the greatest love story of the twentieth century: Doctor Zhivago.
Recommendation Source(s): Already read and rated 4 stars by ME…and already read by Anne Bogel.
October
Wild Game by Adrienne Brodeur (October 15, Houghton Mifflin Harcourt)
I love a good memoir and the Goodreads rating for this one is off the charts (4.68)!
A daughter's tale of living in the thrall of her magnetic, complicated mother, and the chilling consequences of her complicity.
Recommendation Source(s): None…this one is a risk!
All This Could Be Yours by Jami Attenberg (October 22, Houghton Mifflin Harcourt)
Discussed on the podcast [36:52]
I loved Attenberg's last novel, All Grown Up
(my review)…she has a dry, morbid humor that's not for everyone, but is for me. And, I can't wait to see what she does with family dysfunction!
A timely, piercing exploration of what it means to be caught in the web of a toxic man who abused his power; it shows how those webs can tangle a family for generations and what it takes to—maybe, hopefully—break free.
Recommendation Source(s): Trusted author…and already read by Liberty Hardy, author Mary Laura Philpott, and Tyler Goodson.
November
The Great Pretender by Susannah Cahalan (November 5, Grand Central)
Discussed on the podcast [40:48]
I loved Cahalan's memoir Brain on Fire (my review) and, given her history, she is uniquely positioned to tell this mind-blowing story. Plus, the Goodreads ratings (4.58) and reviews are outstanding!
From "one of America's most courageous young journalists" (NPR) comes a propulsive narrative history investigating the 50-year-old mystery behind a dramatic experiment that changed the course of modern medicine.

For centuries, doctors have struggled to define mental illness-how do you diagnose it, how do you treat it, how do you even know what it is? In search of an answer, in the 1970s a Stanford psychologist named David Rosenhan and seven other people — sane, normal, well-adjusted members of society — went undercover into asylums around America to test the legitimacy of psychiatry's labels. Forced to remain inside until they'd "proven" themselves sane, all eight emerged with alarming diagnoses and even more troubling stories of their treatment. Rosenhan's watershed study broke open the field of psychiatry, closing down institutions and changing mental health diagnosis forever. 
Recommendation Source(s): Trusted author.
The Family Upstairs by Lisa Jewell (November 5, Atria Books)
I've never read Lisa Jewell before, but multiple people have told me they thought I'd like her. So, I'm going to give her a try.
You thought they were just staying for the weekend. They looked harmless enough – with only two suitcases and a cat in a wicker box. But soon things turn very, very dark. It happens slowly, yet so extraordinarily quickly. Now you and your sister must find a way to survive…
Recommendation Source(s): Author that's been recommended to me by trusted sources.
*All book summaries (in block quotes) are from Goodreads (edited for length).
What Fall 2019 books are you looking forward to?
Pin this post…