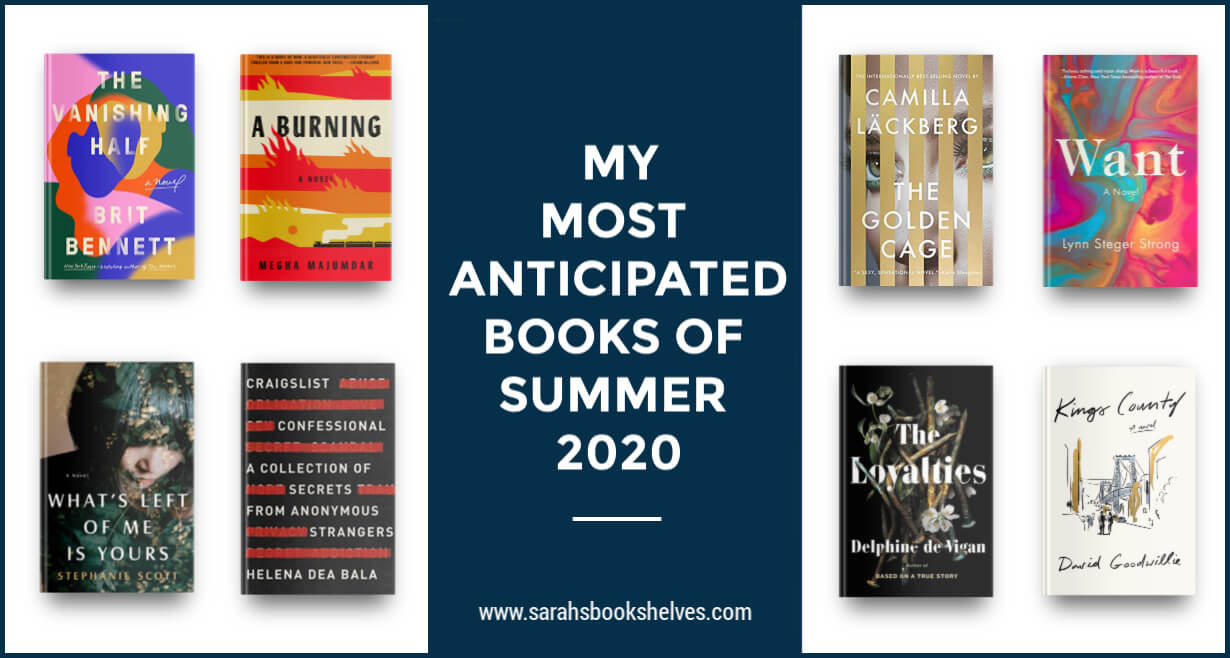 If you missed yesterday's episode of the Sarah's Bookshelves Live podcast (listen above), Catherine from Gilmore Guide to Books and I covered 12 books we're excited about coming out this Summer. I'm talking about 4 of them again in today's blog post (noted by each book)…but, check out the podcast to hear about the rest! Just click on the time stamp link next to each book and it will take you right to the place in the podcast where we talk about that book.
Additional Summer 2020 Releases I Covered in the Podcast
As always, my Most Anticipated Books of Summer 2020 list is mostly made up of books from trusted sources who, in as many cases as possible, have already read the book. I did not look at a single publisher's catalog to create this list. I'm sharing the recommendation source for each book and will specify if that source has or has not read it yet.
I use my "Rock Your Reading" Tracker (available for purchase for $14.99) to keep an ongoing eye on my most trusted recommendation sources…and improved my reading success 42% from last year!
This post contains affiliate links (plus: here's your Amazon Smile-specific affiliate link
), through which I make a small commission when you make a purchase (at no cost to you!).
My Most Anticipated Books of Summer 2020
June
The Vanishing Half by Brit Bennett (June 2, Riverhead Books)
Discussed on the podcast [9:37]
Bennett's debut novel, The Mothers (My Review), was one of my top 3 books of 2016! And, I really loved this one as well (although not quite as much as The Mothers). Despite reading it during the first 2 weeks of quarantine with a 100% distracted mind, I finished the second half in 2 days. Bennett's writing shines and she tackles serious issues in a completely organic way.
From The New York Times -bestselling author of The Mothers, a stunning new novel about twin sisters, inseparable as children, who ultimately choose to live in two very different worlds, one black and one white.
Recommendation Source(s): Already read and loved by ME…and Morgan Hoit (@nycbookgirl) and Anne Bogel. 
A Burning by Megha Majumdar (June 2, Knopf)
This debut novel is getting lots of pre-publication buzz. While it deals with serious issues, I'm hearing it's a fast-paced read…a combination that sounds appealing to me!
For readers of Tommy Orange, Yaa Gyasi, and Jhumpa Lahiri, an electrifying debut novel about three unforgettable characters who seek to rise—to the middle class, to political power, to fame in the movies—and find their lives entangled in the wake of a catastrophe in contemporary India.
Recommendation Source(s): Already read and loved by Tyler Goodson (5 stars) and Stacey from Prose and Palate (4 stars). 
What's Left of Me is Yours
by Stephanie Scott
(June 23, Doubleday)
Discussed on the podcast [22:17]
This debut novel explores the cut-throat world of divorce in Japan and is a mash-up of mystery, love story, and family drama. Plus, it's inspired by a true crime. Fascinating topic and immersive story – 4 stars!
In Japan, a covert industry has grown up around the "wakaresaseya" (literally "breaker-upper"), a person hired by one spouse to seduce the other in order to gain the advantage in divorce proceedings. When Satō hires Kaitarō, a wakaresaseya agent, to have an affair with his wife, Rina, he assumes it will be an easy case. While Rina remains ignorant of the circumstances that brought them together, she and Kaitarō fall in a desperate, singular love, setting in motion a series of violent acts that will forever haunt her daughter's life.
Recommendation Source(s): Already read and really liked by ME.
July
Craigslist Confessional by Helena Dea Bala (July 7, Gallery Books)
Discussed on the podcast [16:51]
This nonfiction completely took me by surprise – 5 stars! These stories will take your breath away and reminded me of Tiny Beautiful Things by Cheryl Strayed (without the advice portion). Plus, the author will be on the podcast on July 10!

After graduating from law school, Helena Dea Bala was a lobbyist in Washington, DC, struggling to pay off her student loans. She felt lonely and unfulfilled but, after a chance conversation with a homeless man she often saw on her commute, she felt…better. Talking with a stranger, listening to his problems, and sharing her own made her feel connected and engaged in a way she hadn't in a long time. Inspired, she posted an ad on Craigslist promising to listen, anonymously and for free, to whatever the speaker felt he or she couldn't tell anyone else. The response was huge—thousands of emails flooded her inbox. People were desperate for the opportunity to speak without being judged, to tell a story without worrying it would get back to friends, family, or coworkers—and so Craigslist Confessional was born.
Recommendation Source(s): Already read and loved by ME.
The Golden Cage by Camilla Lackberg (July 7, Knopf)
Discussed on the podcast [25:51]
I love European thrillers and I loved this one (4 stars!). It reads a bit more subtle, has a  slower burn, and is more character driven than traditional American psychological / domestic thrillers.
An exhilarating new novel from a global superstar—a sexy, over-the-top psychological thriller that tells the story of the scorned wife of a billionaire and her delicious plot to get her revenge and bring him to his knees.
Recommendation Source(s): Already read and loved by ME…and rated 5 stars by Tyler Goodson.
Want by Lynn Steger Strong (July 7, Henry Holt)
A super short novel about a woman who feels totally overwhelmed with life sounds like just what I need right now. This one could be the fiction version of Why We Can't Sleep by Ada Calhoun (My Review) and is said to be rage-y, funny, and I'm guessing it's on the darker side. 
Elizabeth is tired. Years after coming to New York to try to build a life, she has found herself with two kids, a husband, two jobs, a PhD—and now they're filing for bankruptcy. As she tries to balance her dream and the impossibility of striving toward it while her work and home lives feel poised to fall apart, she wakes at ungodly hours to run miles by the icy river, struggling to quiet her thoughts.

When she reaches out to Sasha, her long-lost childhood friend, it feels almost harmless—one of those innocuous ruptures that exist online, in texts. But her timing is uncanny. Sasha is facing a crisis, too, and perhaps after years apart, their shared moments of crux can bring them back into each other's lives.
Recommendation Source(s): Already read and loved by Rufi Thorpe (author of The Knockout Queen), Tyler Goodson (5 stars), and Marcy Dermansky (author of Very Nice).
The Loyalties by Delphine de Vigan (July 21, Little, Brown)
Discussed on the podcast [48:35]
I loved de Vigan's novel, Based on a True Story (my spoiler discussion), and I'm hearing from Goodreads reviewers that this novel is similar to The Dinner (my review), which I also loved.
Four people trapped in a conspiracy of silence hurtle toward a desperate and devastating act in this darkly gripping novel of adults who are as lost as the children they should be protecting.
Recommendation Source(s): Trusted author.
King's County by David Goodwillie (July 28, Avid Reader Press)
A Goodreads reviewer said this novel reminded her of her favorite parts of Ask Again, Yes
and Long Bright River (two books I loved). Plus, Stephanie Danler (author of Stray and Sweetbitter) praised this novel's "dazzling writing" and "propulsive storytelling" and said it "crystallizes how it feels to be young and in love in New York City." 
It's the early 2000s and like generations of ambitious young people before her, Audrey Benton arrives in New York City on a bus from nowhere. Broke but resourceful, she soon finds a home for herself amid the burgeoning music scene in Williamsburg, Brooklyn. But the city's freedom comes with risks, and Audrey makes compromises to survive. As she becomes a minor celebrity in indie rock circles, she finds an unlikely match in Theo Gorski, a shy but idealistic mill-town kid who's struggling to establish himself in the still-patrician world of books. But then an old acquaintance of Audrey's disappears under mysterious circumstances, sparking a series of escalating crises that force the couple to confront a dangerous secret from her past.
Recommendation Source(s): Recommended by Morgan Hoit (@nycbookgirl) of Avid Reader Press.
*All book summaries (in block quotes) are from Goodreads (edited for length).
What Summer 2020 books are you looking forward to?
Pin this post…