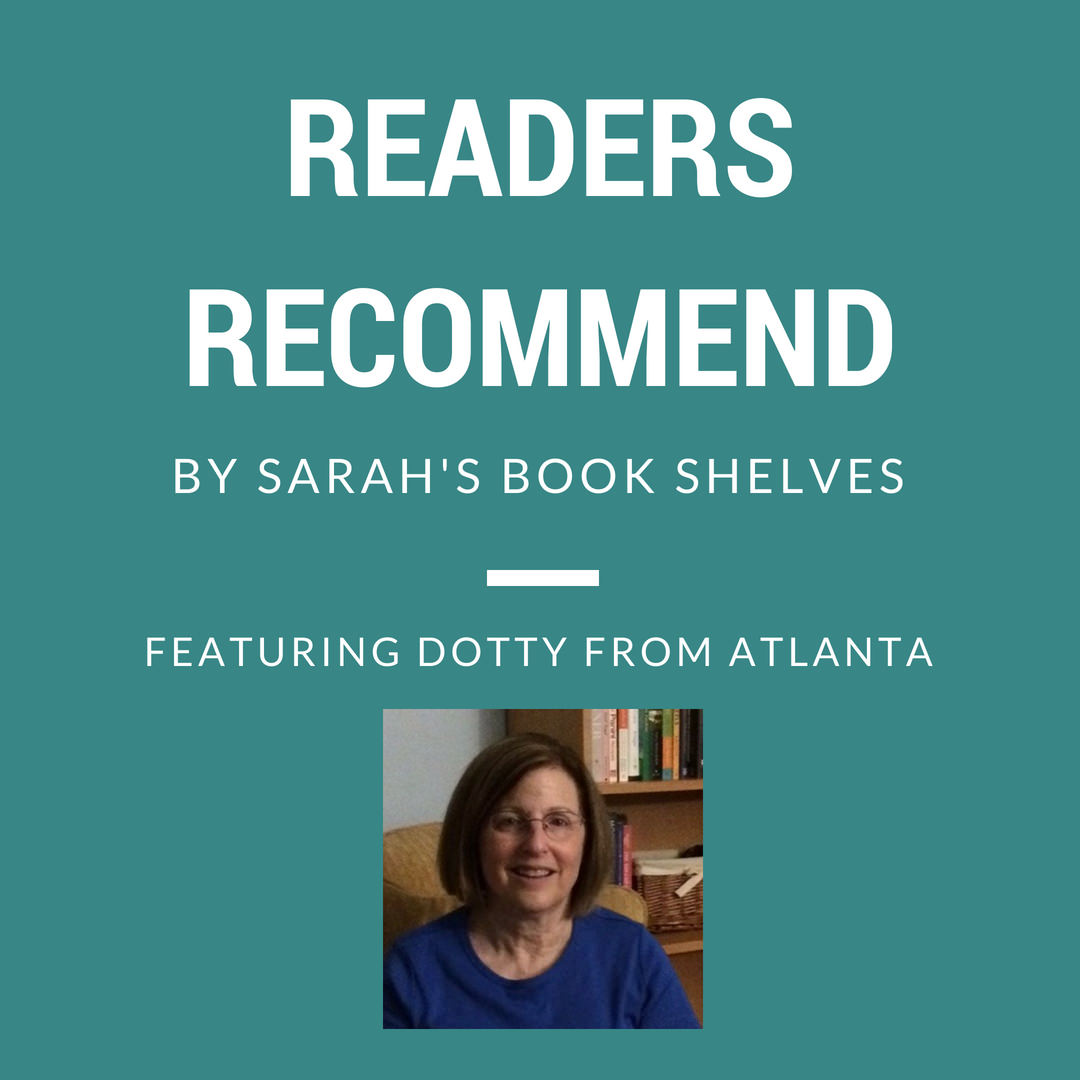 Welcome to the first ever installment of Readers Recommend, my new monthly feature where "regular readers" (i.e. readers who do not have their own book blogs) share their book recommendations! 
I recently surveyed my blog readers for the first time and one of the most surprising things I learned was that over 70% of you do not have your own book blogs. This means you are not book bloggers, but "regular readers"! That's a large chunk of Sarah's Book Shelves readers with fantastic book recommendations floating around in their heads and no place to share them. I'm thrilled to be able to mine all this brainpower for some great books! Prepare for your TBR to explode…
If you'd like to be featured in an upcoming "Readers Recommend" post, leave a note in the comments section or email me at sarahsbookshelves@gmail.com.
Let's welcome our first guest…
Get to Know Dotty
Home: I am a native of Atlanta, GA and have lived in the Atlanta area for most of my life.  I did spend some time in Florida and Las Vegas, but eventually made my way back to Atlanta.
Career: I am a retired teacher. I taught Pre-Kindergarten for many years. I continue to do some volunteer work with young children.
Hobbies: Other than reading, my hobbies are playing the guitar, walking my dog, Daisy, and yoga. I am taking guitar lessons with the hope that I could one day play like Joni Mitchell, Ha Ha. Is spending time with my grandchildren a hobby? (Sarah: Yes!)
Favorite TV Show: My current favorite TV shows are The Crown and Life in Pieces. I loved Mad Men and still miss it.
Dotty Recommends…
An Old Love
The Prince of Tides
 by Pat Conroy
Fiction – Literary (Released 1986)
679 Pages
Affiliate Link: Buy from Amazon

Dotty:
My favorite author is Pat Conroy and The Prince of Tides is my favorite book. Conroy had me at the first two sentences of the novel. 
My wound is geography.  It is also my anchorage, my port of call.
The characters are complicated and tortured. Conroy's language is intricate and beautiful.  It's sad, but there are times when I laughed out loud.  This novel is southern literature at its finest. Give it a try. It's worth it!

My Take:
Well, Dotty, you know the way to my heart! Pat Conroy is my favorite author too. Our only difference is The Lords of Discipline (my review) is my favorite of Conroy's novels. I re-read The Prince of Tides (my review) a couple years ago and still loved it, but did think some portions were a bit overwritten (however, not that first line, which is a beauty!). But, I totally agree with you that Conroy is Southern literature at its finest!
A New Love
The Long and Faraway Gone
 by Lou Berney
Fiction – Mystery (Released February 10, 2015)
467 Pages
Affiliate Link: Buy from Amazon


Dotty:
I recently read The Long And Far Away Gone by Lou Berney.  This book was a $2.99 pick from Book Bub. It is not the type of book that I usually read, but I read the sample and I just had to buy it.  It is a mystery, but it is also very character driven. I can't tell you too much because I don"t want to give anything away.  The author won a number of awards, including the prestigious Edgar award, for this book. I just could not put it down! I recently read that Lou Berney has a new book coming out in October!

My Take:
I'd never heard of this one, but I admittedly don't often read mysteries. But, this one does sound intriguing! Especially since it was compared to Laura Lippman (Sunburn) and Dennis Lehane (Since We Fell), the authors of two of the rare thrillers I've actually really liked!
A "Didn't Love"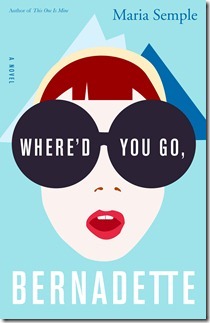 Where Did You Go, Bernadette?
 by Maria Semple
Fiction – Brain Candy (Released August 14, 2012)
330 Pages
Affiliate Link: Buy from Amazon

Dotty:
Please forgive me, but I did not like Where Did You Go, Bernadette? by Maria Semple.  In fact, I had to force myself to finish it. I know it is supposed to be sarcastic and funny, but I found it to be more sad than funny. Except for the daughter, the characters were not likable. For me, it was a short book that was too long! 
My Take:
We differ on this one. I loved Bernadette (my review) and did think it was sarcastic and funny. Light, but also had serious depth…a balance I always appreciate. 
What do you think of Dotty's recommendations (or her "Didn't Love")?