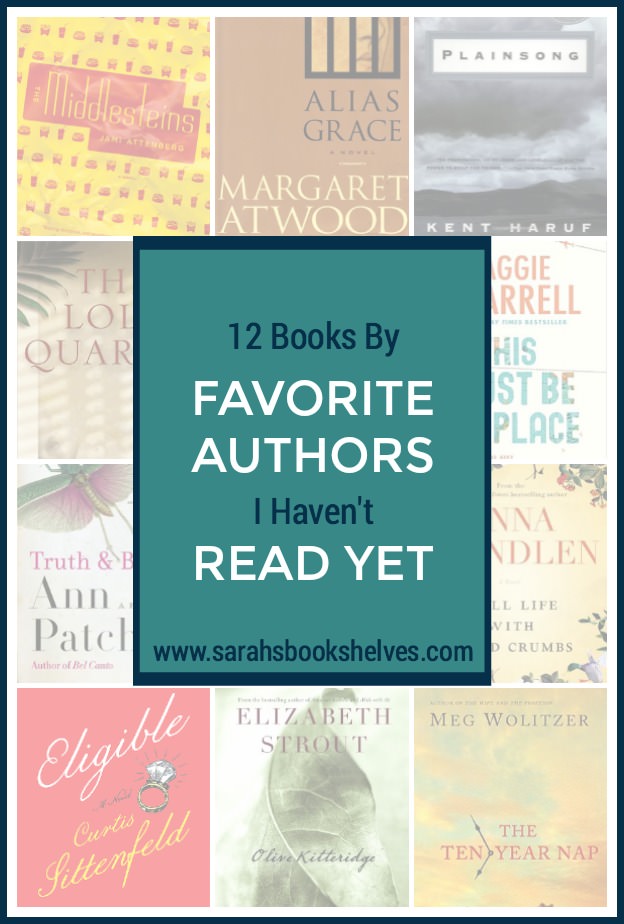 One of the silver linings of discovering a new-to-you author a bit late is that the author likely has a pretty good, if not extensive, backlist waiting for you!  Most recently, this has happened with Anna Quindlen, Ann Patchett, and Kelly Corrigan…and I still have plenty more to go!
And, even with favorite authors I've been familiar with for awhile, I haven't yet gotten to all the books of theirs that I want to read! Here are 12 Books by Favorite Authors I Still Haven't Read…
This post contains affiliate links (plus: here's your Amazon Smile-specific affiliate link
).
Linking up with Top Ten Tuesday hosted by That Artsy Reader Girl.

12 Books By Favorite Authors I Haven't Read Yet
Jami Attenberg
The Middlesteins
I loved Attenberg's Saint Mazie (my review) and All Grown Up
(my review). Her dry humor is right up my alley and I can't wait to read her take on a dysfunctional family. Plus, this book is under 300 pages…making it way more likely I might actually pick it up soon!
For more than thirty years, Edie and Richard Middlestein shared a solid family life together in the suburbs of Chicago. But now things are splintering apart, for one reason, it seems: Edie's enormous girth. She's obsessed with food–thinking about it, eating it–and if she doesn't stop, she won't have much longer to live.

When Richard abandons his wife, it is up to the next generation to take control. […] Through it all, they wonder: do Edie's devastating choices rest on her shoulders alone, or are others at fault, too?
Margaret Atwood
Alias Grace
Like many people, The Handmaid's Tale (my review) blew me away…and it was one of the only classics I've read in later life. I downloaded Alias Grace when it was free via a Kindle deal over a year ago and really need to crack it open! The page count (over 450 pages) is probably what's been causing me to put it off for so long.
It's 1843, and Grace Marks has been convicted for her involvement in the vicious murders of her employer and his housekeeper and mistress. Some believe Grace is innocent; others think her evil or insane. Now serving a life sentence, Grace claims to have no memory of the murders.

An up-and-coming expert in the burgeoning field of mental illness is engaged by a group of reformers and spiritualists who seek a pardon for Grace. He listens to her story while bringing her closer and closer to the day she cannot remember. What will he find in attempting to unlock her memories?
Kent Haruf
Plainsong
Our Souls at Night (my review) is a tiny, quiet book, but it really spoke to me. I'm interested in seeing what Haruf does with a family story…plus, I've heard new things.
In the small town of Holt, Colorado, a high school teacher is confronted with raising his two boys alone after their mother retreats first to the bedroom, then altogether. A teenage girl—her father long since disappeared, her mother unwilling to have her in the house—is pregnant, alone herself, with nowhere to go. And out in the country, two brothers, elderly bachelors, work the family homestead, the only world they've ever known.
Emily St. John Mandel
The Lola Quartet

I (along with a gazillion other readers) loved Station Eleven (my review). It was the first dystopian novel I've ever actually enjoyed. Anne Bogel of Modern Mrs. Darcy recently read The Lola Quartet from her backlist and devoted a special What Should I Read Next? podcast episode to it. Plus, it's a literary thriller, which I generally love.
Gavin Sasaki is a promising young journalist in New York City, until he's fired in disgrace following a series of unforgivable lapses in his work. It's early 2009, and the world has gone dark very quickly; the economic collapse has turned an era that magazine headlines once heralded as the second gilded age into something that more closely resembles the Great Depression. The last thing Gavin wants to do is return to his hometown of Sebastian, Florida, but he's drifting toward bankruptcy and is in no position to refuse when he's offered a job by his sister, Eilo, a real estate broker who deals in foreclosed homes.

Eilo recently paid a visit to a home that had a ten-year-old child in it, a child who looks very much like Gavin and who has the same last name as Gavin's high school girlfriend Anna, whom Gavin last saw a decade ago. Gavin—a former jazz musician, a reluctant broker of foreclosed properties, obsessed with film noir and private detectives—begins his own private investigation in an effort to track down Anna and their apparent daughter who have been on the run all these years from a drug dealer from whom Anna stole $121,000.
Haruki Murakami
Norwegian Wood
I loved Murakami's 1Q84 (and it's hard to keep me interested for almost 1,000 pages!) and his memoir, What I Talk About When I Talk About Running. I'm dying to see what he does with a campus novel (one of my favorite sub-genres)!
Toru, a quiet and preternaturally serious young college student in Tokyo, is devoted to Naoko, a beautiful and introspective young woman, but their mutual passion is marked by the tragic death of their best friend years before. Toru begins to adapt to campus life and the loneliness and isolation he faces there, but Naoko finds the pressures and responsibilities of life unbearable. As she retreats further into her own world, Toru finds himself reaching out to others and drawn to a fiercely independent and sexually liberated young woman.
Maggie O'Farrell
This Must Be the Place
I loved O'Farrell's memoir/essay collection, I Am, I Am, I Am. And, before I even knew about her memoir, I had This Must Be the Place on my TBR list. I snagged it in a Kindle Daily Deal and can't wait to test out her fiction (hopefully sometime this year).
Meet Daniel Sullivan, a man with a complicated life. A New Yorker living in the wilds of Ireland, he has children he never sees in California, a father he loathes in Brooklyn, and a wife, Claudette, who is a reclusive ex–film star given to pulling a gun on anyone who ventures up their driveway. Claudette was once the most glamorous and infamous woman in cinema before she staged her own disappearance and retreated to blissful seclusion in an Irish farmhouse.

But the life Daniel and Claudette have so carefully constructed is about to be disrupted by an unexpected discovery about a woman Daniel lost touch with twenty years ago. This revelation will send him off-course, far away from wife, children and home. Will his love for Claudette be enough to bring him back?
Ann Patchett
Truth and Beauty
Ann Patchett is one of my very favorite authors. My favorites of hers so far are: Commonwealth (my review), State of Wonder
 (my review), and This is the Story of a Happy Marriage (my review). I read about her memoir of a friendship, Truth and Beauty, in This is the Story of a Happy Marriage, and am thinking it may be a good audio choice for me.

Ann Patchett and the late Lucy Grealy met in college in 1981, and, after enrolling in the Iowa Writers' Workshop, began a friendship that would be as defining to both of their lives as their work. In Grealy's critically acclaimed memoir Autobiography of a Face, she wrote about losing part of her jaw to childhood cancer, years of chemotherapy and radiation, and endless reconstructive surgeries. In Truth and Beauty, the story isn't Lucy's life or Ann's life but the parts of their lives they shared. This is a portrait of unwavering commitment that spans twenty years, from the long winters of the Midwest to surgical wards to book parties in New York. Through love, fame, drugs, and despair, this is what it means to be part of two lives that are intertwined–and what happens when one is left behind.
Jo Piazza
Fitness Junkie
I only read Jo Piazza (Charlotte Walsh Likes to Win) this year, but Catherine from Gilmore Guide to Books and Susie from Novel Visits told me to read Fitness Junkie well before that!
When Janey Sweet, CEO of a couture wedding dress company, is photographed in the front row of a fashion show eating a bruffin–the delicious lovechild of a brioche and a muffin–her best friend and business partner, Beau, gives her an ultimatum: Lose thirty pounds or lose your job. […] As Janey eschews delicious carbs, pays thousands of dollars to charlatans, and is harassed by her very own fitness bracelet, she can't help but wonder: Did she really need to lose weight in the first place?
Anna Quindlen
Still Life With Bread Crumbs
Y'all know how much I love Anna Quindlen (see my "Women Who Get Women" Authors Club post). Still Life With Bread Crumbs is one of her only novels I have yet to read.
Still Life with Bread Crumbs begins with an imagined gunshot and ends with a new tin roof. Between the two is a wry and knowing portrait of Rebecca Winter, a photographer whose work made her an unlikely heroine for many women. Her career is now descendent, her bank balance shaky, and she has fled the city for the middle of nowhere. There she discovers, in a tree stand with a roofer named Jim Bates, that what she sees through a camera lens is not all there is to life.
Curtis Sittenfeld
Eligible
I loved An American Wife years ago, but was initially turned off of Eligible because it was a Pride and Prejudice retelling. But, my interest in it was rekindled when I read and loved her short story collection, You Think It, I'll Say It (my review) this year!
This version of the Bennet family and Mr. Darcy is one that you have and haven't met before: Liz is a magazine writer in her late thirties who, like her yoga instructor older sister, Jane, lives in New York City. When their father has a health scare, they return to their childhood home in Cincinnati to help and discover that the sprawling Tudor they grew up in is crumbling and the family is in disarray. […]

Enter Chip Bingley, a handsome new-in-town doctor who recently appeared on the juggernaut reality TV dating show Eligible. At a Fourth of July barbecue, Chip takes an immediate interest in Jane, but Chip's friend, neurosurgeon Fitzwilliam Darcy, reveals himself to Liz to be much less charming. . . . And yet, first impressions can be deceiving.
Elizabeth Strout
Olive Kitteridge
I loved both My Name is Lucy Barton (my review) and Anything is Possible and, if you can believe it, still haven't read her Pulitzer Prize winner, Olive Kitteridge.
At times stern, at other times patient, at times perceptive, at other times in sad denial, Olive Kitteridge, a retired schoolteacher, deplores the changes in her little town of Crosby, Maine, and in the world at large, but she doesn't always recognize the changes in those around her: a lounge musician haunted by a past romance; a former student who has lost the will to live; Olive's own adult child, who feels tyrannized by her irrational sensitivities; and her husband, Henry, who finds his loyalty to his marriage both a blessing and a curse.

As the townspeople grapple with their problems, mild and dire, Olive is brought to a deeper understanding of herself and her life – sometimes painfully, but always with ruthless honesty.
Meg Wolitzer
The Ten-Year Nap
Meg Wolitzer is another one of my very favorite authors and I've rated every single book I've read by her 5 stars: The Interestings (my review), The Wife (my review), and The Female Persuasion (my review). When I was a guest on The Readerly Report Podcast recently, co-host Gayle Weiswasser recommended The Ten-Year Nap to me since I have toddler age children at home.
For a group of four New York friends, the past decade has been largely defined by marriage and motherhood. Educated and reared to believe that they would conquer the world, they then left jobs as corporate lawyers, investment bankers, and film scouts to stay home with their babies. What was meant to be a temporary leave of absence has lasted a decade. Now, at age forty, with the halcyon days of young motherhood behind them and without professions to define them, Amy, Jill, Roberta, and Karen face a life that is not what they were brought up to expect but seems to be the one they have chosen.
Have you read any of these backlist-ers? Which ones do you recommend I read first? And, what books by your favorite authors have you not read yet?