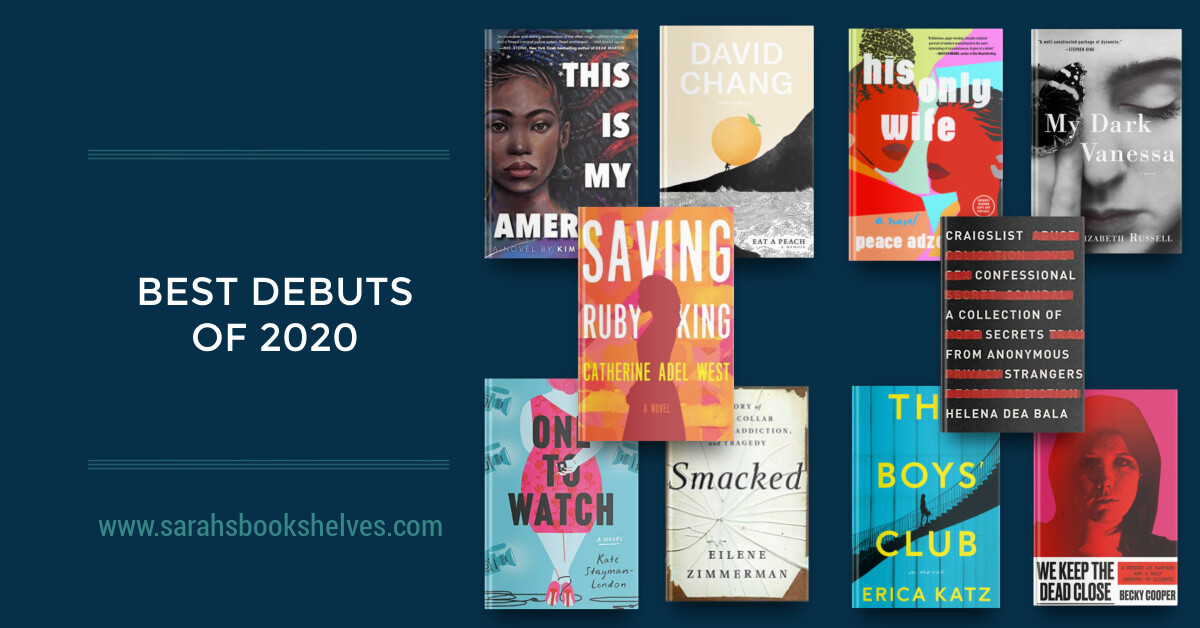 I usually read lots of debuts (38% of my reading last year), but for some reason I've read less than normal this year (22 debuts so far, 26% of my total reading).
But, the quality of my best debuts of 2020 makes up for the lack of quantity this year! You'll be seeing some books from this list on my overall Best Books of 2020 list (coming next week).
And, half of these debuts are by Sarah's Bookshelves Live podcast guests! I love having debut authors on the show and feel like it's part of my duty as a podcast host to give debut authors as much attention as possible.
This post contains affiliate links (plus: here's your Amazon Smile-specific affiliate link
), through which I make a small commission when you make a purchase (at no cost to you!).
My #1 Debut of 2020
Saving Ruby King
by Catherine Adel West (my review)
This gorgeous novel about a young girl trying to overcome generations of trauma on the South Side of Chicago is intimate and powerful. Plus, she made me adore an inanimate object as a narrator! Hear more from Catherine Adel West on Ep. 64 of the podcast! PS – Saving Ruby King didn't make the finals of the Goodreads Choice Awards in the Debuts category…this is me doing my small part to rectify this travesty! Plus, West is working on a prequel featuring the character of Sara!
Affiliate Link: Buy from Amazon
The rest of the Best Debuts of 2020
Craigslist Confessional by Helena Dea Bala (my review)
This gut-wrenching collection of personal stories completely took me by surprise this summer…I expected light-hearted, but got raw and unfiltered. Check out Helena on Ep. 63 of the podcast!
Affiliate Link: Buy from Amazon
Eat a Peach
by David Chang
Foodie memoirs are a dime a dozen these days, but this one stands out. Chang is the creator of the Momofuku restaurant empire and talks about his experience growing up Korean American in Northern Virginia and his struggle with mental illness. This chef memoir is far more than a chef memoir. Also, great on audio!
Affiliate Link: Buy from Amazon
His Only Wife
by Peace Adzo Medie (my review)
Medie tackles the theme of women standing up for themselves and what they want out of life in a propulsive story that reads easily. Check out Peace on Ep. 69 of the podcast!
Affiliate Link: Buy from Amazon
My Dark Vanessa by Kate Elizabeth Russell (my review)
This novel about a highly inappropriate relationship between a high school student and her older teacher was one of the buzziest books of 2020. It was unsurprisingly uncomfortable, totally messed up, horrifying and heartbreaking. But, it also made me see how a young girl could think a relationship like this was consensual. While I'd say this book lived up to its hype earlier this year, I haven't heard much about it in the second half of the year (except it did do fairly well in the Goodreads Choice Awards).
Affiliate Link: Buy from Amazon
One to Watch
by Kate Stayman-London (my review)
This novel about what it would be like if a plus-size woman was The Bachelorette is my favorite kind of brain candy. Smart and deals with serious issues, but in a fun and light-hearted way. I was thrilled to be able to vote for it in the Romance and Best Debuts (since Saving Ruby King didn't make it) Goodreads Choice Awards categories. Check out Kate on Ep. 66 of the podcast!
Affiliate Link: Buy from Amazon
Smacked
by Eilene Zimmerman (my review)
Zimmerman's story of discovering her very accomplished ex-husband (lawyer) was a drug addict is one of the most intense books I've read all year. I listened to it in 2 days on audio. She also delves into her research into addiction in law firms and how the corporate culture at these firms drives addictive behavior. Check out Eilene on Ep. 68 of the podcast!
Affiliate Link: Buy from Amazon
The Boys' Club by Erica Katz (my review)
This novel about a female Harvard Law grad who falls under the spell of the high-powered M&A group in her first year of her job at a prestigious NYC law firm would actually make an excellent Fiction / Nonfiction pairing with Smacked. I flew through it in 2 days on vacation this summer. It reminded me of The Devil Wears Prada set in a law firm (innocent industry newbie loses herself in a toxic work culture and has to figure out how much of herself she's willing to abandon for this glitzy job). Even better, Katz is a pseudonym, as she actually works in "BigLaw" in New York City.
Affiliate Link: Buy from Amazon
This is My America
by Kim Johnson 
I can't believe this YA novel about a high school girl whose dad is on death row for a double murder he didn't commit and her experience with her brother being simultaneously brought in as a suspect in the murder of a white girl at his high school hasn't gotten more attention! It deals with weighty topics like race, police brutality, inequality in the justice system, wrongful conviction while also being fast-paced and engrossing. Though it didn't win, I voted for it in the Goodreads Choice Awards YA category.
Affiliate Link: Buy from Amazon
We Keep the Dead Close by Becky Cooper (my review) 
This literary true crime (part true crime / part memoir) about a 1969 murder of a female Harvard grad student reminded me of classic true crime books like The Devil in the White City, In Cold Blood, and In the Garden of Good and Evil. It's super atmospheric and paints a sinister picture of Harvard, especially for women. One of my favorite true crime books of all time!
Affiliate Link: Buy from Amazon
What are your favorite debuts of 2020?
Pin this post…