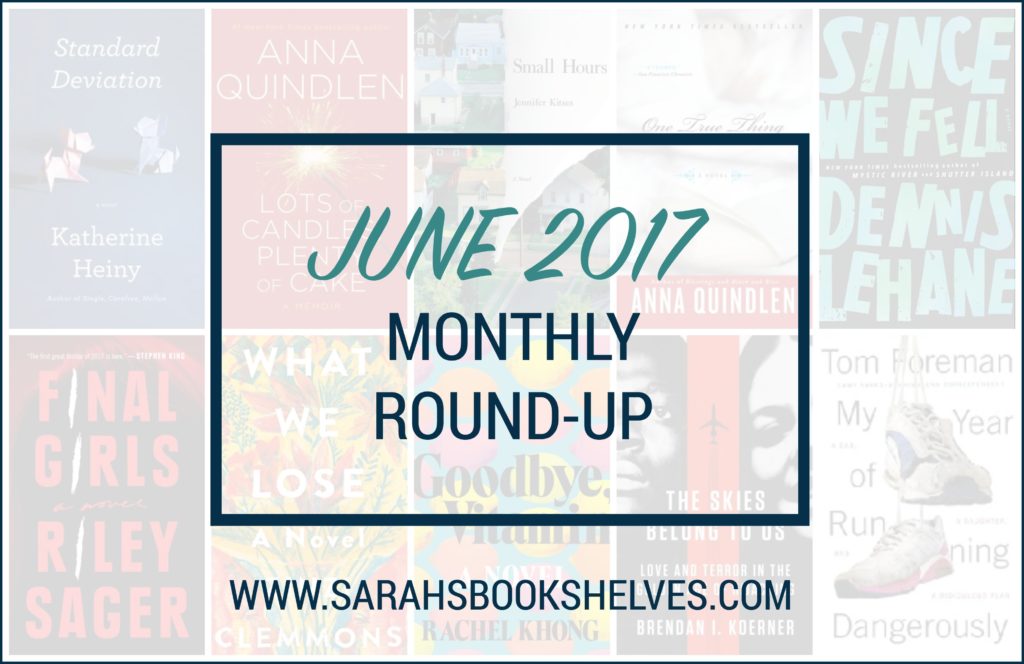 This post contains affiliate links and I will make a small commission if you make a purchase after clicking on my links.
June Reading / Life
After an amazing month of reading in May (with 3 favorite books of the month), June was definitely slumpy for me in quality and quantity. I read 10 books, but a few of them were only around 200 pages long, so I feel like I sort of cheated.

I also had 4 DNF's…which always makes a slump seem slumpier.

Both my favorite books of the month involved astute commentary about marriage…one fiction (Standard Deviation) and one non (Lots of Candles, Plenty of Cake). And, a third book about marriage (Small Hours) didn't measure up.
Anna Quindlen brought me twice the love this month with One True Thing.
I read two thrillers this month (shocking for me!)…one winner (Since We Fell) and one loser (Final Girls).
A couple slim July releases (What We Lose and Goodbye, Vitamin) definitely helped my June book count! Too bad only one was a winner.
And, The Skies Belong to Us (somewhat interesting at times, but I kept zoning out) and My Year of Running Dangerously (sweet and engaging story about a father and daughter training for a marathon together) rounded out my audiobooks.
My free trial of my personalized book recommendation service ended on Father's Day and fulfilled 75 recommendation requests! I couldn't have been happier with how many people participated and am getting the feedback survey results in now. Once I analyze the survey results and think through next steps, I'll share everything I learned in a blog post. Many thanks to everyone who participated!
Look for my commentary on the July Book of the Month Club selections on Saturday. Sneak peek: I've already read two of the selections and, unlike last month, am really excited about this month's picks!
Best Books of the Month
My Favorite Book(s) of the Month
Lots of Candles, Plenty of Cake
by Anna Quindlen (April 24, 2012)
Nonfiction – Memoir, 182 Pages
Affiliate Link: Buy from Amazon

Standard Deviation
by Katherine Heiny (May 23, 2017)
Fiction, 336 Pages
Affiliate Link: Buy from Amazon 
PS – last year's Best Book of June was Dear Fang, With Love by Rufi Thorpe (my review)!
Best Selling Book(s) of the Month (via my affiliate links)
Dead Letters by Caite Dolan-Leach (my review), which continues to take this category month after month.
July Releases I'm Excited About
Goodbye, Vitamin
by Rachel Khong (July 11)

American Fire
by Monica Hesse (July 11)

Tornado Weather
by Deborah E. Kennedy (July 11)
Careers for Women
 by Joanna Scott (July 25)
Most Popular Posts
Posts Actually Published in June
Best Books of 2017 So Far
3 More Books That Are Perfect for Summer Reading: Beartown, Since We Fell, Standard Deviation
Book of the Month Club June 2017 Selections: What Would I Choose?

Overall Posts
2017 Summer Reading Guide
Book Club Recommendations
Behind Her Eyes and THAT Ending: Spoiler Discussion
Favorite Posts by Fellow Bloggers
And, next month I need to be better about keeping track of posts I love…big fail for me this month!
How was your reading month?