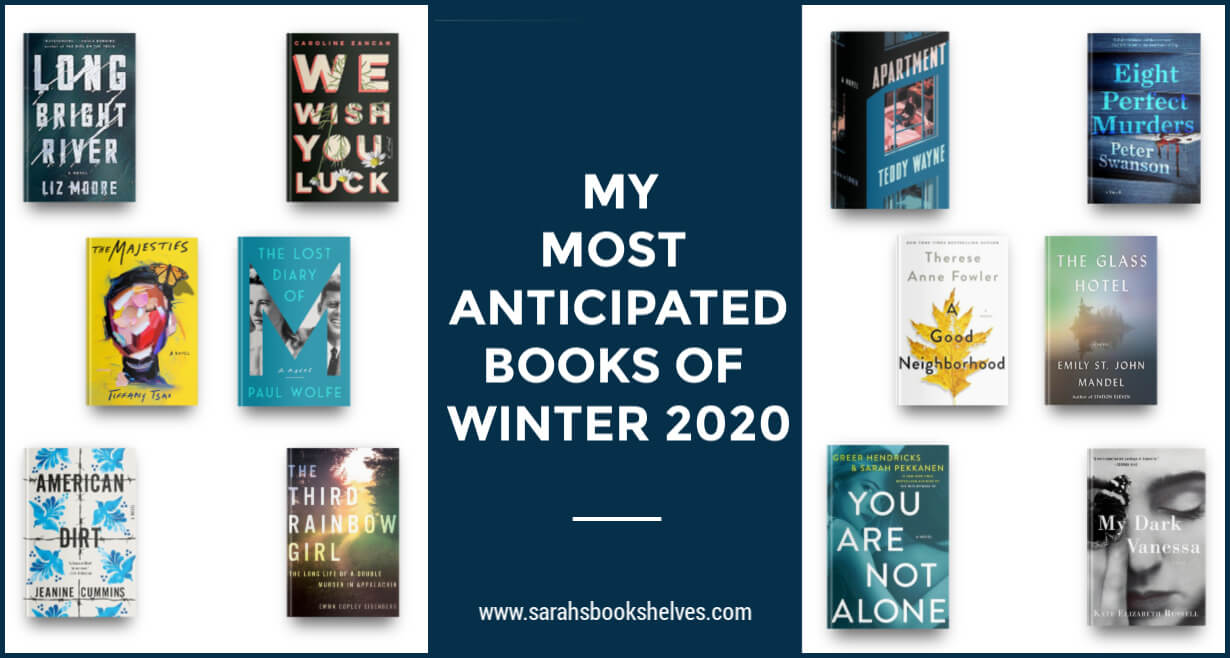 Y'all, 2020 is off to a fantastic start for books! 
If you missed yesterday's episode of the Sarah's Book Shelves Live podcast (listen here), Catherine from Gilmore Guide to Books and I covered 18 books we're excited about coming out this Winter. I'm talking about 4 of them again in today's blog post (noted by each book)…but, check out the podcast to hear about the rest! Just click on the time stamp link next to each book and it will take you right to the place in the podcast where we talk about that book.
Additional Winter 2020 Releases I Covered in the Podcast
January:
February:
March:
As always, my Most Anticipated Books of Winter 2020 list is mostly made up of books from trusted sources who, in as many cases as possible, have already read the book. I did not look at a single publisher's catalog to create this list. I'm sharing the recommendation source for each book and will specify if that source has or has not read it yet.
I use my "Rock Your Reading" Tracker (available for purchase for $14.99) to keep an ongoing eye on my most trusted recommendation sources…and improved my reading success 42% from last year!
This post contains affiliate links (plus: here's your Amazon Smile-specific affiliate link
), through which I make a small commission when you make a purchase (at no cost to you!).
My Most Anticipated Books of Winter 2020
January
Long Bright River by Liz Moore (January 7, Riverhead Books)
Discussed on the podcast [14:57]
I loved this literary mystery / police procedural that has some family drama thrown in…think Mystic River, Miracle Creek
 (my review), and A Nearly Normal Family (my review). 4.5 stars…and Liz Moore will be on the podcast on February 5!
In a Philadelphia neighborhood rocked by the opioid crisis, two once-inseparable sisters find themselves at odds. One, Kacey, lives on the streets in the vise of addiction. The other, Mickey, walks those same blocks on her police beat. They don't speak anymore, but Mickey never stops worrying about her sibling.

Then Kacey disappears, suddenly, at the same time that a mysterious string of murders begins in Mickey's district, and Mickey becomes dangerously obsessed with finding the culprit–and her sister–before it's too late.
Recommendation Source(s): Already read and loved by ME…and Tyler Goodson, Ashley Spivey, and Jordan from @jordys.book.club.
We Wish You Luck
by Caroline Zancan
(January 14, Riverhead Books)
Discussed on the podcast [19:23] 
This campus novel took me totally by surprise! The writing is out of this world…Zancan's commentary on the social hierarchy of the MFA students is perfection. It reminded me of The Other's Gold (my review) and the simmering dynamics between the MFA classmates reminded me of The Ensemble
by Aja Gabel (my review). 5 stars and I suspect this will be Zancan's breakout novel! 

An exhilarating novel about a group of students who take revenge on a wunderkind professor after she destroys one of their own– a story of collective drive to create, sabotage, and ultimately, to love.
Recommendation Source(s): Already read and loved by ME…and Susie from Novel Visits.
The Third Rainbow Girl by Emma Copley Eisenberg (January 21, Hachette)
I love a good true crime memoir and I like that this one also goes deep into a portrait of life in Appalachia.

In the afternoon or early evening of June 25, 1980, two young women, Vicki Durian and Nancy Santomero, were killed in an isolated clearing in rural Pocahontas County West Virginia. They were hitchhiking to an outdoor peace festival known as the Rainbow Gathering, but never arrived. Their killings have been called "The Rainbow Murders."

Emma Copley Eisenberg spent five years re-investigating these brutal acts, which once captured the national media's imagination, only to fall into obscurity.
Recommendation Source(s): Already read and loved by Liz Moore (author of Long Bright River) and Hunter from Shelf by Shelf.
American Dirt by Jeanine Cummins (January 21, Flatiron Books)
Discussed on the podcast [25:09]
This might be the most hyped book of 2020 so far…and, I have to say the hype is real! It's one of those rare books that's "important," but also a heart-stopping story. Cummins humanizes the faceless mass of immigrants you see on the news and the reasons they're flocking to the U.S. in droves. 5 stars and would make an excellent book club pick!

Lydia Quixano Perez lives in the Mexican city of Acapulco. She runs a bookstore. She has a son, Luca, the love of her life, and a wonderful husband who is a journalist. And while there are cracks beginning to show in Acapulco because of the drug cartels, her life is, by and large, fairly comfortable.

Even though she knows they'll never sell, Lydia stocks some of her all-time favorite books in her store. And then one day a man enters the shop to browse and comes up to the register with four books he would like to buy–two of them her favorites. Javier is erudite. He is charming. And, unbeknownst to Lydia, he is the jefe of the newest drug cartel that has gruesomely taken over the city. When Lydia's husband's tell-all profile of Javier is published, none of their lives will ever be the same.
Recommendation Source(s): Already read and loved by ME…and Mary Beth Keane (author of Ask Again, Yes), Ann Patchett (author of The Dutch House), Anne Bogel, and Tina from TBR etc.
The Majesties by Tiffany Tsao (January 21, Atria Books)
Crazy Rich Asians with a Gillian Flynn spin on it? I'm intrigued. I just started this one (literally only 3% in) and it has a fantastic first line, but I need to get further before forming any more detailed opinions.

In this riveting and disquieting thriller about the secrets and betrayals that accompany exorbitant wealth—imagine Crazy Rich Asians as written by Gillian Flynn—two sisters from a Chinese-Indonesian family grapple with the past after one of them poisons their entire family.
Recommendation Source(s): Already read and loved by Jordan from @jordys.book.club
February
The Lost Diary of M by Paul Wolfe (February 25, Harper)
Discussed on the podcast [33:57]
Fiction about scandalous celebrities? Absolutely! I'll read almost anything about the Kennedys.
An engrossing debut novel that cannily reimagines the extraordinary life and mysterious death of bohemian Georgetown socialite Mary Pinchot Meyer— secret lover of JFK, ex-wife of a CIA chief, sexual adventurer, LSD explorer and early feminist living by her own rules.
Recommendation Source(s): Shared by Catherine from Gilmore Guide on the Winter 2020 Book Preview podcast (but she hasn't read it yet).
Apartment by Teddy Wayne (February 25, Bloomsbury)
I had mixed feelings about Wayne's last book, Loner, but there was enough good that I want to try this one. And, I kind of like stories about male friendship (maybe it's growing up with brothers and lots of male cousins).
In 1996, the unnamed narrator of Teddy Wayne's Apartment is attending the MFA writing program at Columbia on his father's dime and living in an illegal sublet of a rent-stabilized apartment. Feeling guilty about his good fortune, he offers his spare bedroom—rent-free—to Billy, a talented, charismatic classmate from the Midwest eking out a hand-to-mouth existence in Manhattan.

The narrator's rapport with Billy develops into a friendship he's never had over a lifetime of holding people at arm's length, hovering at the periphery, feeling "fundamentally defective." But their living arrangement, not to mention their radically different upbringings, breeds tensions neither man could predict. 
Recommendation Source(s): Already read and loved by Jami Attenberg (author of All This Could Be Yours, etc)
March
Eight Perfect Murders by Peter Swanson (March 3, William Morrow)
I loved Swanson's The Kind Worth Killing (my review), but didn't like his most recent thriller (Before She Knew Him). But, I hear this one is different…with a more classic murder mystery feel.
The story of a bookseller who finds himself at the center of an FBI investigation because a very clever killer has started using his list of fiction's most ingenious murders.
Recommendation Source(s): Trusted author and already read and loved by Jan Belisle (blog reader).
You Are Not Alone by Greer Hendricks & Sarah Pekkanen (March 3, St. Martin's Press)
I really liked their last thriller, An Anonymous Girl
(my review), and like how Hendricks & Pekkanen lean more toward the psychological half of "psychological thriller."
You probably know someone like Shay Miller.
She wants to find love, but it eludes her.
She wants to be fulfilled, but her job is a dead end.
She wants to belong, but her life is so isolated.

You probably don't know anyone like the Moore sisters.
They have an unbreakable circle of friends.
They live the most glamorous life.
They always get what they desire.

Shay thinks she wants their life.
But what they really want is hers.
Recommendation Source(s): Trusted author and already read and loved by Jordan from @jordys.book.club.
My Dark Vanessa by Kate Elizabeth Russell (March 3, St. Martin's Press)
Discussed on the podcast [40:48]
This debut novel has been getting a ton of buzz…I hear it's unsurprisingly dark and twisted.
Exploring the psychological dynamics of the relationship between a precocious yet naïve teenage girl and her magnetic and manipulative teacher, a brilliant, all-consuming read that marks the explosive debut of an extraordinary new writer.
Recommendation Source(s): Already read and loved by Jordan from @jordys.book.club, Cristina Arreola, Kailey from @KMC_Reads (4 stars), Bustle, and Nicole Bonia from The Readerly Report podcast.
A Good Neighborhood by Therese Anne Fowler (March 10, St. Martin's Press)
Discussed on the podcast [43:02]
In the past, Fowler has written historical fiction about famous women (I loved Fowler's 2013 novel Z: A Novel of Zelda Fitzgerald) and I'm curious to see how she handles what is a departure for her.
In Oak Knoll, a verdant, tight-knit North Carolina neighborhood, professor of forestry and ecology Valerie Alston-Holt is raising her bright and talented biracial son. All is well until the Whitmans move in next door―an apparently traditional family with new money, ambition, and a secretly troubled teenaged daughter.

With little in common except a property line, these two very different families quickly find themselves at odds: first, over a historic oak tree in Valerie's yard, and soon after, the blossoming romance between their two teenagers.
Recommendation Source(s): Already read and loved by Jordan from @jordys.book.club, Susie from Novel Visits (5 stars), and Jodi Picoult (she blurbed it)
The Glass Hotel by Emily St. John Mandel (March 24, Knopf)
Discussed on the podcast [50:44]
The author of Station Eleven (my review) is back! The premise of this one seems a bit outrageous, but I'll read anything she writes at this point!
An exhilarating novel set at the glittering intersection of two seemingly disparate events-a massive Ponzi scheme collapse and the mysterious disappearance of a woman from a ship at sea.
Recommendation Source(s): Trusted author and already read and loved by Anne Bogel.
*All book summaries (in block quotes) are from Goodreads (edited for length).
What Winter 2020 books are you looking forward to?
Pin this post…