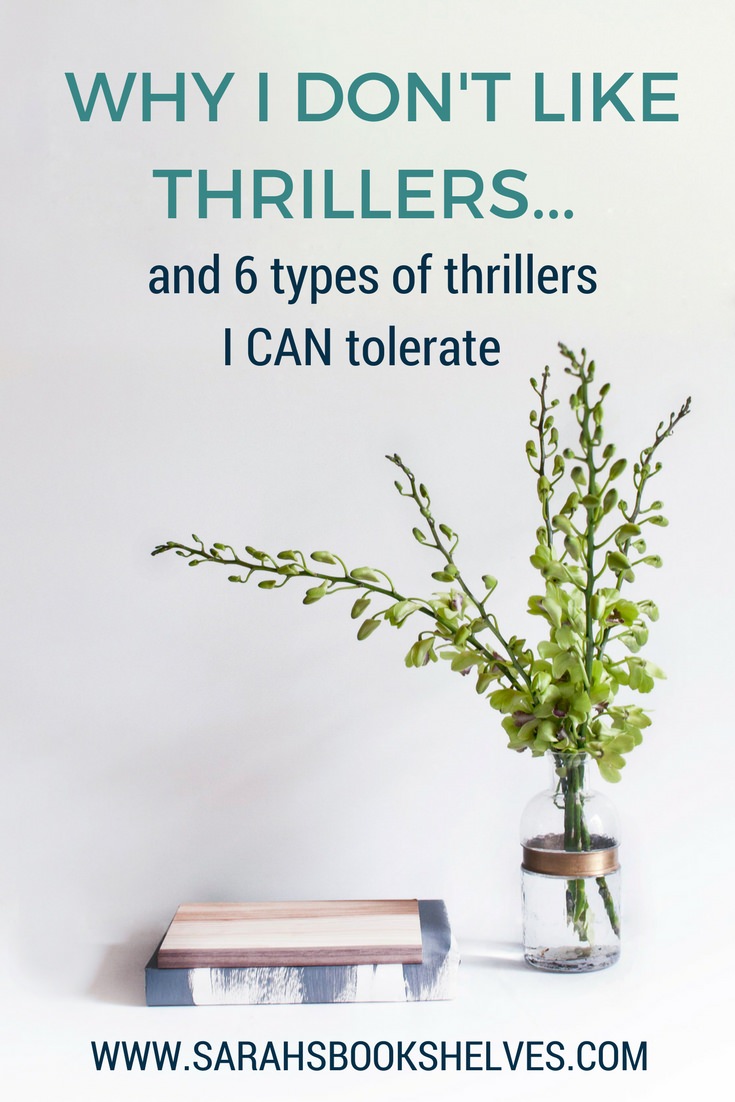 Y'all have heard me complain about my prickly relationship with thrillers for years now. And, based on all that complaining, you'd think I'd just avoid the genre entirely. But, I don't. Because, when I do find a thriller that works for me, it's one of my favorite reading experiences! And, then I keep trying and failing to replicate that experience.
Ever since Gone Girl and The Girl on the Train were such mega-hits, publishers have been churning out psychological thrillers at a feverish pace, chasing that lightening in a bottle success. My personal opinion is that this has put a ton of mediocre to terrible thrillers out there. There are the ones that rely on some outlandish gimmick to surprise the reader, the ones that are completely predictable, and ones that involve the supernatural or paranormal…all of which drive me crazy.
So, I've been trying to choose my thrillers wisely and really consider what makes a thriller work for me. From what I can tell, I prefer thrillers…
With A Surprising, Yet Not Outlandish Ending or Twist
This is the #1 thing a thriller must have for it to work for me. After I finish, I want to be able to look back on the story and say, "I did not see that ending/twist coming, but it totally makes sense in hindsight." And, it's unfortunately really hard to ride that perfect line between surprise and inevitability.
Successful Examples: Emma in the Night (my review), The Wife (the Alafair Burke version), Gone Girl
That Delve Deep Into a Topic
Certain thrillers are defined by a topic they delve deep into and I like how the topics differentiate these thrillers from everything else out there…and help you learn something in the process.
Successful Examples: Emma in the Night – narcissism (my review), The Guest Room – sex trafficking (my review), The Sleepwalker – parasomnia (my review), You Will Know Me – elite women's gymnastics (my review)
That Feel Like or Are Something Else
Some books are technically considered another genre entirely, but read like a page turner. Again, this helps these thrillers stand out from the very crowded pack.
Successful Examples: Dark Matter – Sci-Fi (my review), Bull Mountain – Grit Lit (my review)
With a Bit of Romance
Normally, I can't stand cheesy romance in my fiction. But, the romance I find in thrillers is usually of the darker, more twisted (rather than cheesy) variety…and I can totally handle that.
Successful Examples: Quicksand (my review), The Roanoke Girls (my review), Dead Letters (my review)
That are International
I've had good luck over the past few years with translated thrillers. Most were run-away bestsellers in their home countries and then made their way to the U.S. market. There's something about an international thriller (European in these cases) that has a completely different feel than U.S. thrillers. There's more subtle emotional tension rather than a reliance on suspense driven by action.
Successful Examples: Based on a True Story (spoiler discussion), Fear (my review), After the Crash (my review)
That Feel Literary
I'm not sure how to define this except to say that I know it when I see it. Often, thrillers rely on plot-based action, but I love it when a thriller also has strong character development and great writing. 
Successful Examples: Since We Fell (my review), Social Creature
How do you feel about thrillers? Are you a fan or not? What types of thrillers work for you and what thriller elements bother you?
Support Sarah's Book Shelves on Patreon!
(and get personalized book recommendations and access to our private Facebook Group)