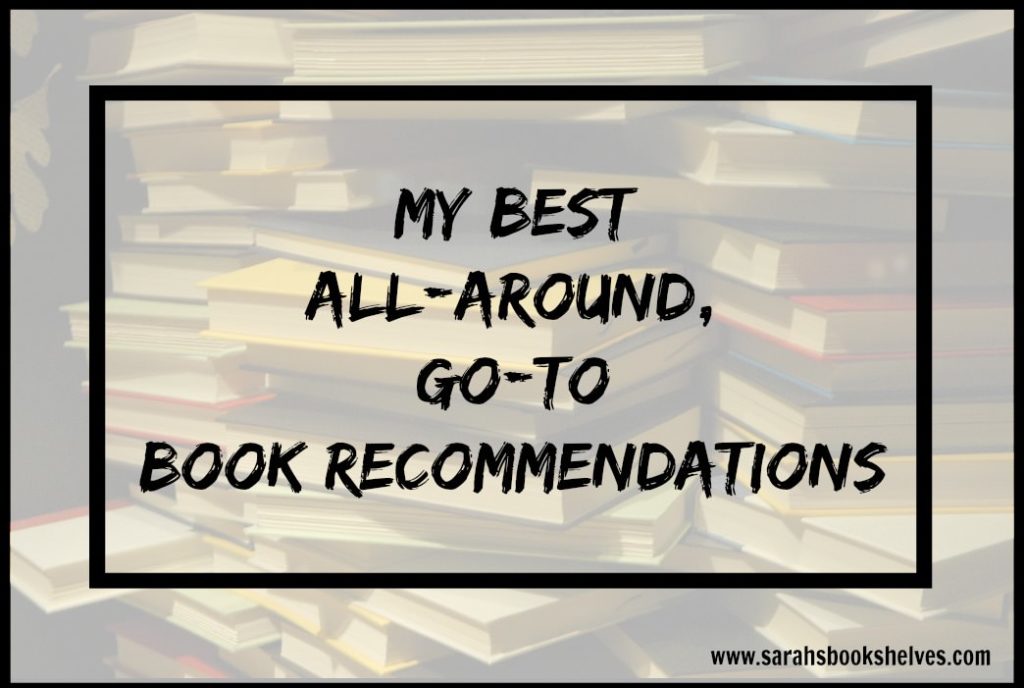 When people ask me for book recommendations, I find myself recommending the same books over and over again…especially when I'm not overly familiar with the requester's reading taste. My best all-around, go-to book recommendations are versatile, in that they're likely to appeal to a broad range of readers, and are some of the most frequently purchased books through my Amazon affiliate links.
If you're new to asking me for recommendations, these are probably the first books I'll shove into your hands!
Audio
Tiny Beautiful Things
 by Cheryl Strayed
Advice columns that are wise, non-judgmental, and completely necessary…
Beach Reads
A Hundred Summers
 by Beatriz Williams (my review)
My all-time favorite beach read…
Bittersweet
 by Miranda Beverly-Whittemore (my review)
Extremely wealthy family behaving badly at a vacation compound…
Dead Letters
 by Caite Dolan-Leach (my review)
The twisted twins book that has everything (page-turning plot, snarky writing, a dysfunctional family, and a mystery)…
Siracusa
 by Delia Ephron (my review)
A trip to Italy gone bad…
Historical Fiction
11/22/63
 by Stephen King (my review)
What if someone could travel back in time and stop JFK's assassination?
The Wife, the Maid, and the Mistress
 by Ariel Lawhon (my review)
Fiction based on true crime about a NY State Supreme Court Justice gone missing in 1930.
Z: A Novel of Zelda Fitzgerald
 by Therese Anne Fowler (my review)
The glamorous life of the Prohibition-era literary elite and the Fitzgerald marriage through Zelda's eyes…
Literary Fiction
Black Chalk
 by Christopher J. Yates (my review)
The Hunger Games
 meets The Secret History
 meets The Interestings in a high-stakes game of humiliation among friends.
My Sunshine Away
 by M.O. Walsh (my review)
Southern coming of age story with a bit of suspense…and one of my top books of 2015.
The Dinner
 by Herman Koch (my review)
A dark tale with biting social commentary…
The Interestings
 by Meg Wolitzer (my review)
Sweeping New York story about friendship…
*I think Commonwealth
 by Ann Patchett will eventually join this group, but I read it too recently to add it now.
Memoirs
All Over but the Shoutin'
 by Rick Bragg (my review)
Heart-breaking, but also hilarious memoir about growing up poor in the deep South…
Brain on Fire: My Month of Madness
 by Susannah Cahalan (my review)
Medical mystery that could turn you into a hypochondriac…
*I think Hillbilly Elegy
 (my review) will eventually join this group, but I read it too recently to add it now.
Narrative Nonfiction
The Boys in the Boat
 by Daniel James Brown (my review)
Story of an underdog team of Olympic rowers that will captivate you even if you have no interest in sports or rowing…
Under the Banner of Heaven
 by Jon Krakauer (my review)
Truth is stranger than fiction in this investigation into fundamentalist Mormonism…
Page Turners
Bull Mountain
 by Brian Panowich (my review)
A Grit Lit style thriller about a redneck, mountain version of the Mafia…
The Fever
 by Megan Abbott (my review)
High school drama, a mysterious epidemic…
The Royal We
 by Heather Cocks and Jessica Morgan (my review)
Satirical (and fictional) take on Prince William and Kate Middleton's courtship that isn't afraid to poke fun at the monarchy…
The Swans of Fifth Avenue
 by Melanie Benjamin (my review)
Delicious "fictional" story about real people…author Truman Capote and his swans.
This Is Where I Leave You
 by Jonathan Tropper (my review)
Hilarious dysfunctional family story, which I read while in labor with my daughter…
What are some of your best all-around, go-to book recommendations?