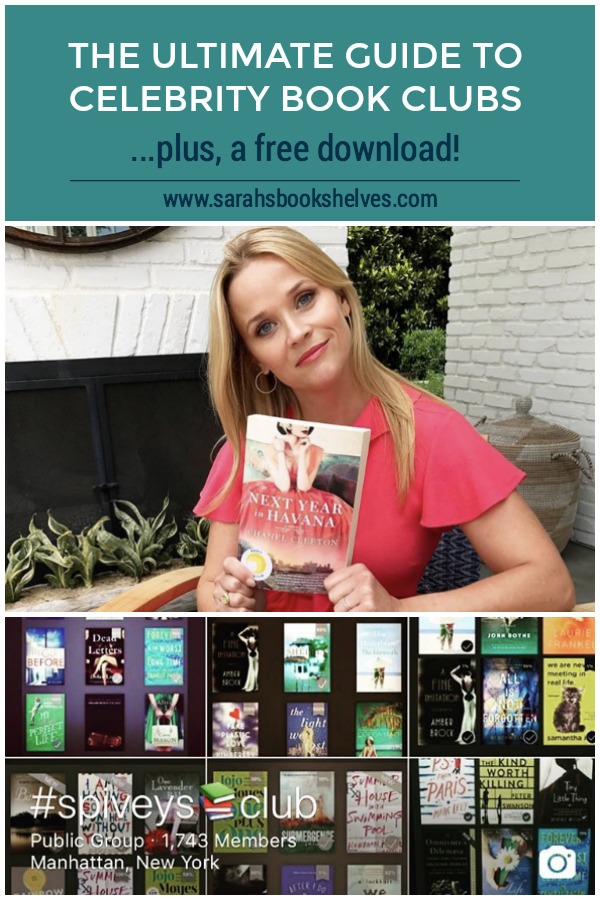 Celebrity Book Clubs are all the rage right now. Many readers are looking to them for book recommendations and you can't miss them if you follow #bookstagram on Instagram.
Though you may love certain celebrities on TV or the big screen or through their music, does that mean your reading taste lines up with theirs? Should you be listening to their book recommendations?
That's exactly what we're going to figure out here.
I analyzed every Book Club selection from the major Celebrity Book Clubs since each one's inception and created The Ultimate Guide to Celebrity Book Clubs. In this post, I've summarized the general reading taste of each Celebrity Book Club, so you can find the ones that best match your personal taste. AND…I've included a free spreadsheet to help you find your Go-To and No-Go Celebrity Book Clubs using actual data analysis (don't worry, I've done the heavy lifting for you). I have to tell you that my Go-To Celebrity Book Clubs weren't in the category I expected!
This post contains affiliate links and I will be compensated if you make a purchase after clicking on my links (plus: here's your Amazon Smile-specific affiliate link
).
The Ultimate Guide to Celebrity Book Clubs
Popular Fiction
Reese Witherspoon (Actress
)
Reese's Book Club x Hello Sunshine
(Instagram: @reesesbookclubxhellosunshine, Facebook: Hello Sunshine)

Every month, Reese chooses a story she loves and announces it as her pick. It's all about #loveofstory.
Ashley Spivey (The Bachelor Season 15 Contestant and Co-Host of the He Said, She Said podcast)
#Spiveys Club
(Instagram: @ashleyspivey, Facebook: #SpiveysClub)
Serious Literary Fiction
Oprah (Media Mogul)
Oprah's Book Club
(Instagram: @oprah)
Sarah Jessica Parker (Actress
)
SJP Picks
(Instagram: @sarahjessicaparker)

High-quality works of fiction by both established writers and distinctive emerging voice with critical and commercial promise.
Emma Roberts (Actress
)
Belletrist
(Instagram: @belletrist, Twitter: @belletristbooks)

Belletrist celebrates great books and the people who read them.
"Issue" Book Clubs
Emma Watson (Actress
)
Our Shared Shelf
(Instagram: @oursharedshelf, Twitter: @oursharedshelf, Goodreads: Our Shared Shelf)

As part of my work with UN Women, I have started reading as many books and essays about equality as I can get my hands on.
Lena Dunham (Actress
)
Lenny Letter
(Instagram: @lennyletter, Twitter: @lenadunham)
Eclectic
Andrew Luck (NFL Quarterback
)
Andrew Luck Book Club
(Instagram: @ALBookClub, Twitter: @ALBookClub)

The mission of the Andrew Luck Book Club is to build a team of readers of all levels.
A healthy mix of serious literary fiction, nonfiction, memoirs, mystery, YA, and Sci-Fi.

Every month, Andrew picks a "Rookie" choice for young readers and a "Veterans" pick for adult readers.

Picks I Liked: 

Hillbilly Elegy

(my review), When Breath Becomes Air,

The Martian

(my review),

The Boys in the Boat

(my review)
Picks that Didn't Work for Me: The Orphan Master's Son (my review),

A Gentleman in Moscow

(my review) 
Florence Welch (Musician
)
Between Two Books
(Instagram: @betweentwobooks, Twitter: @betweentwobooks)

A book club dedicated to Florence Welch's love of reading, the club are given a read recommendation every few months by Florence or one of her friends, and anyone who wants to join in on the big read can do so. Afterwards, everyone gets together for a discussion about the book.
What are MY go-to Celebrity Book Clubs?
Ashley Spivey's #Spiveys Club is my number one, Celebrity Book Club!
Reese Witherspoon's is in second place!
It's clear that I fall in the "popular fiction" bucket, which is interesting because I would've thought I'd be in the Serious Literary Fiction category. I guess I'm not as high-brow as I thought!
What are MY no-go Celebrity Book Clubs?
Lena Dunham and Emma Roberts are my top no-go Celebrity Book Clubs.
I've read some of each of these celebrity's picks, but I haven't liked the majority of the ones I've read.
How to Find Your Personal Go-To and No-Go Celebrity Book Clubs…
Download the spreadsheet via the sign-up form below. Click the link that appears at the bottom of the blog post to access the spreadsheet.
Follow the spreadsheet's instructions to find your Best and Worst Celebrity Book Club matches.
Using this guide, who are your go-to Celebrity Book Clubs?